Maryland Casinos Esports Play Looks to Boost Already Healthy Business
Posted on: October 16, 2017, 04:00h.
Last updated on: October 16, 2017, 03:18h.
Maryland casinos might be looking to get competitive with esports and skill-based gaming. The state's committee on gaming oversight met last week to discuss the subjects with representatives of gaming corporations and they could soon be in the state's six casinos.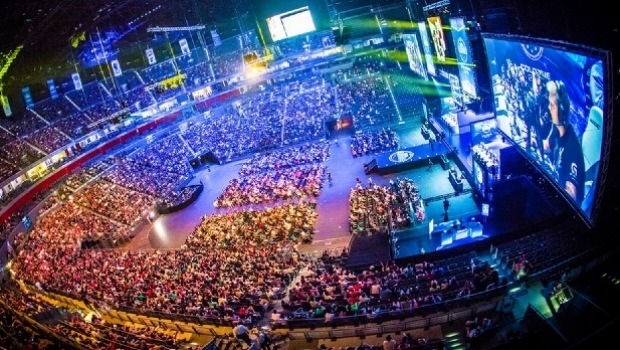 The last time this joint legislative committee met was in 2016 when they discussed Daily Fantasy Sports. In January the government implemented new regulations that are considered some of the fairest in the country for both operators and players.
Maryland's casinos reported $1.42 billion in gaming revenue for fiscal 2017, a $277 million more than last year and a 24.2 percent increase. But Carole Bober Gentry, managing director of communications for the Maryland State Lottery and Gaming Control Agency, said the facilities are constantly evolving.
"As Maryland's casino market matures, each of the six casinos is fine-tuning and adjusting its gaming floor to meet customer trends and demands," she said.
Hollywood Casino in Perryville, Maryland reduced the number of slot machines from 1,158 in 2013 to 822 this year and is looking for other forms of gaming to take up the slack. Skill-based gaming and esports are two possibilities.
Esports Already Present
Maryland already allows for skill-based games under current regulations, Blaine Graboyes, co-founder and CEO of GameCo Inc. told the committee. Esports are on college campuses and University of Maryland players receive scholarship money. The team reached the final four of the League of Legends College Championship in May in Los Angeles.
Some players bypass college and go right to professional team, where tournaments can have as much as $20 million in prize money, filling basketball arenas and drawing millions of viewers online. Team owners spend in excess of six figures to sign the best free-agent players, often housing them so the players can practice together daily.
"It's ridiculous how much you can make," Zaqueri "Aphromoo" Black told the Baltimore Sun. He is regarded as a veteran player at 24. "The really good streamers make over $1 million a year."
Casinos can make their money not from a gambling angle but by hosting competitions. In March Caesars held an event in Atlantic City that attracted approximately 900 players. They didn't see any increase in wagering, but did get a benefit from related services.
"Everybody's still trying to figure out, how do you make this appealing for the consumer and make sense for the business? Kevin Ortzman, Atlantic City regional president for Caesars Entertainment told USA Today.
The Luxor in Las Vegas announced in April they were utilizing space in the casino for an esports arena that is expected to open next year.
None of the Maryland resorts have so far said they will try and grab some of that business, as well as install skill-based gaming.
Mixed Success in Nevada, New Jersey
Two places that have tried skill-based gaming machines were Las Vegas and Atlantic City and both had mixed results. Harrah's, Caesars and Bally's all pulled the machines from the New Jersey casinos in June after they didn't make enough money to cover fees. Borgata and Tropicana have had better luck with the games at their establishments.
Las Vegas has games at the MGM Grand's Level Up Lounge in Las Vegas as well as Planet Hollywood. Neither facility has given any indication how well the devices are doing.
Some recent crowd sizes at esports arenas
KeyArena, Seattle – Dota 2 The International 2014, 10,000 fans
Sang-am World Cup Stadium, Seoul – League of Legends 2014 World Finals, 45,000 fans
Staples Centre, Los Angeles – League of Legends 2013 World Finals, 12,000 fans
Similar Guides On This Topic