Macau Casinos Enjoy Best Month Since Pandemic, October Win Tops $2.4B
Posted on: November 1, 2023, 09:24h.
Last updated on: November 1, 2023, 12:54h.
In October, Macau casinos experienced their best month since the COVID-19 pandemic, as gross gaming revenue (GGR) reached MOP19.5 billion (US$2.42 billion).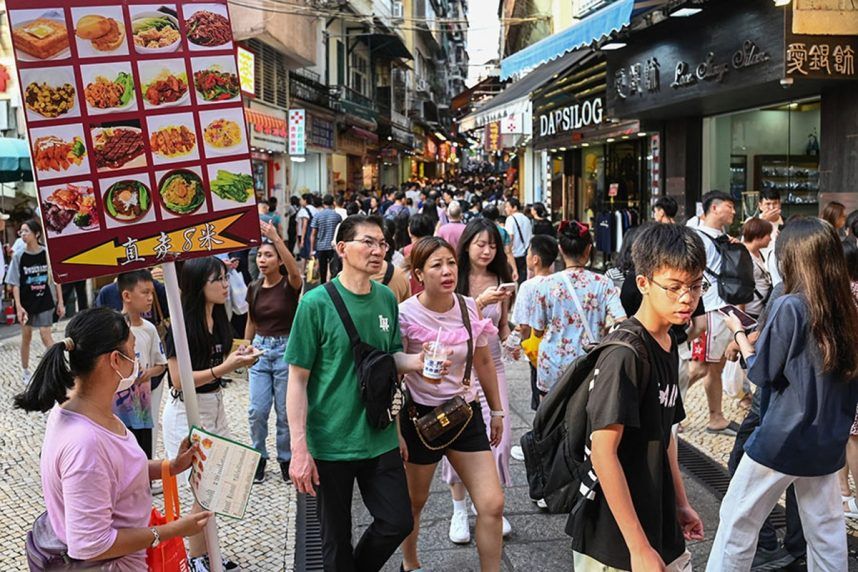 The October win is the best monthly haul since January 2020, when the six casino operators won $2.75 billion. With the coronavirus originating in China, the pandemic began impacting Macau's gaming industry in February 2020.
Macau casinos won at least MOP10 billion just once from February 2020 through 2022. But after China President Xi Jinping ended his controversial "zero-COVID" policy late last year, Macau's pandemic recovery was finally initiated.
Macau GGR through 10 months of 2023 stands at $18.4 billion, which is 316% higher than last year. The 2023 casino win is also 106% better than the same 10 months in 2021 and 224% better than 2020.
However, the $18.4 billion gaming win incurred from January through October 2023 remains 40% below what the six casinos collected during the 10 months in pre-pandemic 2019.
Rally Rolls On
Macau's performance in October indicates that the industry is moving positively. October 2023 was a 400% year-over-year surge.
Gaming analysts focused on the Chinese gaming enclave believe mass-market play has fully recovered to its pre-COVID levels. October benefited from a strong Golden Week, which ran from September 29 through October 6. The holiday period affords most mainland workers a week of paid time off.
October 1 commemorates the establishment of the People's Republic. The holiday is referred to as National Day in China. More than 932K people visited the Special Administrative Region (SAR) during the weeklong holiday.
Analysts at Citigroup and elsewhere projected October GGR to come in around MOP19 billion, meaning the market slightly beat expectations.
Market Changes
As of Aug. 30, 2023, China no longer has travel restrictions on its citizens or foreigners.
International travelers do have to complete a Customs Health Declaration form affirming they don't believe they have COVID-19 or have been told they haven't been in close proximity of anyone who does before entering. But testing requirements are no more.
While Macau casinos won almost $3.3 billion in October 2019 and $3.4 billion in October 2018, the market today is considerably different because of fewer junket groups. VIP trip organizers have largely departed Macau after Alvin Chau, the face of the junket business in Macau, was arrested in November 2021 and charged with numerous crimes.
Chau was found guilty of fraud, illegal gambling, and criminal association, and in January, was sentenced to 18 years in prison. Prosecutors successfully argued that Chau's Suncity Group ran illegal marketing campaigns and side gambling operations that cost the local government $1 billion in lost tax revenue from 2013 to 2021.
The Macau SAR Government issued its full-year 2024 GGR forecast on Tuesday, with the expectation of MOP216 billion ($26.8 billion). The outlook adjusts to the changing market, as Macau casinos in 2013 won a record $45 billion. It was after that year that Xi instructed his government to begin cracking down on the money movement from the mainland to Macau via high roller junket groups.