Macau Casinos Win $1.93B in May, Best Gaming Revenue Month Since January 2020
Posted on: June 1, 2023, 09:41h.
Last updated on: June 1, 2023, 02:19h.
Macau casinos generated gross gaming revenue (GGR) of MOP15.57 billion (US$1.93 billion) in May 2023. The gaming income represents the Chinese enclave's best monthly performance since January 2020.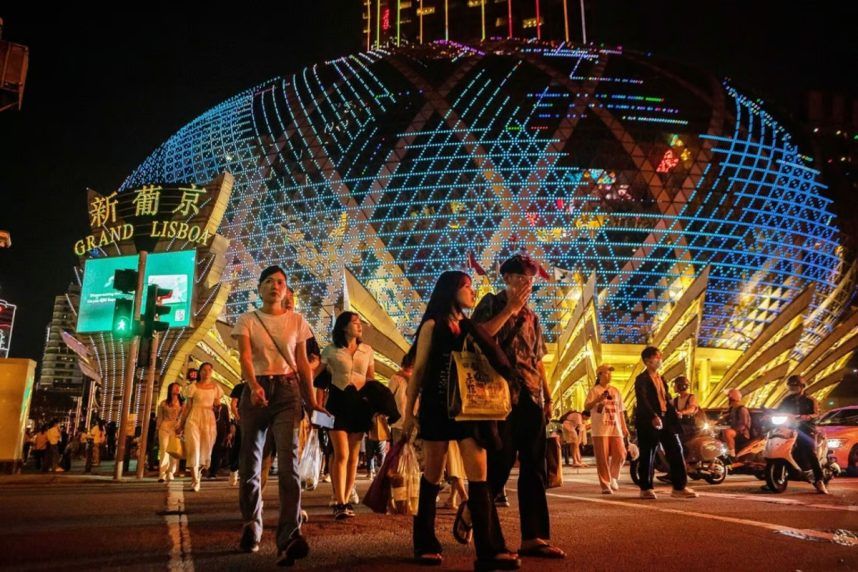 Macau's COVID-19 recovery is coming about two years after Las Vegas casinos experienced unprecedented play. Gaming analysts and casino executives cite pent-up demand from the pandemic as a reason for the record revenues experienced in Nevada in 2021 and last year.
More than 7,000 miles away in Macau, the Chinse Special Administrative Region (SAR) is only now beginning its coronavirus rebound. May marked the city's third consecutive month in posting its best GGR number since January 2020.
The $1.93 billion won off gamblers last month represented a 367% surge from May 2022, when the six casino operators in town collectively won just $413 million.
Macau is certainly on a comeback as GGR continues to grow month to month. February was the lone exception through the first five months of 2023.
2023 Macau Monthly Gaming Income
January — $1.43B
February — $1.28B
March — $1.58B
April — $1.82B
May — $1.93B
Trending Upwards
Through May 2023, GGR in Macau is up 173% compared with the same five-month period in 2022. Macau's six casino licensees have won approximately $8 billion this year.
May benefited from the Labor Day holiday in China through May 3. During the weeklong holiday celebrating workers, vacationers returned in droves to the SAR. The 2023 celebration was again robust after three years of subdued Labor Days because of the pandemic. The Macau Government Tourism Office said more than 530K mainland Chinese visitors ventured into the enclave during the five-day holiday.
Though Macau is rebounding, the gaming industry has a ways to go to return to 2019 business levels. Through May 2019, the casinos won about $15.6 billion.
New Market
Casino executives in Macau are stressing that topline gaming revenue might not be quite as important as it once was to the operators' bottom lines.
MGM Resorts CEO Bill Hornbuckle recently explained on the company's earnings call that with fewer VIPs in town, after China forced out junket operators, gaming income should be expected to dwindle.
But that isn't necessarily a bad thing, Hornbuckle said, as VIP revenue is a smaller-margin business than mass and premium mass-market play. VIPs are typically afforded much richer comps and incentives, and those costly promotions eat into the casinos' bottom lines.
We're leaning into mass," Hornbuckle said last month on the company's call. "I think the way to look at the totality of the business, obviously, the junket operatives were not cheap to do business. They took a lot of the margin out of the business. The fact that now we're on our own, there's a formula that suggests somewhere under 100% of former GGR levels, we could drive over 100% EBITDA," Hornbuckle explained.
Las Vegas Sands CEO Rob Goldstein issued a similar sentiment.
"The junket segment … created very high numbers in terms of revenues, although less success in terms of the bottom line and EBITDA," Goldstein commented to CNBC last week. "I don't know if we'll reach the same levels of topline gaming revenue. But I think we can exceed the EBITDA numbers of 2019."