Lucky Lady Casino Raid Leads to 14 Charges on Illegal Online Gambling Allegations
Posted on: July 28, 2016, 10:33h.
Last updated on: October 12, 2016, 03:29h.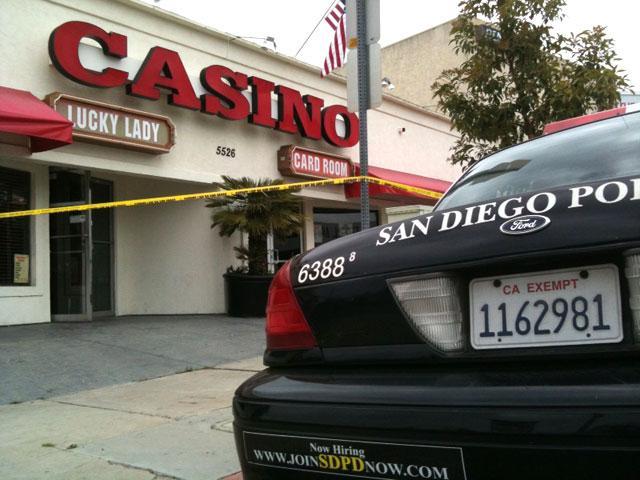 The Lucky Lady Casino is a small card room located less than 10 miles east of downtown San Diego. Though it's not much larger than a typical Starbucks, the casino has been bringing in big-time money over the last several years.
It caught the attention of federal authorities.
This week the FBI and local police raided the casino after serving the owners with a search warrant. More than 100 FBI agents and San Diego police personnel were on scene.
After all the evidence was gathered, the FBI brought charges against 14 individuals. Nine have been apprehended, while five others, thought to be located in Canada and Thailand, remain at large.
The US Attorney's Office for the Southern District of California says the men operated a sophisticated bookmaking ring that utilized the Lucky Lady Casino as a front for the illegal operation.
"This case is a classic example of how a legitimate business can be infiltrated and used to facilitate criminal activity by members of a criminal enterprise," FBI Special Agent in Charge Eric Birnbaum said in a statement. "The FBI is committed to disrupting and dismantling criminal enterprises that seek to use legitimate businesses as a platform for their criminal activity."
Lucky Lady's Luck Runs Dry
From the outset, the Lucky Lady Casino seems to be an establishment that offers typical games one expects to find at a California card club. In addition to poker and blackjack, the Lucky Lady offers pai gow, three-card poker, and mini baccarat.
But authorities allege the Lucky Lady had a much more sinister backroom.
Sports betting is only permitted within the borders of Nevada, but that didn't stop "Segal's Lucky Lady Sports Book" from taking wagers in San Diego. Named after the casino's owner Sanders Bruce Segal, the sportsbook relied on a network of bookies both domestic and abroad.
Through coconspirators, Segal's team allegedly took physical bets from customers and placed them online at offshore illicit enterprises. The indictment alleges that the rogue network profited the Lucky Lady over $1 million.
Shocking Not Shocking
Unfortunately for law enforcement, the Lucky Lady Casino sports betting ring was practically amateur hour compared to other recent seizures.
Earlier this month, Interpol arrested over 4,000 individuals for facilitating illegal gambling outlets during the Euro 2016 football tournament. In late June, Brooklyn District Attorney Ken Thompson announced a 57-count indictment against four individuals for running a nearly $1 billion illegal sports betting network.
California's iconic Normandie Casino was recently sold to Larry Flynt after the card club's longtime owners admitted they helped high-rollers launder money through the venue.
And the biggest bust of all came last fall when Chinese police took down a reported $78 billion online gambling syndicate with the arrests of more than 80 individuals.
Though the activity remains illegal, sports betting is a tremendously popular gambling format in the United States. The American Gaming Association (AGA) estimates that about $140 billion will be wagered illegally in the US this year alone.
It's a massive problem that might be solved through legalization and regulation. That's at least what New Jersey wants to do, as the state patiently awaits the final verdict from a US appeals court on whether it has the authority to end sports betting prohibition.
Most Read