Light & Wonder Stock Has Upside Potential, Says Analyst
Posted on: September 25, 2023, 12:25h.
Last updated on: September 26, 2023, 02:18h.
Buoyed by a streamlined business model and a robust research and development budget, Light & Wonder (NASDAQ: LNW) stock could deliver significant gains.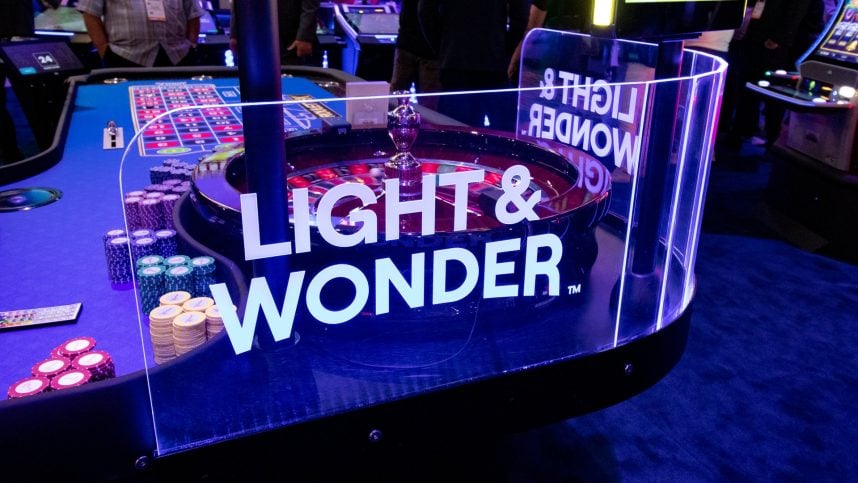 That's the take of Morningstar analyst Angus Hewitt, who placed a price target of $87 on the stock in new coverage of the gaming device manufacturer. That implies upside of almost 21% from current levels and arrives as the stock shed 7.33% over the past week. While Light & Wonder might not wrest significant market share from rival Aristocrat Leisure, the analyst noted that the company should be able to protect its turf against smaller rivals.
Light & Wonder significantly simplified its business by divesting noncore lottery and sportsbetting assets," wrote Hewitt. "Light & Wonder is now a more focused entity, cut in much the same image as dominant competitor Aristocrat, with operations across social casino, iGaming, and electronic gaming machines (EGMs)."
In North America, Aristocrat, Light & Wonder, and International Game Technology (NYSE: IGT) combine to control approximately 80% of the slot machine market in land-based casinos.
Simplified Light & Wonder Thesis Could Help Stock
In 2021, the company formerly known as Scientific Games sold its lottery and sports betting units in transactions that raised about $7 billion in cash.
Those transactions dramatically reduced debt, eliciting praise from Wall Street, and also simplified the Light & Wonder investment thesis. It did so while allowing the firm to direct some proceeds to faster-growing segments, including iGaming. That influx of capital also supported enhanced research and development efforts.
"To maintain share over the long run in the fiercely competitive EGM market, manufacturers need to consistently deliver new, high-quality games that keep consumers engaged and maximize revenue for gaming venues," added Hewitt. "This requires continuous spending on research and development."
Light & Wonder spends a smaller percentage of sales on research and development than Aristocrat, but it outspends IGT. Still, Light & Wonder has iGaming and social casino inroads. Last month, the company said that it is acquiring 17% of the social casino developer it doesn't yet own. That paves the way for a reunion with the company it spun off in 2019. The deal is scheduled to close in the fourth quarter.
Why Light & Wonder R&D Matters
When assessing the merits of Light & Wonder shares, the company's ability to execute on the research and development front is critical. That's particularly true at a time when slot sales are flat relative to 2019 levels, but casino operators are looking to upgrade, implying room for growth.
Additionally, steady research and development efforts can smooth out some volatility associated with manufacturers' success with one new game while struggling to gain traction with others.
"R&D investment is necessary to ensuring a healthy pipeline of new products, software developments, and platform enhancements, helping them to stimulate demand and differentiate them from peers," concludes Hewitt. "While the occasional hit game can come down to chance, we expect consistency in developing and deploying popular titles will come down to investment over the long run. This is crucial to the long-term success of any gaming machine manufacturer."