Las Vegas Casino Executives Want to Roll the Dice on NFL Stadium
Posted on: October 11, 2016, 12:00h.
Last updated on: October 11, 2016, 11:28h.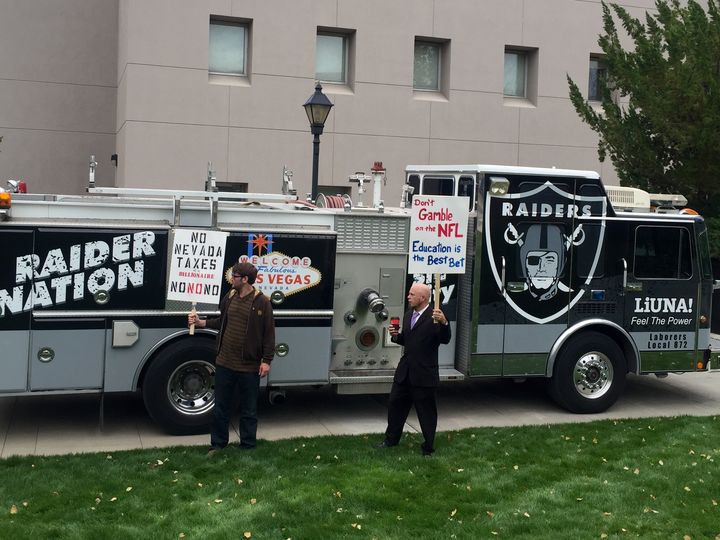 Las Vegas casino executives traveled to Carson City this week to express their support for billionaire Sheldon Adelson's wishes to build a $1.9 billion NFL football stadium.
The Nevada Legislature has convened for a special session in the capital in order to discuss the Southern Nevada Tourism Infrastructure Committee's (SNTIC) recommendation that $750 million in hotel occupancy funds be used to help build the stadium.
SNTIC has suggested that the hotel occupancy tax levied on visitors be raised 0.88 percent to generate the $750 million in new revenue. An additional 0.5 percent increase is also being recommended, with those funds being allocated towards renovating the city's convention center.
In total, the occupancy tax would grow from 12 percent to 13.38 percent.
While casino executives in Las Vegas are fiercely competitive, on the subject of football, they are joining forces. Oakland Raiders owner Mark Davis is ready to appeal to the NFL's ownership to allow him to move the franchise to Las Vegas, and resort bosses are ready to aid in his efforts.
During the first day of the special legislative session, casino executives from MGM, Caesars, and Wynn Resorts came out to endorse the project.
"This is an absolute dead-bang, winning opportunity, and I hope you will find it in your wisdom to approve it shortly," billionaire Steve Wynn testified before the legislature. "I personally believe that if we lose this opportunity, it will be one of the most heartbreaking mistakes we've ever made."
MGM Backs Plans
SNTIC was formed in 2015 by Governor Brian Sandoval (R) to find tourism improvement projects and make recommendations to the state. But the committee doesn't delegate tax dollars, which is why the legislature is meeting to consider approving SNTIC's proposals.
MGM CEO Jim Murren has long been citied as an opponent to using tax money to help Adelson build a football stadium, a man estimated to be worth around $32 billion. Many believed MGM's recent investment in the new T-Mobile Arena, a would-be theoretical competitor to the NFL stadium for concerts and events, was the reason why Murren might oppose the endeavor.
But yesterday, Murren expressed only enthusiasm for the football stadium.
"I'm utterly confident we're going to get a basketball team in the next few years, and I hope it's at T-Mobile," Murren explained. "Imagine having three of the four major sports in Las Vegas and what that will do to further our growth of our tourist economy."
In June, the National Hockey League (NHL) approved an expansion team in Las Vegas. The NHL team will be the first major professional sports franchise to call Nevada home.
Majority Rules
For the state to approve the $750 million, two-thirds of the Republican-controlled legislature will need to vote in favor of the occupancy tax increase. Should they back the plan, funding for the $1.9 billion build would be in place.
Adelson has pledged $650 million to go along with Davis' $500 million commitment.
But before construction would begin, three-fourths of the NFL ownership would also need to sign off on Davis' wishes to move.
The general opinion is that Davis would receive the necessary votes, but another concern is the Raiders' recent strong play. The Raiders currently sit atop the AFC West at 4-1.