Ladbrokes and Gala Coral Merging to Become Largest UK Bookmaker
Posted on: July 24, 2015, 02:46h.
Last updated on: January 12, 2023, 11:17h.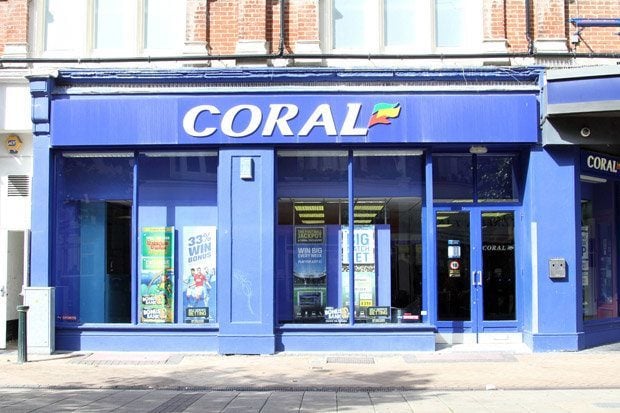 Ladbrokes and Gala Coral were already both big names in the United Kingdom's bookmaking industry, with both companies owning thousands of retail locations throughout the country.
Now, the two foes are combining to form what will be the largest betting firm in the UK.
The two companies have revealed plans to merge, a move that will create a firm worth an estimated £2.3 billion ($3.57 billion).
The combined corporation, which will take control of 2,100 Ladbrokes shops and more than 1,800 under the Coral brand name, will be known as Ladbrokes Coral and will be traded on the London Stock Exchange.
New Merger Should Succeed Where 1998 Attempt Failed
This is not the first time the two companies have tried to combine forces in order to create a dominant force in the UK gambling industry.
Back in 1998, the two firms attempted a merger that was shot down by business secretary Peter Mandelson due to monopolistic concerns.
That problem is likely to repeat itself on a smaller scale this time around, as the company will lose some stores due to issues of local competition (though officials say any such stores will be sold rather than closed, ensuring that employees do not lose their jobs).
However, that should still leave Ladbrokes Coral with far more than the 2,300 or so shops operated by William Hill.
But the concerns of the 1998 merger aren't likely to reappear on a larger scale, as the betting industry has seen a major upheaval since then.
Online betting sites have taken an increasingly important role in the industry, and this merger may be designed more than anything to help these two companies compete with firms like Betfair that have grown in strength while dealing with less regulation than their land-based competitors.
While Ladbrokes is a household name in Britain, it has struggled to find success in the online world, at least when compared to many of its competitors.
One of the major hopes for the merger is that the combined company will be able to adapt to the changing market better than either firm could have done so alone.
"Together, we will create a leading betting and gaming business," said Ladbrokes Chairman Peter Erskine. "The transaction will provide an attractive opportunity to generate considerable value for both sets of shareholders."
Ladbrokes Will Control Slight Majority of New Company
Indeed, shareholders on both sides of the deal will have a considerable stake in the new company.
Investors in Ladbrokes, the larger of the two companies, will take 51.75 percent of the new firm, while Coral investors will have 48.25 percent of the shares.
Ladbrokes Coral will initially be led by current Ladbrokes CEO Jim Mullen. Gala Coral CEO Carl Leaver will take the role of executive deputy chairman.
There has also been some controversy over Andy Hornby, another of the senior executives who will help lead Ladbrokes Coral.
Hornby will be taking on the role of Chief Operating Officer for the new company, but pressure from shareholders led to him being kept off the company's board of directors.
Hornby was the leader of HBOS, a bank that nearly failed in the 2008 financial crisis before being bailed out by Lloyds Banking Group.
Hornby has since been condemned by a parliamentary commission on banking standards, but Mullen has defended his position in Ladbrokes Carol.
"Andy Hornby is a first-class executive that this combined group is lucky to have," he said.
Similar Guides On This Topic
Latest Casino Stocks:
Retrieving stocks data...
Retrieving stocks data...
Retrieving stocks data...
Retrieving stocks data...
Retrieving stocks data...