Jackpot: Harry Reid Airport Passenger Wins $643K on Slot Machine
Posted on: September 20, 2023, 07:43h.
Last updated on: September 20, 2023, 12:35h.
A visitor from Texas was at Harry Reid International Airport on Monday when she tried her luck on a slot by the Las Vegas terminal's A Gates. It was a very lucrative decision.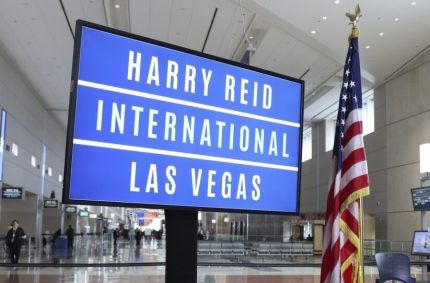 The woman, simply identified as "Brittany," won $643,434.41 on the slot machine. The payout was on a Wheel of Fortune Triple Double Emeralds machine manufactured by IGT.
News of the win was posted Tuesday by the airport on X, formerly known as Twitter. The post included a photo of Brittany standing by the winning slot machine.
There are no details on what she plans to do with the cash, nor did the airport specify how long she was at the slot machine before it paid out the jackpot.
Previously, other Harry Reid passengers also received big payouts on Wheel of Fortune slot machines at the airport.
On June 29, one passenger won more than $1.3M, and on July 25, another visitor won $1.2M.
$1B in Slot Revenue
Over 36 years, the slots at Harry Reid (previously named McCarran International Airport) have generated more than $1 billion in revenue, according to Michael Gaughan's Airport Slot Concession. The Las Vegas-based firm operates the slots at the busy airport.
The airport slots generate about $39.8 million in gross revenue each year. That leads to about $34.4 million in average revenue for the airport.
There are 1,430 slot machines at Harry Reid Airport that help to offset airport costs.
https://twitter.com/LASairport/status/1704203776448499889?s=20
$1.5M Jackpot at Golden Nugget
A lucky slot player won more than $1.5M at the Golden Nugget Las Vegas Hotel & Casino last Thursday.
The exact total was $1,520,751.38.
The money was paid out on a Wheel of Fortune Gold Spin Triple Gold machine, which is manufactured by IGT.
There's no word on how the lucky winner will spend their newly found loot.
Poker Player Collects $268K
On Sunday, a visitor to Las Vegas's Flamingo Las Vegas Hotel & Casino got a generous payout.
The unnamed player won an exact total of $268,161 while playing Mississippi Stud poker.
There's been no word on how the lucky winner will spend the jackpot.
Rampart Casino Winner
A local resident recently collected $44,314 while trying his luck on a slot machine at Las Vegas's Rampart Casino.
The unnamed man won the money on September 10 after wagering $25 on the nickel denomination.
He was playing on a Luxury Line slot when he hit the jackpot. It's made by Aristocrat Gaming.
Rampart Casino is located inside the JW Marriott Las Vegas Resort & Spa.