More Iowa and Iowa State Football Players Bet On Own Games
Posted on: August 11, 2023, 10:28h.
Last updated on: August 11, 2023, 11:37h.
The dominos continue to fall in the state of Iowa. Four football players from Iowa State and three from the University of Iowa were charged in a sports gambling probe by state investigators. Isaiah Lee, a defensive tackle from Iowa State, was accused of placing a bet against his own team.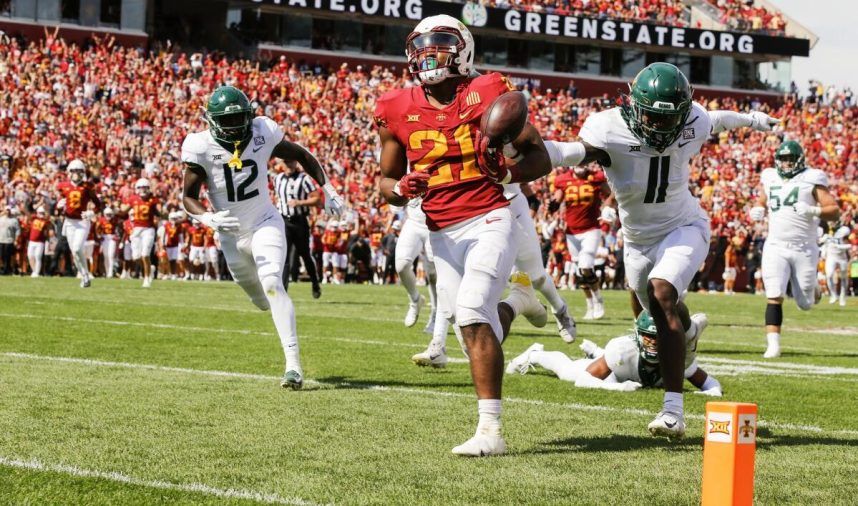 Iowa State running back Jirehl Brock, tight end DeShawn Hanika, offensive tackle Jake Remsburg, and Lee were named in the latest gambling complaint filed on Thursday by the Iowa Division of Criminal Investigation (IDCI).
Iowa wide receiver Jack Johnson and two former Iowa players, wide receiver Arland Bruce IV and safety Reggie Bracy, were also charged on Thursday by the IDCI.
All seven student-athletes are charged with tampering with records for allegedly concealing their identity in electronic wagering activities. The misdemeanor charge in Iowa carries a maximum sentence of up to two years in prison and a fine ranging from $855 to $8,540.
A student manager for the Iowa football team, Owen O'Brien, was also charged in the probe.
In May, the NCAA announced dozens of student-athletes from schools in the state of Iowa were under investigation for gambling policy violations.
The NCAA recently updated its gambling guidelines. Student-athletes who wager on their own sports, or wager on other sports at their own school, can face permanent loss of eligibility.
Johnson, Bruce, Bracy Bet on Iowa Games
Johnson, a wide receiver on Iowa, was investigated for placing bets at DraftKings on an account set up by his mother. He placed 380 wagers while underage, including on two Iowa football games in which he didn't play.
Bruce, a starting wide receiver for Iowa, placed 132 bets. No less than 11 of those bets were on games he played in, including a points total "under" wager against Northwestern.
Bracy made 66 wagers totaling only $715. But two were bets on games in which he played, against Michigan and South Dakota State.
Bruce and Bracy were both underage when they placed wagers on an account belonging to one of Bruce's family members. Bruce transferred to Oklahoma State in the off-season. Bracy entered the transfer portal at the end of last season and left Iowa for Troy.
O'Brien, who was a popular student manager for the Hawkeyes, placed 350 bets using his mother's FanDuel account. All of the wagers were made while he was underage, and at least three of those bets were on Iowa football games.
Isaiah Lee Bet Against Iowa State
Brock, Iowa State's starting running back, led the Cyclones in rushing last season. He contributed 558 yards from scrimmage and scored four total touchdowns.
Brock made 1,327 wagers in excess of $12K under a friend's name and account. Brock bet on 13 Iowa State basketball games and at least three football games in which he played. Opponents in those games included rival Iowa, Texas Tech, and Kansas State.
Lee, a defensive lineman from Chicago, placed wagers using his fiancée's FanDuel account. Out of his 21 wagers, 12 bets were on Iowa State games in which he played during his sophomore and junior seasons. At least one bet was against his own team when he faded Iowa State against Texas, who was a +6 road underdog. Lee recorded one tackle in Iowa State's 30-7 victory over Texas and lost his bet on the game.
Hanika was competing for a starting job at tight end this season. While using his mother's account at DraftKings, Hanika placed 288 total wagers, including 70 on Iowa State basketball games. None of Hanika's wagers were on college football.
Remsburg, a member of the offensive line, also used an account under his mother's name. He made 273 wagers, and all but six bets were on pro sports. He was flagged for six wagers on college basketball games, but he didn't bet on any Iowa State contests.
14 Student-Athletes at Iowa, Iowa State Now Accused
Three student-athletes from Iowa were charged in early August, including starting point guard Ahron Ulis from the Iowa basketball team, catcher Gehrig Christensen from the baseball team, and kicker Aaron Blom from the football team.
Iowa State starting quarterback Hunter Dekkers was accused of gambling on Iowa State sporting events, including one football game in which he didn't play.
Dekker's teammates, Eyioma Uwazurike and Dodge Sauser, and Big 12 champion wrestler Paniro Johnson was also charged in early August.
Since becoming aware of potential NCAA eligibility issues related to sports wagering by several of our student-athletes back in May, Iowa State University has been actively working to address these issues with the involved student-athletes, and that process remains ongoing," Iowa State said in an official statement. "We will continue to support our student-athletes as our compliance staff works with the NCAA to sort out questions surrounding their future eligibility for athletics competition."
Uwazurike, a star defensive lineman during his time at Iowa State, was drafted by the Denver Broncos in 2022. He was expected to compete for a starting job this season in Denver before the NFL suspended him for placing bets on league games during his rookie season. Since April, 10 players were suspended for violating the NFL's gambling policy.