Former Felt Foes Unite to Expose Poker Scam
Posted on: October 11, 2023, 03:38h.
Last updated on: October 11, 2023, 03:50h.
Two bitter poker rivals have united to expose a social engineering scam that exploited their mutual animosity. Benjamin "Blank Check Ben" Lee and "Wes Side" Wesley Fei, both regulars on the Hustler Casino Live livestream, were also both victimized by a fraudster, according to PokerNews, though only Lee lost money.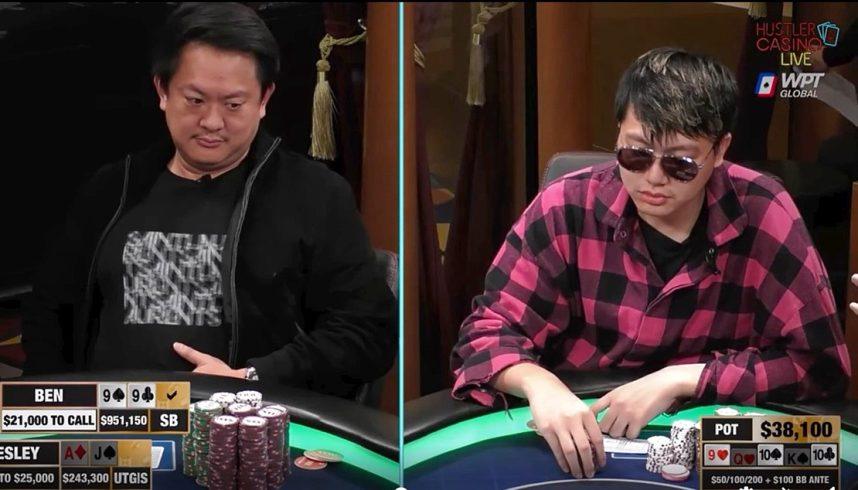 On September 4, a WordPress website titled "Uncovering Wesley" claimed to be published by someone Wesley cheated out of $250K in a 2022 cryptocurrency scam. The blog also accused Wesley of sending "thugs" to burglarize his house.
The accuser then messaged Lee, Wesley's well-known enemy, via Instagram. He said he planned to go public with Wesley's misdeeds but needed financial help to do so. Initially, Lee trusted his gut and refused the invitation.
Always Stick With Your Gut
A few months later, however, Lee changed his mind when the accuser told him that Wesley had offered him $35K to expose Lee as the "originator of this campaign of character assassination."
Fearing for his reputation, Lee wired the accuser $1,000. It was at this point that he learned that the payee identified himself as a London-based financial recruiter named Russell Thamer. He also wired Thamer, if that was his real name, another $1,500 before Thamer offered to sell Lee evidence that Wesley had committed immigration fraud. All it would cost was $100K.
Once again, Lee turned him down and then changed his mind.
He reconsidered this time because Thamer told Lee he now faced threats, possibly from Wesley's associates. Fearing for his safety, Lee hired security for his LA home and sent Thamer $28K in crypto to see the alleged immigration fraud evidence.
The evidence, of course, was phony.
Lee and Wesley both discussed the problem with Hustler Casino Live co-owner Ryan Feldman, who arranged a powwow. Comparing notes, the two players realized they had been played against each other.
Thamer had simultaneously attempted similar mind games on Wesley, however, he didn't fall for any.
I provided funding and assistance to the author because I sincerely believed he was an innocent victim who had been defrauded of his life savings," Lee said in a statement. "However, I have since discovered that the author is a professional fraudster who has attempted to scam, defraud, and extort both Wesley and myself."
Lee said he apologized twice to Wesley for his part in the scam.
"His reputation has suffered for no reason other than that I was gullible enough to be manipulated by a fraudster," he said. "I am now repeating my apology to him in public. I accept full accountability for my mistakes, and I should have done better."
Because of their shared ordeal, according to PokerNews, Lee and Wesley have since buried the hatchet and become friends.