Ex-NFL Player Henry Ruggs Officially Pleads Guilty in Fatal DUI Case
Posted on: May 11, 2023, 11:42h.
Last updated on: May 25, 2023, 05:51h.
Henry Ruggs III pleaded guilty on Wednesday to two charges stemming from a deadly 2021 car crash in Las Vegas. He reportedly will be sent to prison for between three and 10 years.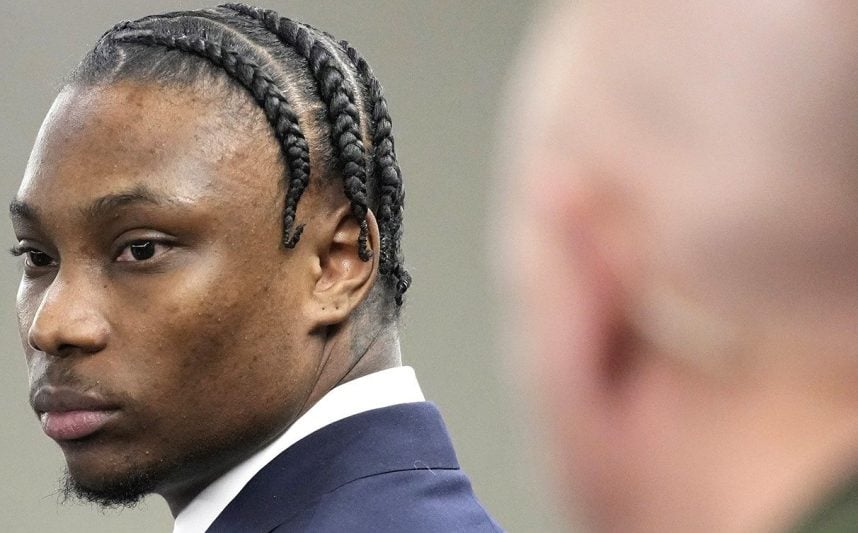 The 24-year-old former Las Vegas Raiders wide receiver entered the pleas to DUI, resulting in death and vehicular manslaughter before Clark County District Court Judge Jennifer Schwartz. Under a plea agreement, he won't be eligible for probation, according to Las Vegas TV station KLAS. Nor can his attorneys file an appeal.
Ruggs will be sentenced on August 9. Up until then, he must continue to stay under house arrest. He also was ordered not to use alcohol and wear electronic monitoring devices.
Ruggs will have a chance to leave prison after three years, according to KLAS. The judge cannot lower the sentence given the time Ruggs already spent in jail.
Prior charges of DUI causing substantial harm, a weapons charge, and two counts of reckless driving were dropped under the plea agreement. Ruggs faced up to 50 years in prison had he been convicted of all the initial charges, according to prosecutors.
Deadly Crash
During Wednesday's court appearance, Ruggs confirmed a summary of events detailing the November 2, 2021, crash to the judge. Tina Tintor, then 23, and her dog, Max, died in a fire caused by Ruggs' car rear-ended her SUV on Rainbow Boulevard in Las Vegas.
Ruggs was driving a Corvette Stingray as fast as 156 mph before it struck Tintor's Toyota RAV4. Seconds before the collision, the car's speed was 127 mph. The impact pushed the SUV some 571 feet, according to the Associated Press.
Two hours after the crash, Ruggs' blood alcohol level was 0.16, more than twice the legal limit in Nevada, news reports revealed.
Ruggs' Las Vegas-based attorneys, David Chesnoff and Richard Schonfeld, had filed a motion to suppress the blood test because of a lack of probable cause in the case. The motion was denied by a judge.
Ruggs suffered a leg injury in the crash. His girlfriend, Kiara Je'nai Kilgo-Washington, a passenger in the Corvette, suffered an arm injury.
Preventable Incident
Tintor's relatives appeared in the courtroom on Wednesday.
Today, like every day, we remember Tina and Max, and how they were taken from us that fateful night," Tintor's relatives said in a statement released by Las Vegas-based Naqvi Injury Law. "No sentence will ever bring Tina and Max back, but we hope that everyone learns from this preventable incident so that no other families suffer like we do."
In a statement released on Wednesday, Clark County District Attorney Steven B. Wolfson explained the plea agreement. He said that driving under the influence resulting in death is "the most serious charge the law allows" for such a situation.
"I recognize this outcome is not sufficient to punish Ruggs for the loss the Tintor family has suffered," Wolfson added. "But there was a legitimate concern that a court would have suppressed the result of the blood draw. We would have lost the felony DUI charge. We couldn't take that chance."
First-Round Draft Pick
Before the accident, Ruggs signed a four-year NFL contract reportedly worth more than $16 million. That's after being chosen as the 12th overall pick in the 2020 NFL Draft out of the University of Alabama.
Ruggs led the Raiders in receiving yards in 2021. The former Alabama standout had 24 receptions, 469 receiving yards, and two touchdowns through seven games.
He was released by the Raiders after the crash.