Las Vegas Double Murderer Heading to Prison for Deaths of Tourists
Posted on: October 16, 2023, 02:31h.
Last updated on: October 17, 2023, 11:50h.
A man was convicted last week for the three 2016 shootings that led to the deaths of two Las Vegas tourists and the wounding of a third.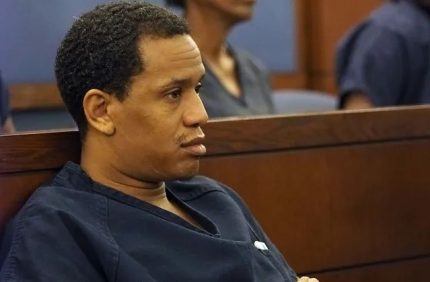 The defendant, ex-convict Omar Talley, 38, was convicted on two counts of murder and a count of attempted murder.
A Clark County jury deliberated for two days before returning the guilty verdict last Tuesday.
Talley showed little emotion when the verdict was announced, according to the Las Vegas Review-Journal. The victims' relatives broke into tears upon hearing the finding, thankful that justice was served.
The deceased were identified as Jennifer Chicas and Melissa Mendoza, both 27, who resided in California.
A third victim, Jerraud Jackson, who was Chicas' brother-in-law, survived the shootings.
He testified against Talley during the trial. Talley took the stand his own defense.
Also, during the trial, prosecutors played a recording of Talley speaking to detectives.
When meeting with Las Vegas Metropolitan Police Department (LVMPD) officers, he denied he wounded the victims.
Could you stop saying I shot someone," Talley told officers, according to Las Vegas TV station KLAS. "I didn't shoot one, two or three people."
"We're not here talking to you because we think you did it," a detective told Talley. "You're here because you did it. It's not a 'whodunit.' It's a 'you-done-it.'"
Talley claimed he had been drinking alcohol and using marijuana before the confrontation. He didn't remember the events, he told authorities.
Planet Hollywood Confrontation
Talley apparently first met the victims while they were in a car at the Miracle Mile Shops parking garage at Planet Hollywood Las Vegas Resort & Casino.
They got into a dispute, and he pulled out a firearm. When the victims' car sped away, Talley chased them.
He caught up with the three victims near the Las Vegas Strip at the intersection of Harmon and Polaris Avenues, at which point, he shot them. Chicas was wounded and collapsed on the road. She later died.
The wounded Mendoza drove the car to the valet area at The Cosmopolitan of Las Vegas. She too soon passed away.
The two dead women both were shot in the chest, according to autopsies.
Victim's Mother Prayed
Mendoza's mother, Tonette Mendoza, told the Review-Journal she used her spiritual strength as she watched the trial unfold.
I just prayed, let the jury see the truth," Tonette Mendoza said.
Talley faces decades in prison when he likely is sentenced in January. He originally faced the death penalty, but prosecutors later decided to withdraw the capital punishment penalty.
In 2009, in an unrelated incident, Talley was convicted of first-degree kidnapping and pandering of a child, according to KLAS. He served time in prison and was paroled in 2015, according to California's Fresno Bee news outlet.
Most Read