DraftKings to Expand into UK
Posted on: August 18, 2015, 02:23h.
Last updated on: August 18, 2015, 02:25h.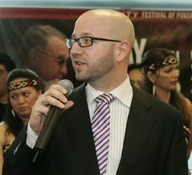 Daily fantasy sports (DFS) site DraftKings announced this week it has received a license from the UK Gambling Commission (UKGC) and plans to go live with a UK-facing DFS product in the fourth quarter of the year.
Last month, the Boston-based start-up was able to raise almost $300 million in funds to aid its planned international expansion, with around $150 million of that coming from Fox Sports, for an 11 percent stake in the company.
DraftKings said that it plans to move into Europe, Asia, and Latin America during 2016, and has hired Jeffrey Haas, formerly of PokerStars and bwin.party, to oversee the expansion.
"DraftKings is well-poised for explosive growth internationally, and I am excited to lead their expansion efforts," said Haas, who will be based in the new London office. "Daily Fantasy Sports is a growing category outside North America, and we have a tremendous opportunity to engage sports fans around the world."
New Concept for Brits
The move into the UK is an interesting one.
While the country has one of the most developed gambling markets in the world, the DFS concept will be a completely new one there.
DFS allows customers to bet on teams or sports players during a given day, earning points based on the performance of their picks. Users with the most points at the end of the day cash out.
This is a different prospect to regular fantasy sports, which offers games that generally last a whole season.
These are already popular in the UK, particularly fantasy EPL soccer, although few of the major UK gambling operators offer them for money.
DraftKings already offers Daily Fantasy Soccer, and will no doubt hone this product for the UK market, as well as introducing more UK-centric sports, such as rugby and cricket.
"We will add new sports and games to our burgeoning roster of offerings and further connect fans to their favorite teams and players," confirmed DraftKings Chief Executive Officer Jason Robins. "We also welcome the opportunity to forge new partnerships with leagues, teams and media outlets internationally as we have done with exceptional success in the United States."
Will the UK Bite?
Whether DFS will have the same kind of huge impact as it has done in the US, in a market where consumers are free to bet on real-life sporting outcomes, remains to be seen.
For many Americans, DFS is the closest they get to placing a legal sports bet, while for the British, who can place bets from their cell-phones at the touch of a button at any time of the day or night, it will be just another gambling product, albeit a highly engaging one.
What's clear is that while DFS operators in the US argue that their products are "not gambling," thus justifying their exemption from UIGEA, in the UK, and probably elsewhere, there is no equivocation, and a full gambling license is required.