Illinois Casinos To Pay More Than Their Fair Share in Taxes
Posted on: May 28, 2013, 05:30h.
Last updated on: June 6, 2013, 12:58h.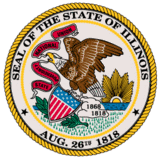 It's a blue state – meaning it leans heavily towards Democratic voting – so perhaps it should come as no surprise that Illinois is grappling with tax issues; in this case, what percentage land-based casinos should fork over to the state from their annual revenues. But while a casino-heavy state like Nevada takes a mere 6.75 percent of their gambling houses' intake stream, Illinois is arguing over whether their casinos should give them 40 or 50  percent. Making one wonder how deep in the hole Illinois must be, or what else is funding their economy. Hmmmm.
Staggering Tax Rates
The tax issues are currently holding up SB 1739, Illinois' gambling expansion bill, which is now stalled in the state's House.  While certainly not the only issue keeping the measure from moving forward, taxes seem to be the major sticking point. "The tax rate is the big one," Representative Robert Rita (D-Blue Island), who sponsored the expansion bill, told the press recently.  "We've been working on it, and we're sort of stuck at that."
At issue is who pays what based on how much they bring in. Illinois casinos are taxed at higher rates if they earn between $200-$300 million a year; these casinos are in the 50 percent tax bracket. The new gambling bill would soften that gargantuan state take a little, by offering generous tax cuts for the highest earning casinos, with the $200-$300 million rake being the sweet spot. Right in line with a blue state's "suck the life force out of the rich" mentality, only casinos making $800 million or more would be forced to pay the 50 percent rate, with the rest paying "only" 40 percent. Maybe they should fly a Robin Hood banner from the state house.
While there is general agreement on this plan, the stall seems to be over when this will go into effect and exactly who will end up paying what. Also under discussion is where the gambling revenues will go; the State Senate has already approved the bill with a directive that allocations will be for Latino and African-American economic development areas, agriculture programs, and repairs to the Illinois State Fairgrounds.
Internet Horse Race Wagering a House Go
Meanwhile, Illinois residents will most likely soon be able to place their horse racing bets online; the State House approved that measure. Now it heads to the Senate, and then the Governor's office for final sign off.  Horse racing in Illinois garnered $122 million last year, but it's said the racing industry is struggling there. The Internet approval would get the old grey mare to stand up again.  Included in the measure are designations for a school construction fund: some would be directly slated for Chicago State University. And maybe some will go to Robin Hood's Gang of Merry Men.