Culinary Union to Protest at Westgate, D Las Vegas Over Stalled Contract Talks
Posted on: July 4, 2018, 10:30h.
Last updated on: July 4, 2018, 09:39h.
The Culinary Union (Local 226) has announced it will picket the off-Strip Westgate Las Vegas Resort & Casino and Fremont Street's D Las Vegas Casino Hotel this Friday, July 6.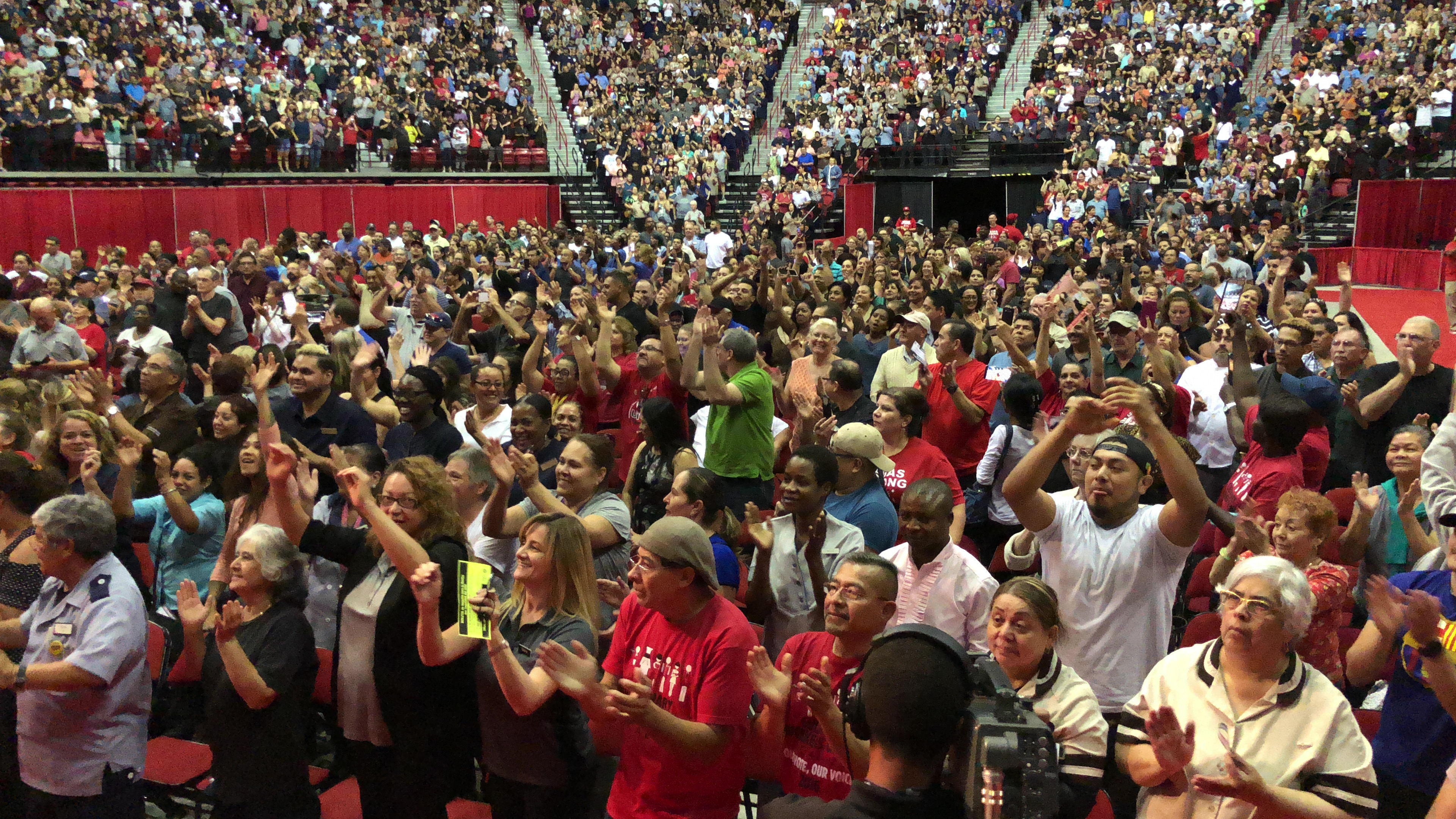 The union, which represents around 50,000 bartenders, bellmen, cocktail servers, food servers, housekeepers, kitchen staff and porters, will use the July 4th weekend to highlight an apparent impasse in contract talks with the two casinos. An estimated 316,000 visitors are expected to flock to the city for the festivities.
The news comes as the union announced on Tuesday a "tentative agreement" with the Plaza Hotel and Casino, described on Twitter as a "historic new 5-year contract" that "covers 300+ workers at the casino resort."
Citywide Walkout Threat
In May, union members voted to stage a citywide walkout, which would have been the first since 1984, but it never carried out its threat. It has since negotiated deals with Caesars and MGM, at whose properties 80 percent of its members work, as well as the Stratosphere.  There are still 13 properties involved in ongoing negotiations, the union said Tuesday.
Culinary has been asking for better wages and benefits, which it believes Las Vegas casinos are now in a position to offer, thanks to corporate tax cuts introduced by the Trump administration. According to the Las Vegas Review-Journal, tax breaks generated a combined, non-cash benefit of $4.3 billion in the fourth quarter last year.
It also wants assurances of job security amid the introduction of new technologies, such as kiosks for self-check-in, as well as greater protection for workers from sexual harassment by casino patrons and hotel guests. It has called for the mandatory issue of "panic buttons" to housekeepers.
Panic Stations
This week, Las Vegas ABC affiliate 13 Action News reported that Caesars and MGM, which settled with the unions in June, have already begun rolling out the small, wearable devices.
"MGM Resorts has implemented safety-button technology at all of its properties and is working to implement even more robust safety devices in the near future," the company said in an official statement.
"Safety-button technology is an important tool that allows us to be more proactive in ensuring employee safety, and we are committed to utilizing technology and other measures to keep guests and employees safe."
But Action 13 News noted that there are still 8,700 workers without the devices in properties with which the union has yet to strike a deal.
Similar Guides On This Topic