Connecticut Sends Cease and Desist to Non-State Betting Sites
Posted on: June 10, 2014, 05:30h.
Last updated on: June 9, 2014, 09:45h.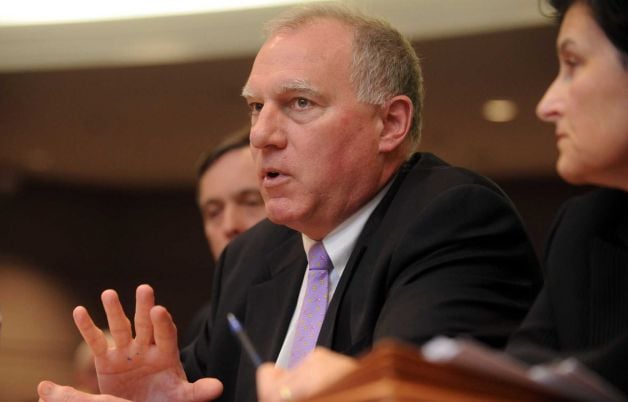 Connecticut got tough on operators offering horserace betting from outside the state in the lead-up to last weekend's Belmont Stakes in New York, it's emerged. State Attorney General George Jepsen and William Rubenstein of the Department of Consumer Protection sent cease-and-desist letters to 28 websites, many of which are licensed to offer legal betting in their own states, but not, as Jepsen underlined sternly, in Connecticut.
With all the excitement surrounding California Chrome's possible takedown of a Triple Crown – which we now know, of course, did not unfold – apparently sports betting websites didn't want to miss out on any of the betting action, legal or not.
According to the Department of Consumer Protection, sites from 10 separate US states were targeted, including Kentucky, New York, North Dakota and Pennsylvania. Some of the sites were owned by horseracing tracks, with The Red Mile, a racing track in Lexington, KY, mentioned specifically.
Cease and Desist
The letters, which were sent on May 20th well in advance of last weekend's race, stated that offering bets to residents of Connecticut violated state law, and demanded operators stop marketing their products to the state's citizens.
"You must immediately cease and desist from accepting wagers placed from within the State of Connecticut …" it said.
It's clear the state was eager to safeguard the revenues of Sportech Plc, as well as Connecticut's off-track betting parlors, particularly in the run up to this most famous horseracing meet, when the chance of a first Triple Crown win since 1978 was fueling even more wagering than usual.
Sportech operates online, and phone wagering services and 15 off-track betting branches and sports bars in Connecticut under the brand Winners, and its website, MyWinners.com, is the only site legally permitted to offer (parimutuel) horseracing betting. The state receives 3.5 percent in taxes from the operation; thus its desire to protect its own horse.
In the past three years, the Belmont Stakes generated between $2.4 million and $2.6 million in bets at the state's off-track betting parlors, according to Sportech. 2013 was the only year for which it's been possible to wager online – however, since the MyWinners site was launched the day before the Belmont Stakes, it's impossible to extrapolate anything meaningful from the $8k achieved in revenue.
"No other site is regulated here or pays the tax that the state should be receiving," Sportech said in a press release. "Our operations are closely monitored by the Department of Consumer Protection, thereby ensuring that the highest standards of player protection are in place for local residents."
"What's going on with the Internet?"
"It's an issue that has come onto our radar screen," noted Rubenstein. "About a year or so ago, we approved our licensee to do Internet. And then we started thinking, 'Well, what is going on with the Internet?' And it took us a little bit to make sure we were correct in our analysis and who all the players were."
Rubenstein added that some of the operators addressed by the letter agreed to comply, while others have asked for further information about Connecticut law in order to assess their options.
Meanwhile, while MyWinners is the only site authorized to offer online gambling in Connecticut, elsewhere in the state, the two biggest tribal-owned casinos are hoping for a change in the law, having launched play-for-fun casino sites. Foxwoods Resort Casino and Mohegan Sun have said they want to be ready in the event that Internet gaming is legalized in Connecticut.
And while that doesn't appear to be in the cards anytime soon, the sites will be seen as valuable marketing and customer acquisition tools.
Most Read