College Football Sports Betting Returns to Las Vegas Sportsbooks
Posted on: September 2, 2016, 05:00h.
Last updated on: September 2, 2016, 01:45h.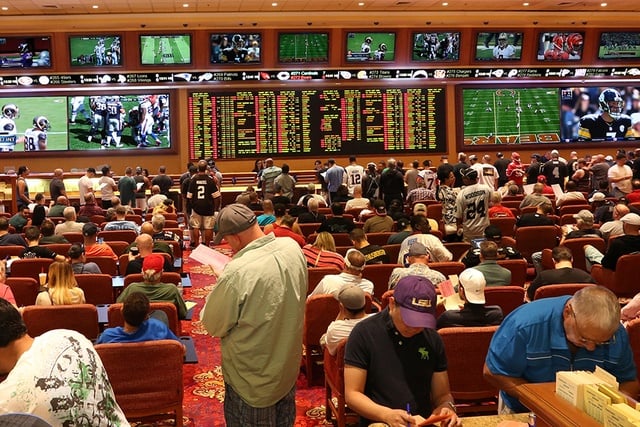 College football is back. After months of vacant grid irons, the pigskin gets back in the air and on the ground this weekend.
No one is happier than the sports books in Las Vegas.
Football attracts more bets in Nevada than any other sport. In 2015, football accounted for 35.61 percent of the Silver State's sport betting win and provided bookmakers with $82.5 million in revenue.
The National Football League (NFL) kicks off next Thursday, September 8, with a Super Bowl 50 rematch between the Denver Broncos and Carolina Panthers. Action on the game is already heavy, as bettors believe Carolina can beat the defending champs now that they're without former quarterback Peyton Manning.
Carolina is currently a three-point favorite. But until next week, all football eyes will be on the college level, and there's plenty of high-profile games to keep everyone interested, both fans and bettors alike.
Bama vs. Trojans
Nick Saban and his top-ranked Alabama Crimson Tide are certainly not limping into the 2016 season. The defending champs are in Texas to play #20 USC at AT&T Stadium, home of the Dallas Cowboys and affectionately known as Jerry's World.
Alabama went 14-1 last year and won the second installment of the College Football Playoff (CFP) National Championship. There are plenty of questions surrounding the Crimson Tide, but none more pressing than settling on a new quarterback.
After waiting on the sidelines for three years, USC quarterback Max Browne will finally get his chance under center. It will be no easy task taking on the Alabama defense.
Las Vegas has Alabama as 11.5-point favorites over USC and the over/under at 53 total points.
Other Week One Match-ups
#2 Clemson is also diving right into top-tier competition by traveling to Jordan-Hare Stadium to take on unranked Auburn. Clemson lost to Alabama in last year's CFP finale, but returns with its Heisman finalist quarterback Deshaun Watson.
Auburn head coach Gus Malzahn is thought to be on the hot seat. The Tigers coach is making $5.4 million a year but has gone just 27-13 since taking the helm in 2013.
Auburn is the underdog, but with the home crowd in their support, Vegas is only spotting them a little more than a touchdown.
#3 Oklahoma visits #15 Houston in Texas (OKLA -11.5), a game that Oklahoma didn't expect to be against such a high-powered team when it scheduled the matchup in 2014. Out of the American Athletic Conference, Houston comes off a 13-1 campaign and Peach Bowl win over Florida State.
Speaking of the #4 Seminoles, Florida State plays #11 Ole Miss (FSU -4.5) in Orlando. The Seminoles seem to have all the ingredients to make a run at number one should 19-year-old redshirt freshman quarterback Deondre Francois live up to expectations.
#18 Georgia and #22 UNC play in Atlanta (UGA -3) and marks the final week one contest where both teams are ranked.
While the sports betting action will be extensive in Vegas and Nevada, it's important to note the vast majority of wagers in America will be executed on unregulated networks. The American Gaming Association estimated that $93 billion was bet illegally on American football last year.