Bettors and Investors Take Stock of Max Player Entering Saturday's Travers Stakes
Posted on: August 8, 2020, 02:45h.
Last updated on: August 10, 2020, 12:11h.
There are a couple of ways you can show your support for your horse on the Road to the Kentucky Derby. You can bet on them when they enter a Derby prep race, like Saturday's Travers Stakes at Saratoga. Or you can make a wager on them in a futures pool, which Churchill Downs offers this weekend.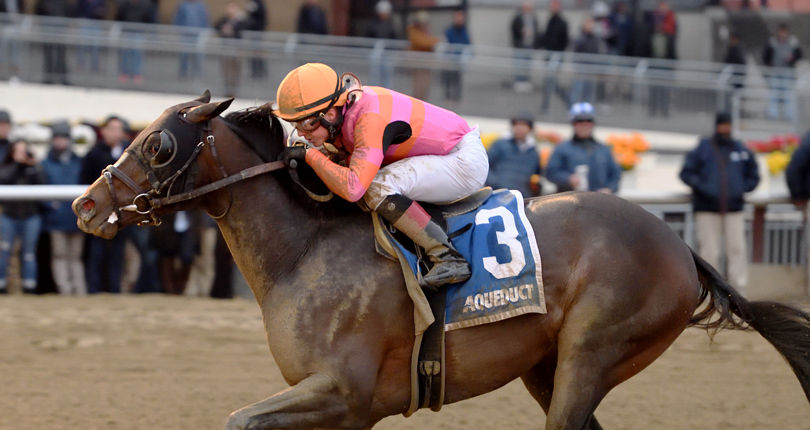 But, if you like Max Player, you have another way to get behind your colt.
SportBLX is offering fans and investors a chance to acquire a share of the Derby hopeful and graded stakes winner. For a minimum investment of $200, you can own a small stake in Max Player and three other horses in the Annestes Thoroughbreds stable.
The company bills itself as an "alternate asset investment platform" for sports fans, allowing them to invest in athletes, teams, and, in this case, horses. Company President Joseph De Perio told Casino.org that he sees a lot of overlap between sports betting and investing.
I think we're opening up a whole bunch of new investors into a sport, which we think has a lot of enjoyment from the ownership perspective," De Perio said. "So, we want to give the thrill of ownership at the highest level to investors and fans."
In addition to Max Player, who won the Grade 3 Withers Stakes in February, the investment gives people ownership in three other horses in the Annestes stable.
Through Friday, more than 100 individuals have invested nearly $53,000. The minimum investment is $200, and the opportunity closes at 11:59 p.m. ET on Aug. 16.
New Way to Engage Fans
Besides having a stake in a top 3-year-old, De Perio said investing comes with other perks. For example, hours before Max Player ran in the Grade 1 Belmont Stakes, where he rallied for a third-place finish, SportBLX held a call with investors to go over the race.
This week, investors joined a webinar with Max Player's trainer, Linda Rice, and Hall of Fame jockey Jorge Velasquez, who won the 1981 Kentucky Derby aboard Pleasant Colony.
De Perio said investors, even at small levels, become engaged in the ownership team.
I think the average bettor, and I'm the average bettor, they go from big race to big race, but there's no, sort of, continuity of interest," De Perio told Casino.org. "I think what we're finding is that our shareholders actually want daily updates, or every two days they want updates on what's going on with Max.
"'Did he gallop today?' 'How does he look?' 'What's Linda saying?' I think it's all great for the sport."
Max Player isn't the only horse on the Derby trail being offered in such fashion. Authentic, who won the Grade 1 Haskell Stakes last month, has shares available at MyRacehorse.com. For $206, investors can get a .001 percent share of the Bob Baffert-trained colt.
At $2.2 million, De Perio said Max Player's valuation is about a seventh of Authentic's.
Like all investments, there's no guarantee of a return. But the shares also carry over to Max Player's breeding rights. As a graded stakes winner and as the product of a successful sire in Honor Code, Max Player may command high stud fees.
Travers Preview
Max Player drew the fourth post for Saturday's Travers at Saratoga Race Course in Saratoga Springs, N.Y. Ridden by Joel Rosario, the colt is the co-third selection, with morning-line odds of 6-1.
Tiz the Law enters as the heavy favorite at even-money morning-line odds. The Barclay Tagg-trained colt has won three straight races, including the Belmont seven weeks ago, and five of six in his career. Manuel Franco gets the mount, as his horse will break from the sixth gate.
While Authentic is already headed to Churchill Downs, Baffert's looking to get another from his seemingly endless stable to Louisville next month. Uncle Chuck is a late-blooming 3-year-old who debuted in June. He's two for two, with a win last month in the Grade 3 Los Alamitos Derby.
Luis Saez will ride Uncle Chuck, the second choice at 5-2. He'll break from the third gate.
At 6-1 along with Max Player is Country Grammer, who is coming off a win in the Grade 3 Peter Pan Stakes three weeks ago at Saratoga. Trained by Chad Brown and ridden by Irad Ortiz Jr., Country Grammer will start second.
The 1-1/4-mile Travers is the last 100-point Derby prep race. In addition to the 100 points for the winner, second place is worth 40, while third and fourth get 20 and 10, respectively. Of the top four contenders, Uncle Chuck is the only one sitting outside the top 20 in points, so he'll need at least a third-place showing to get to 40 points, where Max Player currently sits, likely safe in 15th place.
Post time for the Travers is 6:15 p.m. ET, and the race will air on Fox stations nationwide.