A Lot Going Right for Tiz the Law Leading into Saturday's Belmont Stakes
Posted on: June 20, 2020, 09:30h.
Last updated on: June 20, 2020, 09:28h.
Pari-mutuel betting started Friday on Saturday's Grade I Belmont Stakes, and not surprisingly, bettors started throwing money at heavy favorite Tiz the Law.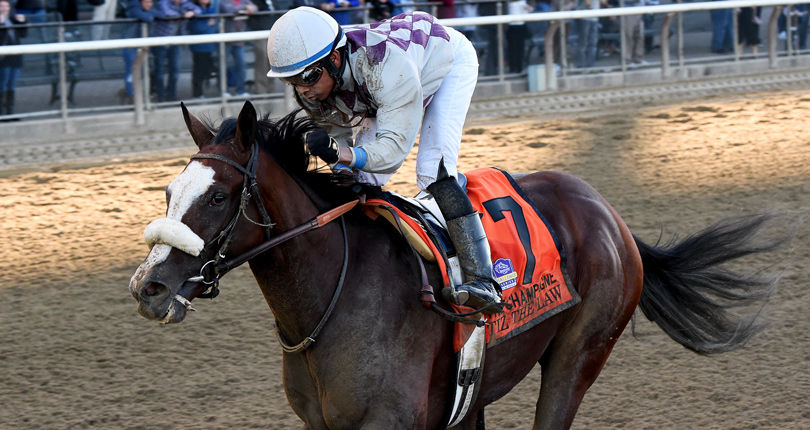 The Barclay Tagg-trained colt started as a 6-5 morning-line favorite. By early Saturday morning, his odds had already dropped to even money. His odds rebounded later in the morning, but they're likely to continue falling throughout the day until the 10 horses break from the Belmont Park gate at 5:42 pm ET in the first leg of the 2020 Triple Crown.
The Florida Derby winner is, by far, the class of the race. He's won both of his races this year – and both graded stakes, at that – by a combined 7-1/4 lengths. The only question that may hover over him is the nearly three-month layoff he's had since his dominating trip around Gulfstream Park on March 28 in the Grade I Derby.
Tiz the Law, who won the Champagne Stakes last year at the New York track, is also the only horse in the Belmont field that's earned a triple-digit Beyer Speed Figure. He's also got New York's top jockey, Manny Franco, riding him on Franco's home track as well.
If there was one thing Tagg would like, it's a better starting post. Tiz the Law got the eighth gate in Wednesday draw.
Nothing seems to faze him in any way," Tagg said after the draw. "I'd have rather been a little closer (to the rail), but I don't think it makes much of a difference. He's coming in good; I can't be happier with him."
Since COVID-19 forced the postponement of the Kentucky Derby, the Triple Crown race that's traditionally first, the Belmont is a qualifier. The winner Saturday gets 150 points, the most of any Kentucky Derby prep.
Value Opportunities Available
If you think Tiz the Law may be overbet, the rest of the Belmont field will offer some value opportunities.
Sole Volente is the second choice on the money-line. The gelding has a graded stakes win, but he's also coming off short rest – a win in an allowance race at Gulfstream Park 10 days ago. He started off at 9-2, but few sided with him in early betting, as his overnight odds rose to 12-1. He'll come down as more money comes in Saturday.
The wild card in the race is Dr Post. While this will be his graded stakes debut, he scored a nice win over a quality horse in Attachment Rate the last time he raced in April. Breaking from the ninth gate is a little bit of a concern, and he could lose some value if he becomes the trendy alternative to Tiz the Law.
Oddsmakers gave Max Player and Modernist double-digit odds after Wednesday's draw. Both horses have graded stakes wins, but both also are coming off layoffs longer than Tiz the Law's.
All those horses, along with Tap It to Win, should also be considered as horses to pair with Tiz the Law on exactas and trifectas.
Circa Sports Offers Head-to-Head Wagering
In addition to the fixed-odds wagering it's offering on the race, Circa Sports unveiled 11 head-to-head bets for the Belmont. Those bets are available only in Nevada.
Tiz the Law is listed in just one, and he's a -210 favorite going up against Tap It to Win or Sole Volante. Bettors can get both of those horses for +180 odds.
In their head-to-head, Tap It to Win is -120 to Sole Volante's even-money odds.
For the race, the book has the following odds as of 11:45 a.m. ET Saturday: Tap It to Win +515, Sole Volante +545, Max Player +2100, Modernist +2400, Farmington Road +1800, Fore Left +2800, Jungle Runner +8000, Tiz the Law -125, Dr Post +695, and Pneumatic +1415. Two-way betting is also still available.
Offshore, USRacing is offering the following odds: Tap It to Win +600, Sole Volante +450, Max Player +1500, Modernist +1500, Farmington Road +1500, Fore Left +3000, Jungle Runner +5500, Tiz the Law -150, Dr Post +500, and Pneumatic +800.
Grade I Belmont Stakes
Belmont Park
Saturday, 5:42 p.m. ET, NBC
PP Horse Odds* Jockey Trainer
1. Tap It to Win 4-1 John R. Velazquez Mark E. Casse
2. Sole Volante 9-1 Luca Panici Patrick L. Biancone
3. Max Player 11-1 Joel Rosario Linda Rice
4. Modernist 20-1 Junior Alvarado William I. Mott
5. Farmington Road 11-1 Javier Castellano Todd A. Pletcher
6. Fore Left 18-1 Jose Ortiz Doug O'Neill
7. Jungle Runner 21-1 Reylu Gutierrez Steven M. Asmussen
8. Tiz The Law 6-5 Manny Franco Barclay Tagg
9. Dr Post 9-1 Irad Ortiz, Jr. Todd A. Pletcher
10. Pneumatic 15-1 Ricardo Santana, Jr. Steven M. Asmussen
*Track odds as of 11:30 a.m. ET Saturday (Pari-mutuel odds subject to change)
Latest Casino Stocks:
Retrieving stocks data...
Retrieving stocks data...
Retrieving stocks data...
Retrieving stocks data...
Retrieving stocks data...