Australian Government Bans In-Play Betting, Bookies Carry On Regardless
Posted on: April 28, 2016, 01:36h.
Last updated on: April 28, 2016, 01:36h.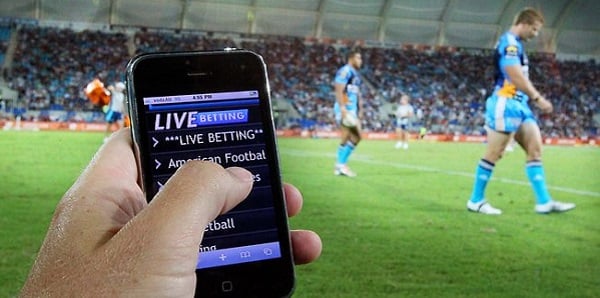 The Australian government has ordered online bookmakers to cease offering in-play betting as it moves to permanently ban the practice in which bettors can make real-time wagers while a game is in play. But it's an order that the country's top betting sites, for now at least, appear to be ignoring.
This is the latest skirmish in an ongoing battle between the authorities and the country's top online bookmakers, many of which are UK companies licensed in Australia, like William Hill and Ladbrokes.
At the heart of the matter is a gray area of the law. The country's Interactive Gambling Act was drawn up in 2000, before the advent of in-play sports betting. It states that bets on events that have already started can be placed with bookmakers over the phone but not on the internet. The bookies claim that the legislation has failed to keep pace with technology and should be redressed.
Legal Loophole
In order to skirt the law, William Hill created a special betting app for the Australian market called Click to Call. Using voice recognition technology, it allows gamblers to confirm their bets using a simple voice command, thus opening a legal loophole. It was quickly followed by copycat apps from other operators.
That loophole will shortly be closed, the Australian government announced this week.
"I would hope that [online bookmakers] would cease doing it today because we have clearly indicated that we believe they are against the intent of the law, if not the actual law,'' said Human Services Minister Alan Tudge, whose government is introducing the new law as part of a package that also includes regulations on self-exclusion and a ban on credit betting.
But some say the government is merely pandering to Australia's traditional homegrown big players in the sports betting market, Tabcorp, and Tatts. Neither company offers in-play betting and, according to one bookmaker, chief executive Cormac Barry of Irish-based Sportsbet, they both fear technological disruption and healthy competition.
Lazy Thinking
"I think it's a win for the lazy, traditional monopoly wagering operators in Australia who are more interested in protecting their monopoly than giving consumers what they want," Barry told the Sydney Morning Herald. "It is a sad day for Australian consumers and I think the big winners today are the illegal offshore operators who will be able to continue to operate uninhibited."
Tabcorp chief executive David Attenborough countered: "Online betting on live sport is an illegal form of wagering in Australia. It is pleasing that the government has removed any doubt about its legality, addressing the activity of those wagering operators who have been circumventing the law.''
Of course, the new regulations will take months to become law and until then the bookmakers are staying put with their in-play offering.