Atlantic City Casino Union Opposes Efforts to End Indoor Smoking
Posted on: January 4, 2023, 10:25h.
Last updated on: January 4, 2023, 11:14h.
The leading Atlantic City casino union that represents more than 10K workers has come out in opposition to efforts to extinguish indoor smoking at the nine resorts.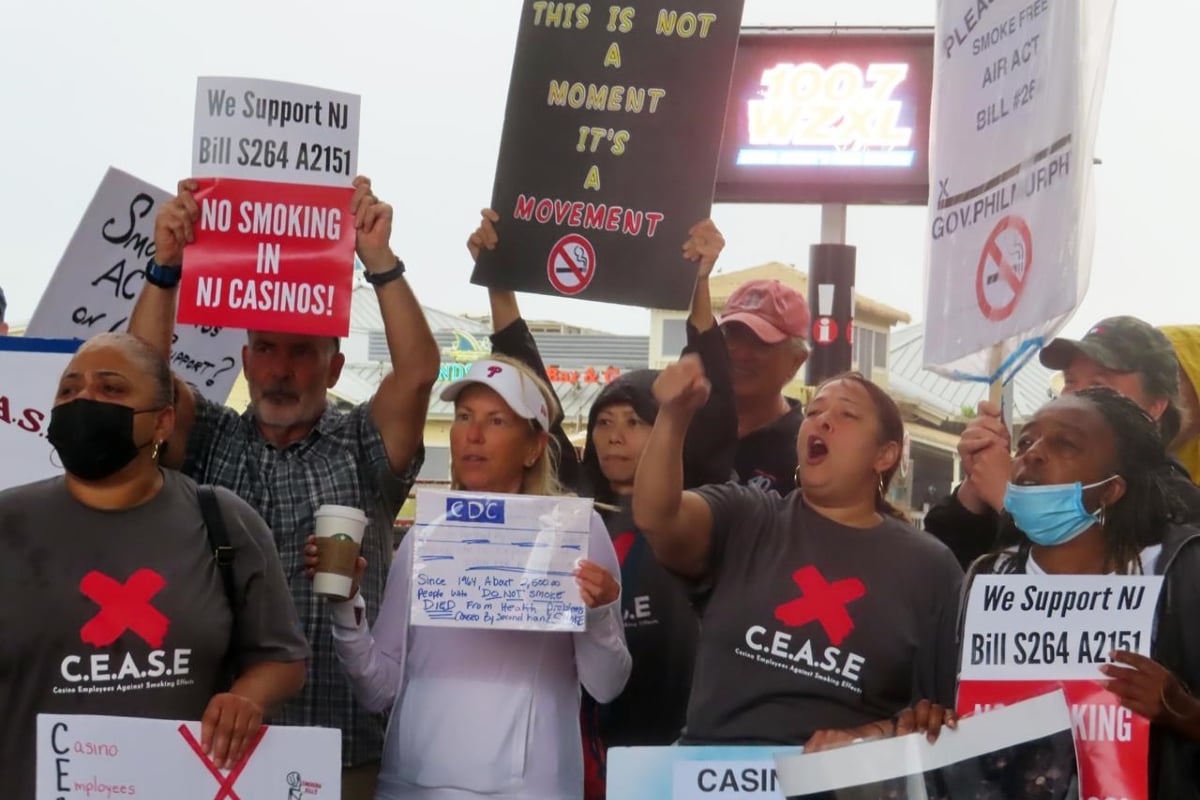 Unite Here Local 54 represents Atlantic City casino employees who are employed in an array of nongaming positions, including housekeepers, bartenders, cocktail servers, waitstaff, cooks, bellmen, and doormen. The union is an affiliate of the international labor union Unite Here, which claims to represent 300K people across North America.
The five casinos in the Philadelphia area are permitted to designate up to 50% of their gaming floor space for smoking, though two — Parx and Rivers Philadelphia — have opted to go smoke-free. New Jersey's 2006 Smoke-Free Air Act provided exemptions for Atlantic City casinos to allow indoor tobacco use on up to 25% of their gaming floor.
Union Opposition
McDevitt shares the opinion of the Casino Association of New Jersey (CANJ), the industry's Trenton lobbying arm, which believes eliminating smoking would hurt gaming. If fewer people come to gamble, they argue, the Atlantic City resorts will see other revenue, such as hotel, dining, entertainment, and shopping, decline.
If you take away the option to smoke, and you allow it in Pennsylvania, there's going to be a net drop in gaming in New Jersey," McDevitt told NJ Spotlight.
Though the hospitality union is opposed to a regulatory change with smoking, some Atlantic City gaming workers say it's long overdue to value employee health over the casinos' bottom lines.
"It's absurd. It's barbaric to have to be the smoke's filter," said Pete Naccarelli, a table game dealer at the Borgata who in 2021 cofounded CEASE — "Casino Employees Against Smoking's Effects."
"It's impossible to avoid the smoke, even when people are trying to be polite," added Lamont White, another CEASE coleader who also works as a Borgata dealer. "What we know about secondhand smoke and the long-term damage is always on the back of our minds."
State Decision
The Atlantic City casino smoking decision will ultimately be settled by state lawmakers and Gov. Phil Murphy (D). Murphy has said repeatedly that he would sign legislation to close the casino smoking loophole. But he cannot singlehandedly overhaul the regulatory environment.
Legislation to make Atlantic City casinos go entirely smoke-free has had adequate support for many months by way of cosponsors in the state Assembly and Senate.
Assembly Bill 2151 has the backing of 51 of the 80 New Jersey Assembly members. Senate Bill 254, an identical version of the Assembly bill, is supported by 23 of the Senate's 40-member chamber.
Both pieces of legislation have enough votes to send the measures to Murphy's desk. But political insiders in Trenton have suggested that the Democratic-controlled Legislature is delaying casino smoking consideration until this November's election. That's when all 120 state Assembly and Senate seats are on the ballot.