Atlantic City Casino Smoking Hearing Set, Grassroots Campaign Organizers Optimistic
Posted on: February 2, 2023, 07:50h.
Last updated on: February 2, 2023, 12:32h.
Atlantic City casino smoking will finally have its day in Trenton this month. That will happen when a Senate committee begins deliberating the merits of legislation that seeks to close an indoor smoking loophole for the city's nine resorts.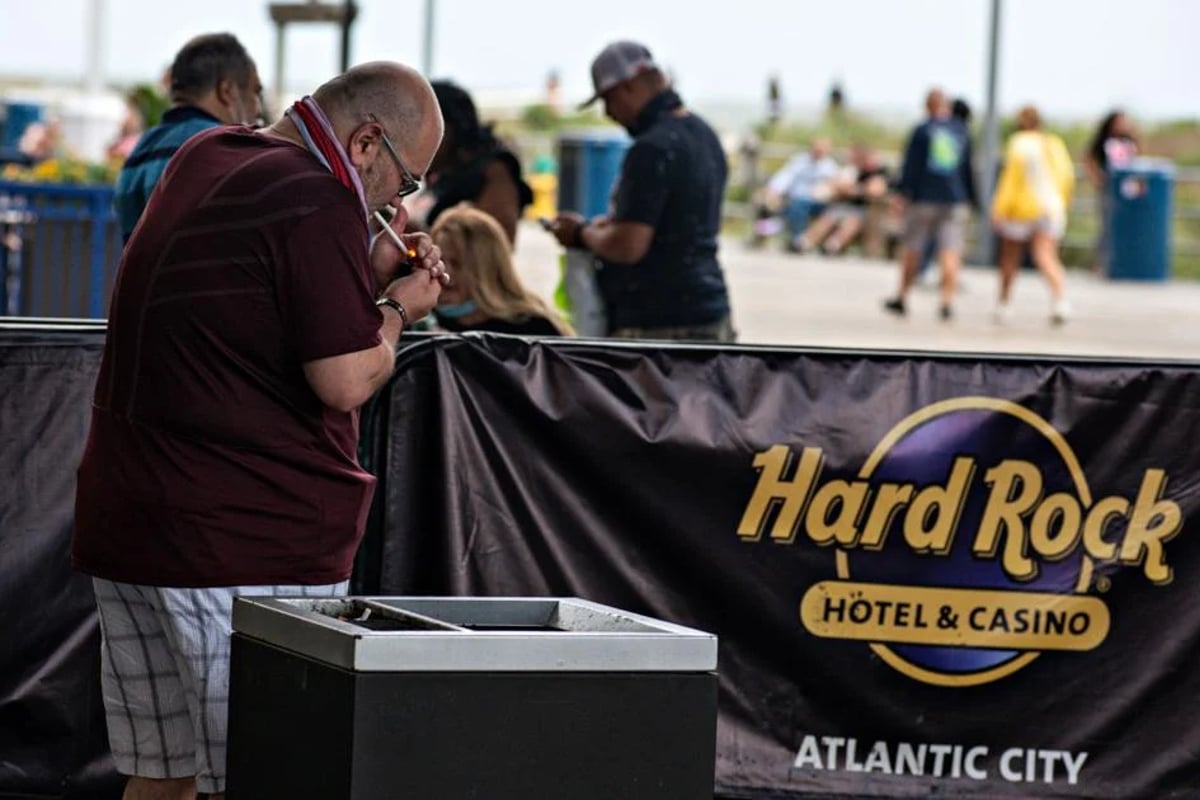 New Jersey's 2006 Smoke-Free Air Act included exemptions for Atlantic City casinos. Under the law, which prohibits indoor smoking in most workplaces and public environments, casinos can set aside up to 25% of their gaming floor for smoking.
Two identical pieces of legislation — Assembly Bill 2151 and Senate Bill 264 — have been sitting in the New Jersey State House for more than a year. The bills have the same goal: to force Atlantic City casino smokers outside.
Legislative fights to make the casinos go smoke-free have persisted for nearly a decade. But the 2022-2023 legislative session appears to have the best odds of a nonsmoking bill passing. In fact, both pieces of legislation already have enough support to move the statutes to Gov. Phil Murphy's (D) desk. Murphy has said in the past he would sign such a law.
The Assembly bill has the support of 51 of the 80 assembly members. The Senate component has 23 sponsors and cosponsors in the 40-seat chamber.
If the lawmakers who have cosponsored the measures stay true to their word, AB2151/SB264 would presumably have a swift path to Murphy. But intense lobbying from the casinos is expected now that the Senate casino smoking bill is being taken up in committee.
Legislative Path
The New Jersey Senate Health, Human Services, and Senior Citizens Committee announced Wednesday that it will begin considering SB264 with a hearing on February 13 in Trenton. The committee cautioned anti-smoking supporters that it doesn't plan to vote on the statute that day.
The grassroots coalition of Atlantic City casino workers fighting for a clean indoor air work environment said the hearing is a major development.
This is a massive step forward for protecting our health and treating us like every other worker in New Jersey. No other group of workers in our state must deal with secondhand smoke like we do — two feet in front of our faces, without even the ability to turn our heads because we're watching over the chips on the table," read a statement to Casino.org from Casino Employees Against Smoking Effects (CEASE).
"This hearing is a chance to tell our stories — about the nearly two decades of diagnoses of cancer, heart disease, asthma, and more — that have convinced more than half of all legislators to cosponsor the bills. CEASE will not rest until this legislation is signed into law," the release concluded.
Casino Pushback
The nine Atlantic City casinos argue a smoking ban would put their properties at a competitive disadvantage with gaming facilities in neighboring Pennsylvania. Under Pennsylvania law, Philadelphia casinos are allowed to designate 25% of their gaming space for smoking. Legislative efforts to close the loophole are also underway in Pennsylvania.
The Casino Association of New Jersey (CANJ) commissioned a study on what sort of impact a smoking ban would have on their businesses. The review, conducted by Spectrum Gaming Group — a leading gaming industry consultancy — determined that a smoking ban would hurt annual gaming revenue by about 11% and lead to 2,500 job losses.
Though casinos' brick-and-mortar gross gaming revenue (GGR) in 2022 topped their pre-pandemic 2019 win by 3.7%, the industry says now is not the time to consider extinguishing smoking. The industry claims it's still recovering from the pandemic, and high overhead is eating into the casinos' bottom lines.
"The Atlantic City casino industry is the economic backbone of South Jersey. A smoking ban would result in a decline in customers, which would cause job losses, a decline in gaming revenue, and a decline in tax revenue that benefits the state and local economy, as well as New Jersey seniors and persons with disabilities," CANJ said a year ago this month.