Atlantic City Casino Smoking Hearing Reveals Strong Divide Between Industry, Workers
Posted on: February 14, 2023, 11:22h.
Last updated on: February 14, 2023, 03:00h.
Atlantic City casino smoking is allowed on up to 25% of the nine gaming floors in town. But many casino workers say it's long past time to end the smoking allowance in order to protect employee health.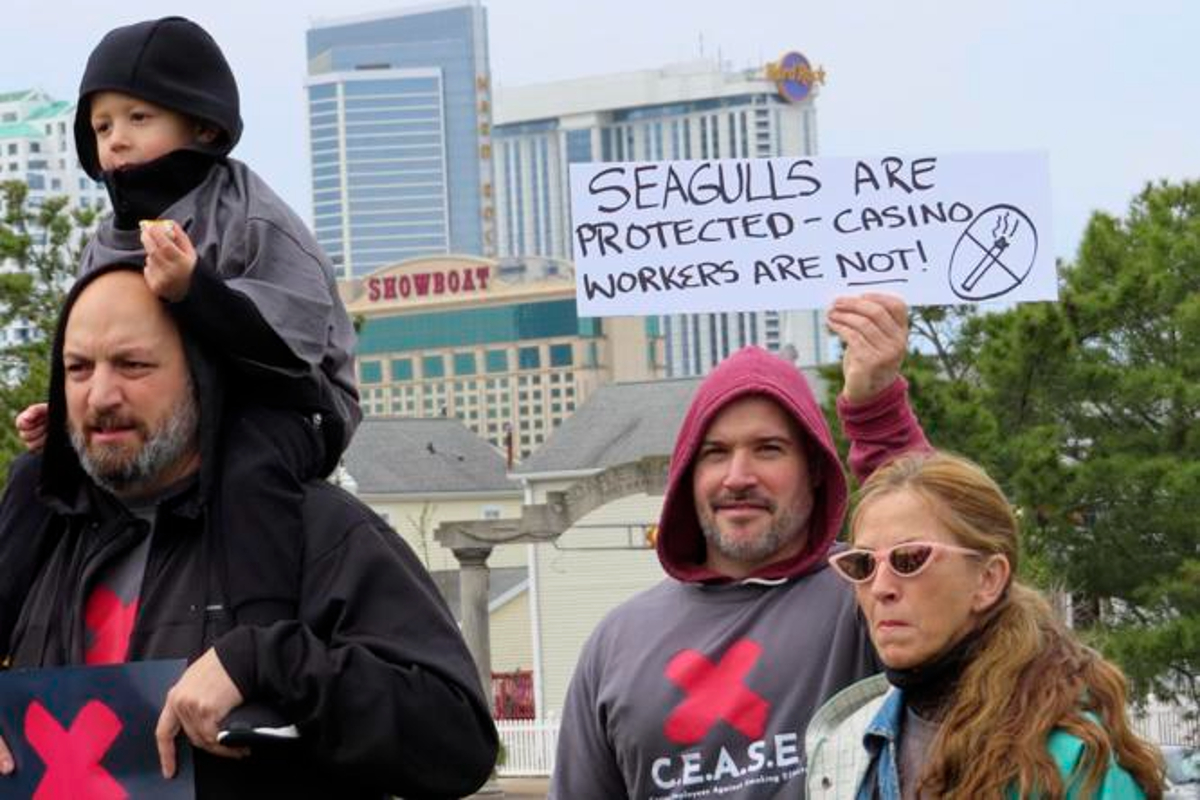 Two identical pieces of legislation, each seeking to close the casino smoking loophole that was formed in 2006 when New Jersey passed its Smoke-Free Air Act, have been lingering in the Trenton capital for more than a year.
The legislation — Senate Bill 264 and Assembly Bill 2151 — already have enough support by way of cosponsors to pass their respective chambers.
But the Democratic-controlled legislature has mothballed the bills for unknown reasons. However, rumors have circulated that the party's brass wants to wait until after the 2023 election to consider the measures. All 80 seats in the General Assembly and 40 seats in the state Senate are on the ballot this November.
After months of inaction, one of the smoking bills finally gained some consideration this week.
Divisive Issue
The Senate Health, Human Services, and Senior Citizens Committee this week held a hearing on SB264. The committee has possessed the Senate's Atlantic City casino smoking bill since February 2020.
The committee invited both sides of the casino smoking topic to testify. And it quickly became apparent that finding common ground might be difficult.
Atlantic City casino workers demanding a smoke-free workplace say table game dealers aren't able to stay clear of harmful secondhand smoke that's regularly blown in their faces.
I am responsible for hundreds of thousands of dollars' worth of chips. When a player 12 inches away blows a cloud of smoke at me, I can't move, and I'm prohibited from waving the smoke away, a gesture that would be considered rude," Borgata dealer Pete Naccarelli told the committee. Naccarelli is one of the cofounders of CEASE — Casino Employees Against Smoking Effects.
Other casino workers testified that they believe some of their physical ailments are linked to working inside toxic workplaces. Lamont White, another CEASE leader who is also a dealer at the Borgata, said he's come to learn that people dying of smoke-related cancers in their 40s and 50s isn't common outside of his industry.
"We cannot walk away. Our job is to take it, no matter how many cigarettes or cigars are lit," White stated.
The casinos, however, oppose eliminating indoor smoking. Atlantic City's leading casino union — Unite Here Local 54 — does, too.
 "I would bet everything I have that one year after a smoking ban, we will have a 10%-15% decline in gambling revenue," said Local 54 President Bob McDevitt. "[No-smoking] would close one, maybe two casinos in Atlantic City."
The Senate committee didn't act on SB264. It also provided no timeline as to when the committee might vote on the bill.
Casino Smoke Out
McDevitt and the Casino Association of New Jersey have regularly cited Pennsylvania's ongoing smoking allowance inside casinos as the primary reason that smoking should continue to be allowed down the shore.
But CEASE isn't planning to only extinguish casino smoking in Atlantic City, as the grassroots campaign is undergoing an expansion of its efforts across the Mid-Atlantic and Northeast.
CEASE today has advocacies running in Pennsylvania, Virginia, and Rhode Island.