British Soccer Team Arsenal Becomes First Major Sports Outfit to Promote Cryptocurrency
Posted on: January 25, 2018, 04:00h.
Last updated on: January 25, 2018, 01:21h.
English Premier League (EPL) club Arsenal has become the first sports team in the world to partner with a cryptocurrency. The soccer team known as "The Gunners" has sealed a deal with crypto gambling platform provider CashBet, which will see them promote CashBet Coin's forthcoming initial coin offering (ICO) at the Emirates Stadium in North London.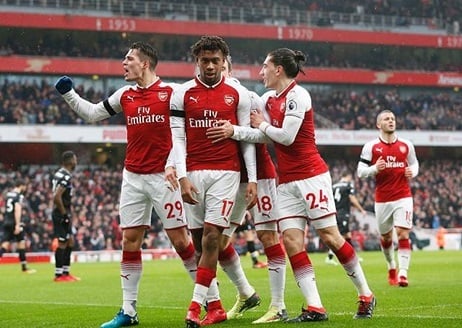 An ICO essentially introduces a new currency to the market, acting as a way for a firm to raise capital by selling a percentage of the tender to early backers.
CashBet executives have said they hope to raise between $40 million and $70 million from the initial sale of the tokens, which are designed to be used on CashBet's mobile gambling apps and will initially be priced at 50 cents.
EPL's Uneasy Relationship with Gambling
CashBet CEO and founder Mike Reaves said in a company statement that the coin is actively targeting a "global, multi-billion-dollar marketplace of igaming content providers, operators and players," adding that partnering with "one of the world's true football [soccer] giants" will allow his new currency to "build our brand and engage this audience in a meaningful way."
The news comes at a time when bitcoin has been taking a dip after reaching record-breaking heights in 2017. The cryptocurrency has now dropped in value to just over $11,000 from an all all-time-high of $19,200 at the beginning of the year.
It also comes as the commercial relationship between gambling and soccer is becoming increasingly controversial. There have been several high-profile cases lately of soccer players with serious gambling addictions, and Britain's BBC TV network has reported that betting on games among players is widespread.
Cutting Deals
Last year, the Football Association (FA), English Soccer's governing body, was accused of having too cozy a financial relationship with betting companies.
Bowing to pressure, the FA cut short its four-year multimillion-pound sponsorship deal with bookmaker Ladbrokes after only one season. It also banned all future commercial sponsorship deals between betting companies and its organization.
North of the border, however, things are very different. This week Ladbrokes and the Scottish Professional Football League announced a new £5 million ($7 million) two-year sponsorship deal.
And EPL clubs remain free to pursue deals with betting companies. This season, nine out of 20 EPL teams bear the logos of bookmakers across their chests, with operators collectively paying $62 million for the privilege.