ABC-Washington Post Poll Puts Trump 10 Points Ahead, Oddsmakers Have It Tighter
Posted on: September 25, 2023, 01:20h.
Last updated on: September 26, 2023, 02:29h.
An ABC/Washington Post poll suggests President Joe Biden would lose to former President Donald Trump if the two square off in another presidential election next November.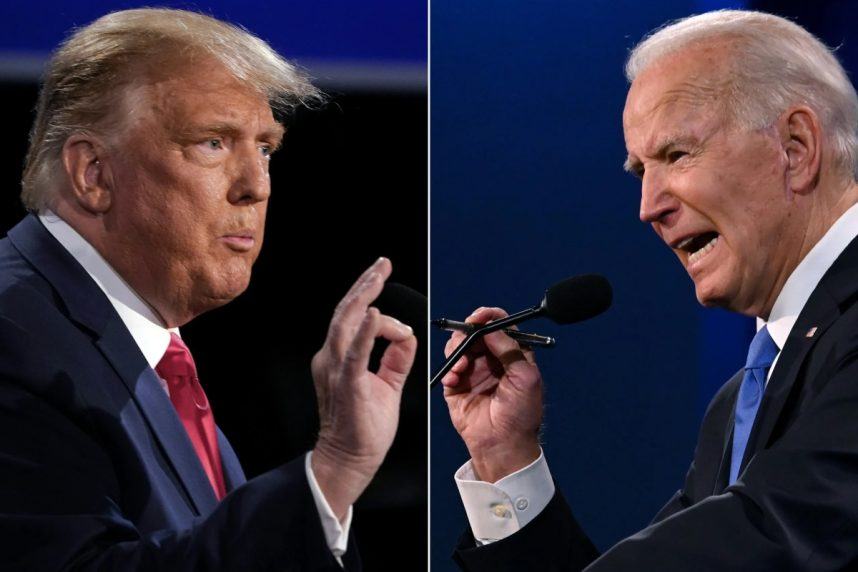 The ABC/Washington Post poll has Biden at a 10-point disadvantage if the election were held today. However, political analysts with the news organizations say the poll was an "outlier" and deviated greatly from other recent polling regarding a Biden-Trump rematch. The ABC–WaPo pollsters found Biden has poor marks among likely voters with his handling of the economy, border security, and Ukraine.
The Post and ABC, however, cautioned reading too much into the polling results.
The Post-ABC poll shows Biden trailing Trump by 10 percentage points at this early stage in the election cycle, although the sizable margin of Trump's lead in this survey is significantly at odds with other public polls that show the general election contest a virtual dead heat," a statement from the media groups said. "The difference between this poll and others, as well as the unusual makeup of Trump's and Biden's coalitions in this survey, suggest it is probably an outlier."
The average of recent polling in a hypothetical Biden vs. Trump 2024 general election, according to Real Clear Politics, has Trump with a 1.6-point advantage.
Betting Markets Neck-and-Neck
Betting on elections in the US is illegal everywhere, as state gaming regulators have refused to sign off on such requests because lawmakers and federal officials say wagering could jeopardize the integrity of the democratic process. But oddsmakers overseas in places like the UK have long offered political betting lines.
William Hill, one of the largest bookmakers in the UK and Europe, has Biden's reelection odds at 7/4, which implies a chance of 36.4%. The president is a slight front-runner over Trump, who is at 2/1. Trump's line implies a chance of 33.3%.
Though a traditional bet can't be placed in the US on the Biden-Trump head-to-head hypothetical, there are political wagering peer-to-peer exchanges like PredictIt that facilitate non-traditional sports bets on politics.
PredictIt peer-to-peer bettors who backed Biden for 2024 aren't yet willing to sell off their shares at discounted prices. That's kept the president as the betting favorite, with his shares trading this week at 43 cents. Trump is in second at 39 cents, and California Gov. Gavin Newsom (D) is in third at a distant 11 cents.
Florida Gov. Ron DeSantis (R) at six cents and Vice President Kamala Harris at a nickel round out the top five front runners. Winning shares are redeemed at $1 once the market is settled.
The PredictIt odds align with the current odds available on Smarkets and Betfair, two other betting exchanges that accept action from US bettors.
Concerning Data for Biden
When Trump was president in the fall of 2019, polling suggested the former casino tycoon was facing an uphill battle against whoever would become his Democratic opponent.
A survey conducted by Public Policy Polling in North Carolina even concluded that US Women's National Soccer Team star Megan Rapinoe would beat Trump in a 2020 presidential election. Rapinoe was popular at the time for being an outspoken critic of the president.
Trump's PredictIt shares, as the summer ended in 2019, were trading at 43 cents, the same value Biden's are currently at.
The current polling and betting data suggest the odds are good that Biden will be a one-term president. But, of course, a lot can, and most likely will, happen from now until Election Day on Nov. 5, 2024.