Donald Trump 2024 Odds Improve Following First GOP Debate He Skipped
Posted on: August 24, 2023, 06:02h.
Last updated on: August 27, 2023, 11:33h.
The Republican Party held its first 2024 presidential primary debate Wednesday evening, hosted by Fox News in Milwaukee. Political bettors say the winner of the two-hour spectacle was the "elephant not in the room," former President Donald Trump.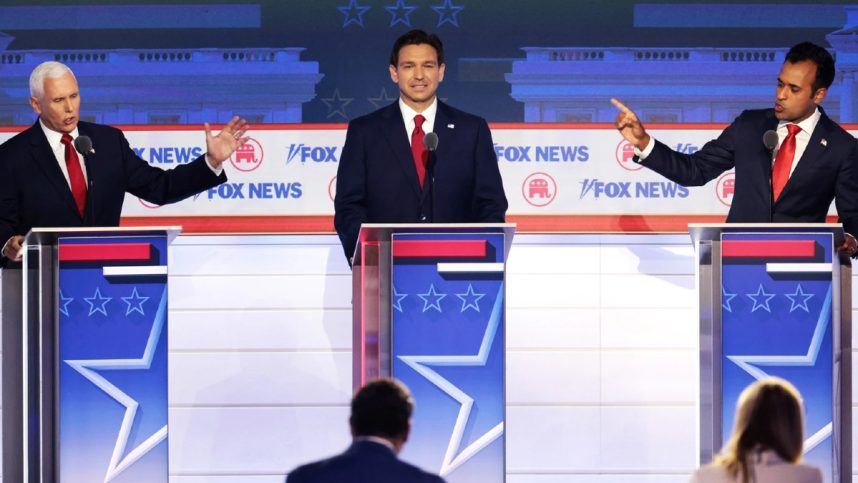 Trump maintains a controlling lead in both the polls and online political betting exchanges to secure the GOP 2024 ticket and challenge incumbent President Joe Biden, the presumed Democratic nominee. According to the latest polling average compiled by Real Clear Politics, Trump has a 41-point lead over Florida Gov. Ron DeSantis, who's in a distant second place.
With such a commanding front-runner status, the 45th president of the United States opted to skip the Fox News showdown that consisted of eight contenders. Trump instead chatted with former Fox News host Tucker Carlson, who was abruptly fired from the cable news organization in April. Carlson has since taken his news program to X, the social media platform formerly called Twitter.
Though Trump was absent, the GOP debate was lively and, at times, combative. Pundits said afterward that each leading candidate had their moments. But the consensus seemed to support that DeSantis, businessman Vivek Ramaswamy, and former UN Ambassador Nikki Haley were the winners.
Odds Movement
Political betting at sportsbooks remains prohibited across the U.S. Still, online betting exchanges allow those who believe they are better inclined at forecasting the outcome of elections to place wagers among themselves. Sites such as PredictIt allow players to wager up to $850 on an election outcome by buying and selling shares.
The legality of PredictIt remains contested in court. But the U.S. Fifth Circuit Court of Appeals issued an injunction last month allowing the platform to continue its operations as the case persists. Despite the eight candidates on stage last night making their appeals to U.S. voters, political bettors believed the chaotic, and at times, heated back-and-forth — Ramaswamy's political inexperience and youth were often targeted — only helped Trump's 2024 odds.
On the PredictIt market asking which Republican will win the party's 2024 nomination, Trump's shares have increased two cents since the debate to 60 cents. Meanwhile, Ramaswamy held steady at 18 cents. DeSantis' stock declined two cents to 14 cents.
Haley's stock also didn't change; she's in a distant fourth at six cents. No other candidate on last night's stage has shares trading at a nickel or higher.
Former New Jersey Gov. Chris Christie lost a cent to four cents, while Trump's former Vice President Mike Pence, who was more confrontational than usual, gained a penny, but remains at just three cents.
General Election Movement
Despite being a no-show, the first GOP debate was also a win for Trump's chances of reoccupying the White House. While Biden remains the 2024 favorite, PredictIt bettors giving him about a 43% chance of winning a second term, Trump's stock climbed two cents for an implied chance of about 30%.
Ramaswamy also saw his presidential odds shorten. His 2024 stock climbed four cents to an implied shot of 11%.
The next Republican presidential primary debate is slated for September 27. Only time will tell if Trump will grace the stage and address his challengers and the American electorate. Trump is facing 91 criminal counts in the four indictments brought against him.