Top 10 Poker Players Worth Following On Twitter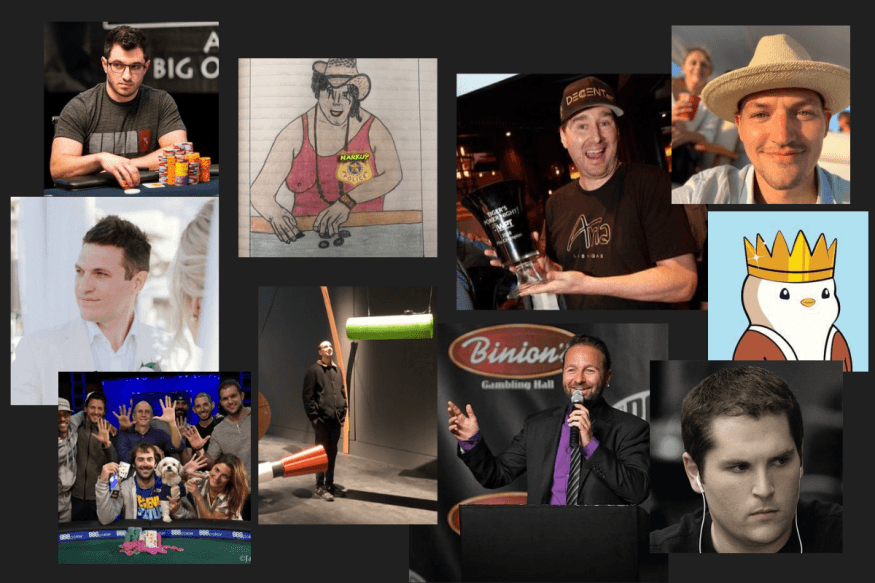 If you consider yourself a poker fan, you probably know that Twitter is the platform of choice for many pros.
You can be sure that players will be active in and around big tournaments, share their insights, and strategy tips. If anything is going on in the poker world, players will take it to Twitter and discuss the issue.
I can't make a definitive list of who you should follow, but players on this lineup are a good choice.
I have to stress that this is not a list of players with the biggest followings on Twitter. You can easily find those yourself.
Instead, I wanted to create a list with ones that I follow and enjoy seeing on my feed.
When you start following these guys, you will get many recommendations, so you can easily make it into an ever-growing list and fill your whole feed with poker players.
Daniel Negreanu is one of the biggest and best-known names in poker.
The Hall of Famer has won over $46.2 million in live tournament winnings and holds six WSOP bracelets, as well as countless other achievements.
His Twitter feed is mostly filled with poker-related stuff, especially during important events such as WSOP or other series.
But the Canadian – who got his US Citizenship in 2016 – is also very vocal about politics, social issues, and other stuff, and isn't afraid of controversy.
So if you were looking for just Negreanu playing poker, be prepared to get much more than that if you do decide to hit that follow button.
Doug Polk is a well-known name in high stakes poker circles and was considered one of the best Heads Up Hold'em players for a while, thanks to some great results online.
He's also won over $9.5 million in live tournament earnings, so there is no question about his poker abilities.
Polk, who's back after taking a break away from the tables, is worth a follow on Twitter for comedy value (or if you're a crypto fan).
Although a big shot, he doesn't shy away from engaging with his followers, so feel free to tweet him.
The famous "Poker Brat" has an active Twitter account, which is quite Phil-focused, as you'd expect.
Hellmuth may not be on everyone's list of people to follow, but for many poker fans, he remains one of the game's greatest.
With 16 WSOP bracelets (more than any other player out there), over $28.4 million in tournament winnings, and several poker books to his name, it's hard to argue with it.
Phil is doing his share to promote poker, tweeting about any tournmanets he might be playing and engaging with other players.
You'll also get a a sneak peek behind the scenes of Hellmuth's personal life, which is always fun to see.
Joey Ingram could be dubbed the investigative journalist of the poker world.
"Papi" puts countless hours behind the scenes to unveil the biggest scams and scandals in the poker community, and everyone seems to love it.
If you want to be in the loop about the latest events that don't always hit the headlines of major news sites, then you should definitely follow Ingram on Twitter.
Equally, if you have a solid reason to believe something is amiss and want someone to look into it, he's your man.
Fedor Holz is one of the best-known young guns in the poker world. He had an insane run in high roller tournaments, amassing live career winnings of over $33.4 million in just a few years.
He's had tremendous success playing online, is an ambassador for GGPoker and runs the training site Pokercode – so he's a guy who knows a thing or two about poker.
So if you want the latest insights from poker or were just wondering what Holz has been up to lately, his Twitter is where you'll get all the news.
Phil Galfond is one of the brightest poker minds around.
His blogs and forum posts on a variety of topics have always been welcomed by the poker community, not just because he knows what he's talking about but also because he knows how to write.
Galfond is quite active on Twitter and discusses many topics relevant to the community, such as the use of HUDs, cheating, sharing tips and tricks and more.
He's definitely worth a follow.
Closing in on over $20.1 million in live tournament earnings, Mercier crushed the tournament circuit for years, and shared his insights with over 131k followers on Twitter.
If you've got kids and want to see how you can balance playing poker with being a parent, be sure to give him a follow as he's recently returned to the poker scene.
The "Poker Brat" was happy to see him return to WSOP this year:
Erik Seidel has always been one of the game's "silent assassins."
Always calm and composed at the tables and never seeking the spotlight, Seidel has amassed well over $40 million in tournament winnings.
If you're wondering what he's been up to lately and want to keep up, your best bet is to follow him on Twitter, where he frequently shares insights from everyday life and poker circuit.
He's got a great sense of humour, so he's worth a follow for that alone.
Known as one of the most outspoken poker players on Twitter, Sean Debb is no stranger to causing a stir.
Times have changed for Sean as he has stepped away from the table for the most part, focusing on raising his family and concentrating on other business ventures.
Despite playing less, he'll post around the WSOP and other key events, and still can't resist poking some fun at the likes of Doug Polk and Daniel Negreanu, making for some light relief.
Bart Hanson is a well-known name in the poker circles.
If you keep up with poker on TV or live streams, you might have heard him calling the action and explaining what's going on. According to many of his peers, Hanson is one of the best commentators around.
Bart isn't just a commentator, though. In fact, he is a very good poker player with solid results under his belt.
His Twitter feed is full of short poker tips, links to podcasts and training videos explaining different hands and strategy concepts.
If you want to learn more about live games, he should definitely be on your follow list.