The Greatest of All Time celebrities, according to A.I.
When you hear the term, G.O.A.T., who comes to mind? The G.O.A.T. aka Greatest of All Time is an acronym that's used to praise exceptional public figures, like athletes, musicians, and celebrities. Some would argue that Michael Jordan is the G.O.A.T. for basketball, Michael Jackson for singing, or dare we say…Messi for soccer?
We're putting an end to this by asking an unbiased tool to settle the debate – ChatGPT. Since the A.I. Chatbot has no personal biases and is a data-driven source, we know we can get fair and interesting results. Here are the top 10 Greatest of All Time American and Canadian celebrities, according to A.I.
Key Findings
America's Greatest of All Time celebrity is Oprah Winfrey, with a perfect score of 10.00/10.00.
Canada's Greatest of All Time celebrity is Celine Dion, with an overall score of 9.40/10.00.
Muhammad Ali is America's G.O.A.T. athlete, while Wayne Gretzky is Canada's G.O.A.T. athlete.
Beyoncé is America's G.O.A.T. musician and Celine Dion for Canada's G.O.A.T. musician.
Top 10 G.O.A.T. American celebrities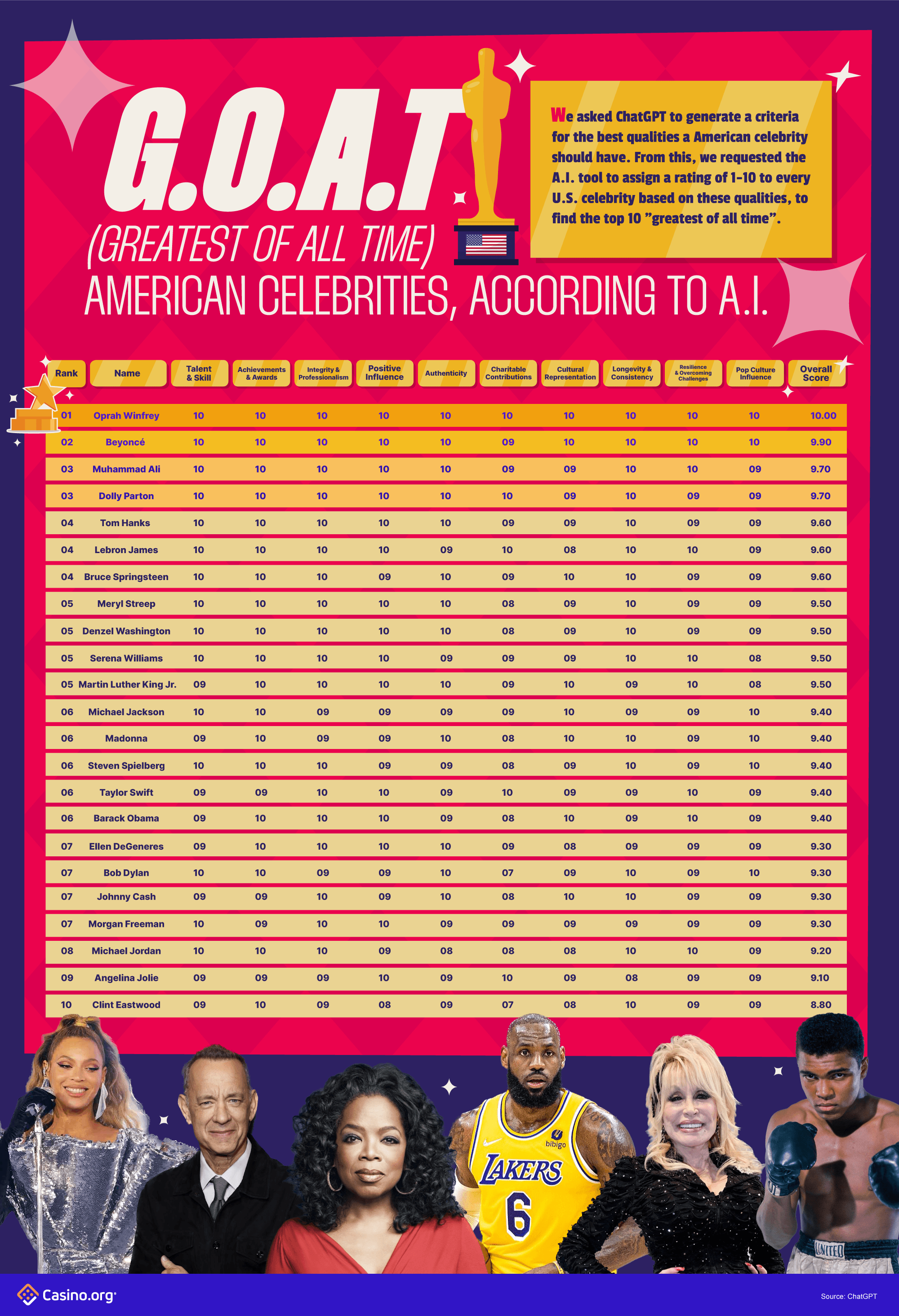 Being titled the greatest of all time is no small feat, as each celebrity has to rank highly on a scale of 1-10, in the following criteria: talent and skill, achievements and awards, integrity and professionalism, positive influence, authenticity, charitable contributions, cultural representations, longevity and consistency, resilience and overcoming challenges, and pop culture influence.
However, there is only one celebrity who scored a perfect 10 across all criteria. The Greatest of All Time goes to, drum roll please…Oprah Winfrey! The All-American talk show host, tv producer, actress, author, and media proprietor is an industry trailblazer, winning 18 Emmy awards and the Medal of Freedom, the nation's highest civilian honor. With a record like that, a perfect score comes as no surprise.
It's time to get into formation because following very closely behind is a music pioneer – the one and only, Beyoncé. Queen Bey achieved 10's in every category, except in charitable contributions – where she scored a nine. Her role in American society contributes to her artistry by addressing various issues such as feminism, stopping sexism, encouraging female empowerment, and more. Who runs the world? Beyoncé!
Not afraid to hit a few punches and a high note to win a nice (bronze) medal are Muhammad Ali and Dolly Parton, as they tie for third. Nicknamed "The Greatest", Muhammad Ali of course, bagged 10's across every quality, except for three – where he striked high nines in charitable contributions, cultural representation, and pop culture influence. Some of his greatest achievements include being the first fighter to win the World Heavyweight Championship on three separate occasions and for his social activism.
Dolly Parton, on the other hand, has been named the most successful female country singer of all time and it shows as she scored 10's across every category, with the exception of nines in cultural representation, resilience and overcoming challenges, and pop culture influence. The country star continues to dedicate her life to the music industry as she continues to write more than 3,000 songs with her shiny 10 Grammy Awards.
Honorable mentions
Tom Hanks (4th), Lebron James (4th), Bruce Springsteen (4th), Meryl Streep (5th), Denzel Washington (5th), Serena Williams (5th), Martin Luther King Jr. (5th), Michael Jackson (6th), Madonna (6th), Steven Spielberg (6th), Taylor Swift (6th), Barack Obama (6th), Ellen DeGeneres (7th), Bob Dylan (7th), Johnny Cash (7th), Morgan Freeman (7th), Michael Jordan (8th), Angelina Jolie (9th), and Clint Eastwood (10th).
Top 10 G.O.A.T. Canadian celebrities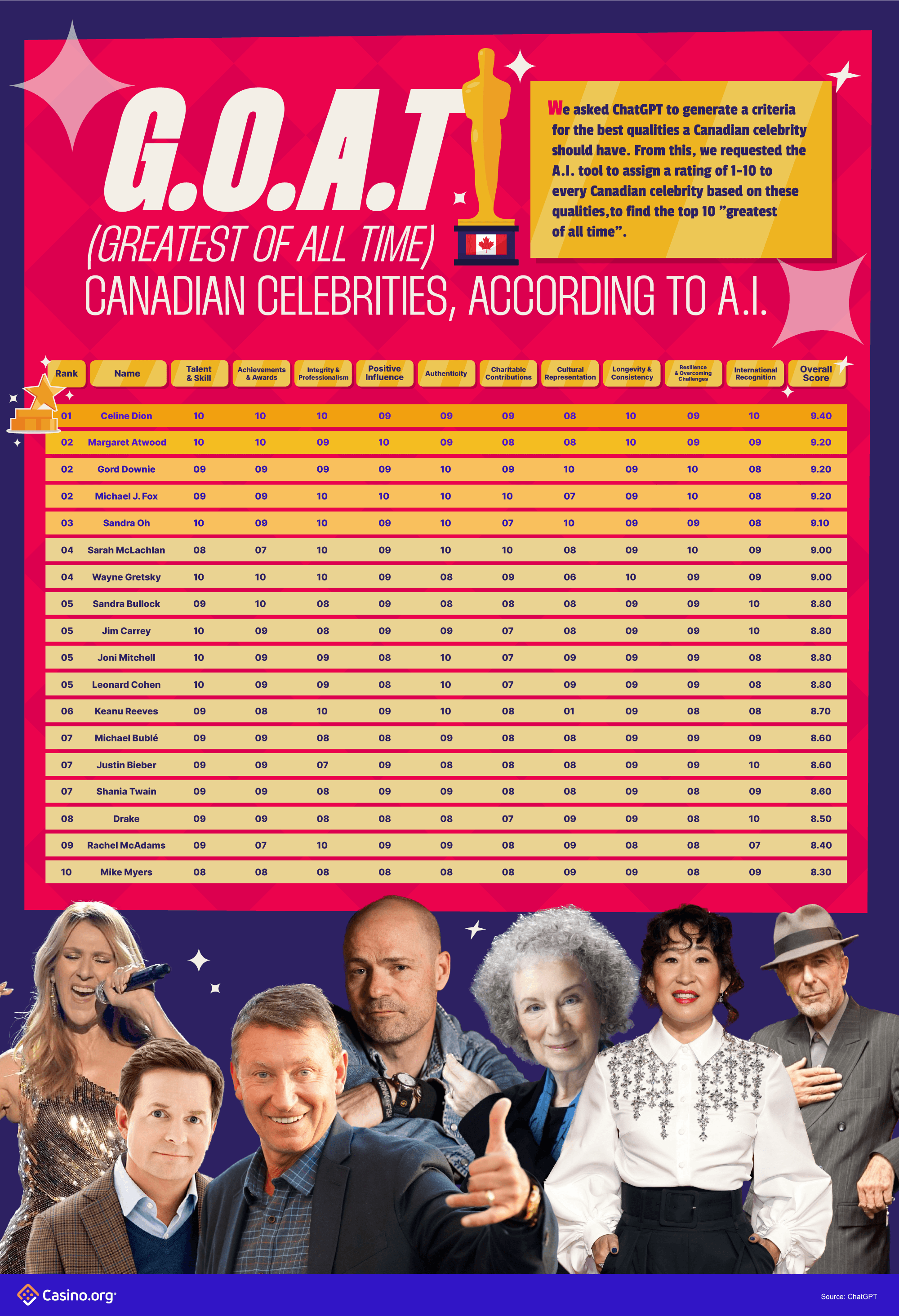 Similar to the U.S, ChatGPT created another set of criteria that determines a Canadian celebrity's greatness. Every category remained the same, but swapped out "pop culture influence" for "international recognition".
Canadians' hearts will go on for as long as Celine Dion's legacy reigns, as she is officially the G.O.A.T. amongst Canada's celebrities. Often referred to as the "Queen of Power Ballads", the singer scored quite a few nines and tens across the chart – with the exception of an eight in cultural representation. The French-Canadian's perseverance in her musical craft serves as an inspiration to millions.
Margaret Atwood, Gord Downie, and Michael J. Fox all tied in second for Canada's Greatest of All Time! All three Great White North celebrities share an overall score of 9.20, yet, are all celebrated for different reasons. Margaret Atwood, born in the nation's capital, is the country's most illustrious novelist, poet, and feminist icon – as she is the author of The Handmaid's Tale.
Lead singer/songwriter of The Tragically Hip and 15-time JUNO Award winner, Gord Downie, is the only celebrity out of the three that scored a 10 in the cultural representation category. Considered a "national hero", he used his platform to advocate on behalf of Indigenous Peoples.
Marty McFly, aka Michael J. Fox, is recognized for his dozens of blockbuster films and respected for his advocacy towards Parkinsons' disease. He established his own foundation, The Michael J. Fox Foundation, to help accelerate scientific progress toward the cure.
Canada's third G.O.A.T. celebrity is Sandra Oh, a beloved Korean actress who portrayed the legendary Grey's Anatomy character, Dr. Cristina Yang. Like Gord Downie, she is the only other Canadian star that received a 10 in the cultural representation criteria. With several awards to her name, such as a Golden Globe, and being listed in TIME100: The Most Influential People of 2019, she continues to break barriers for Asian women in the entertainment industry by portraying powerful female characters in her artistry.
Honorable mentions
Sarah McLachlan (4th), Wayne Gretzky (4th), Sandra Bullock (5th), Jim Carrey (5th), Joni Mitchell (5th), Leonard Cohen (5th), Keanu Reeves (6th), Michael Bublé (7th), Justin Bieber (7th), Shania Twain (7th), Drake (8th), Rachel McAdams (9th), Mike Myers (10th).
Methodology
In July 2023, we asked ChatGPT to create general criteria for the best qualities an American celebrity should have. Once created, we asked the A.I. tool to score every American celebrity on a scale of 1-10 based on the 10 qualities it created for us earlier. We gathered the overall score by calculating the total average for each celebrity to find the final rankings.
The same methodology was repeated for Canada.
Fair use
Feel free to use the data or visuals on this page for non-commercial purposes. Please be sure to include proper attribution linking back to this page to give credit to the authors.
For any press questions, please contact michaela.shaw[at]casino.org