Going Wild: The Most Exotic Casino Locales in the World
Sure, Las Vegas is a guaranteed wild and crazy vacay, and Atlantic City is nearby if you're on the East Coast. And if you're in Europe, Monte Carlo is chic and London has several high-end gambling venues. But what if you're jonesing for a completely unique casino experience in a place that most people would never dream of visiting? Take a look at a few of these exotic and unusual locales for the jaded world-traveler, and what each can offer for the memories of a lifetime!
La Mamounia: Marrakesh, Morocco
Contrary to what one would probably imagine in a largely Muslim country, casinos are actually legal throughout Morocco, which is located just across from Spain in northwestern Africa. Alcohol is widely available as well, and you'll find the local dress, in general, to be closer to Western standards than many other Muslim countries these days.
Attached to what has been voted the Best Urban Hotel in the World 2013 by Conde Nast Traveler
Magazine, Marrakesh-based Le Grand Casino La Mamounia is the largest casino in the country and a luxurious and exotic place to gamble if ever there was one.  With 8 American Roulette tables, 8 blackjack tables, one mini Punto Banco, 10 poker tables and 170 slot machines, it's small by Western standards, but the old-school "Casablanca"-ish aura and uber-high end and authentic architecture and furnishings will take you back to another era, when life was slower and elegance was valued. Table bets begin low – at 50 Moroccan Dirham (approximately $6 U.S.), but the hotel looks like it's five-star ++, so be prepared to shell it out if you plan to stay or dine there.
This mythic-looking compound shows amazing Moorish architecture, combined with modern and chic accoutrements, for an overall ambiance that says class and chic. If you lose your shirt, however, you may be heading home on a camel. Yes, we're kidding.
Le Grand Casino de la Mamounia/Avenue Bab Jdid, Medina, Marrakech, Marrakech-Tensift-Al Haouz 40000, Morocco.
Emnotweni Casino: Nelspruit, Mpumalanga, South Africa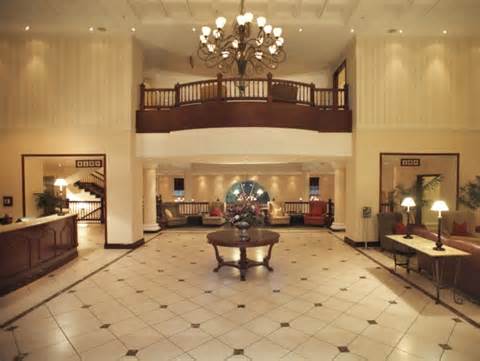 For those of you who have stayed up pondering how to combine an African photo safari with a gambling junket, the Emnotweni Casino – nestled in the mountains of Nelspruit, right alongside the banks of the Crocodile River – should fulfill your fantasies of gaming and game life all wrapped up together. Who knew you could be shooting pics of giraffes one day, and bagging up chips the next?!
The casino is open 24 hours, except for Christmas and Good Friday, and boasts 367 slot machines, 10 blackjack and roulette tables – including an electronic roulette table – and a private VIP high-roller room where only the wealthy need apply.
The adjacent hotel has just 109 rooms and one restaurant, so you can expect a leisurely pace and attentive service during your stay. Packages are available to combine your gaming vacay with trips to nearby Kruger National Park, where you can see jaguars, elephants and lions. Then back at the casino, expect to see a few whales as well.
They say that "Emnotweni" is Zulu slang for "where the money is" – why not try your luck and find out?
Emnotweni Casino/Government Boulevard/Riverside Park Ext 1/Nelspruit, Mpumalanga 1200, South Africa