New Nevada Forever Stamp Features Valley of Fire and a Controversial Surprise
The U.S. Postal Service has released its newest "forever" stamp, honoring the 150th anniversary of Nevada's statehood.
The new sesquicentennial stamp showcases the state's Valley of Fire, and also includes an iconic landmark transplanted from the Las Vegas Strip. Specifically, the stamp depicts the distinctive support towers of the SkyVue observation wheel.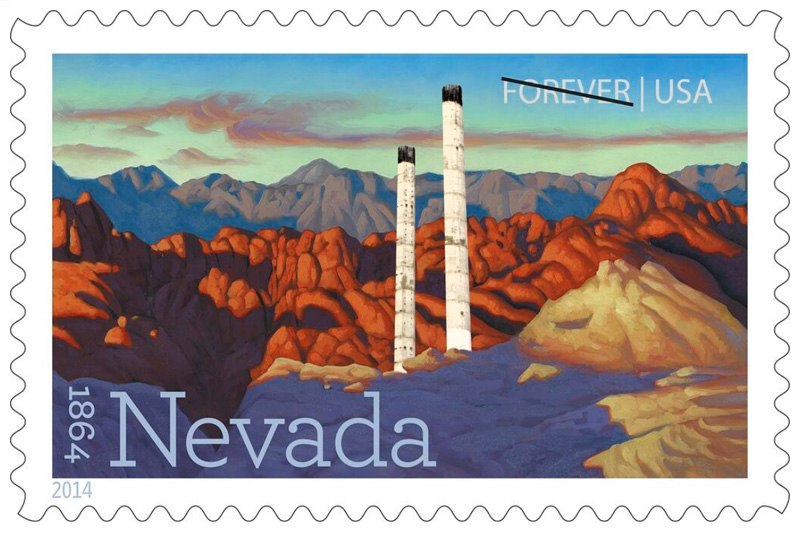 A USPS spokesperson said, "We wanted the new stamp to represent the characteristics people associate with Nevada. Innovation and optimism. We feel the SkyVue observation wheel encapsulates both."
The inclusion of the SkyVue towers on the stamp has come under fire because critics claim the towers have actually been "abandoned," creating an eyesore on the world-famous Las Vegas Strip.
The spokesperson continued, "We understand SkyVue is not yet finished, but we have been informed the wheel has financing in place, with a few minor details remaining before construction begins in earnest. Remember, the USPS is part of the federal government and our 'stamp of approval' means a lot. We wouldn't have included the SkyVue towers on this stamp had we not been certain the SkyVue observation wheel project will move forward, as promised. Just like SkyVue, if the U.S. government is known for anything, it's fiscal soundness and following through on its promises."
Representatives of SkyVue, including the project's mascot, Tiny the Tumbleweed, were not immediately available for comment.