Cirque Reveals "Mad Apple" Details, Vegas Shrugs
Cirque du Soleil recently shared details about the Las Vegas show we told you about six months ago, "Mad Apple."
How did we know about it six months before it was announced? Because in Las Vegas, WE are the show.
Yeah, we said it. While we can't see your reaction, the eye-rolling is duly noted.
So, Cirque has a new show coming to New York-New York, let's talk about it!
From what we can tell, "Mad Apple" isn't really a "Cirque show," which should raise no red flags at all. In fact, we invite you to not imagine us frantically waving red flags as you read the rest of this story.

While "Mad Apple" comes from Cirque du Soleil, it's really the product of some folks at an entity called The Works, a company Cirque acquired in 2019. The Works is described as "the world-class creative and production company known for The Illusionists franchise and other variety shows."
When your biggest credit is something most people haven't heard of, gird your kicks, because it's going to be a bumpy toprock. Yes, we used a break dancing word. Don't faint. That's because in the ad (see above) for "Mad Apple," Lady Liberty, a national treasure symbolizing hope, opportunity and freedom for millions of Americans, is break dancing.
Which most people don't seem to have a problem with, so moving on.
Since one of the credits of The Works is "and other variety shows," it may come as no surprise "Mad Apple" is a variety show.
In fact, it's not only a variety show, it's a variety show with comedy. Oh, and also some magic, a little circus and mayhem.
So, it's "Absinthe," but at New York-New York and we suspect infinitely less funny and original.
We really wanted to get excited about "Mad Apple," but it feels like they're just throwing everything that's ever worked in a Las Vegas show into a sausage grinder to see if the thing that comes out can also work. Yes, we know you don't grind sausages. You grind meat, and the ground meat is stuffed into casings, that's sausage. Who made you like this?
We've been saying for years Cirque needs to stick to its roots, because it needs a hit badly, but apparently Cirque doesn't really care too much about what we think.
The company has had a string of disasters in recent years, and at one point filed bankruptcy. There was "Viva Elvis" at Aria. "Zarkana" followed and was so disastrous, the hotel turned its theater into convention space.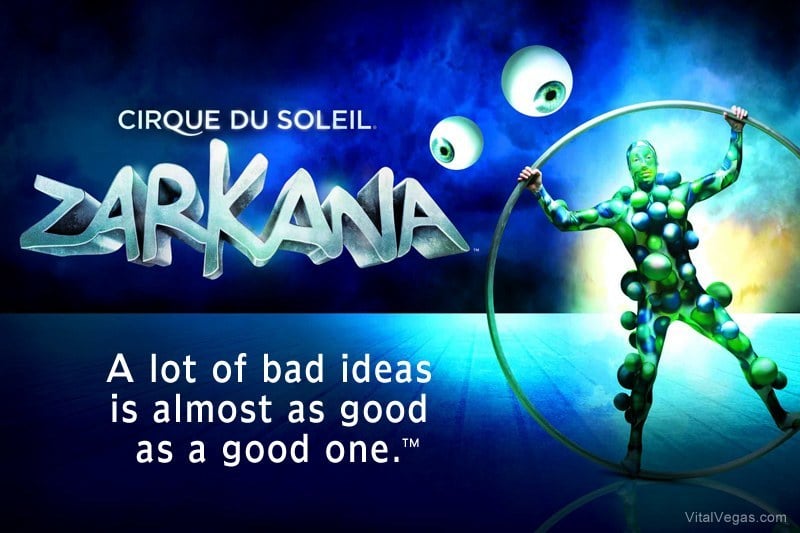 "Zumanity" was always the least popular of Cirque's Las Vegas shows, and never emerged from the pandemic.
Far and away Cirque's biggest implosion, though, was "R.U.N." at Luxor, estimated to have lost $60 million. Dollars. Not French-Canadian krugerrands or whatever.
In an effort clearly intended to redeem itself, Cirque presents "Mad Apple." Let's just say if there's a live band, it will have a sad trombone section.
Enough with the naysaying, let's dive into "Mad Apple."
Here's what it said in the news release: "Featuring comedian Brad Williams, freestyle rapper Chris Turner and vocalist Xharlie Black amongst the incredibly talented cast of 39 people, Mad Apple will be a nonstop New York thrill ride from the moment guests enter the theater. From pre-show magic and boozy libations at the stunning stage bar, to the band playing hits inspired by NYC's most famous musicians and composers, Mad Apple will blur the lines between circus, live entertainment and New York nightlife culture."
Look at how we didn't say anything snarky about the name "Xharlie."
We really, really want to love "Mad Apple."
The release continues, "Featuring six brash acts and a dynamic makeup of musicians, dancers, comedians, magicians and circus performers, Mad Apple rewrites the script for Cirque du Soleil entertainment. Each act will reflect a different nocturnal side of New York, brought to life by underground stars, high-flying acrobats, street performers, up-and-coming entertainers, and the biggest musical hits to come out of the City."

On the bright side, "Mad Apple" seems to be of a scale (six whole acts!) where even if it doesn't "rewrite any scripts," it's not that expensive, so it's much less risky than an overblown debacle like "R.U.N."
The budget for the show is rumored to have been $5 million, but has blown through that number pretty significantly. Still, "Mad Apple" has the luxury of comparing itself to "R.U.N." By that measure, it's already a huge success.
"Mad Apple" is a 50-50 deal with MGM Resorts, which further helps protect Cirque from financial risk.
Variety shows tend to do pretty well in Las Vegas, but "Absinthe" and its sister productions, "Atomic Saloon" at Venetian and "Opium" at Cosmo, have set a pretty high bar.
Because "Mad Apple" seems to have a lot of everything, it means there's likely to be something for everybody.
The big potential disconnect is Cirque's core audience looking for "Mad Apple" to look like a Cirque show.
Listen, if you're not even going to acknowledge our "core" reference, why should we even bother to continue? You don't have to laugh out loud, that would be weird, but a begrudging nod wouldn't kill you. Also, Begrudging Nod would make a pretty good band name.
Some at Cirque blamed the demise of "R.U.N." on the fact customers weren't ready for a show that veered so far from the Cirque formula. Pure spin. They weren't ready for a show that veered so far from being good.
"Mad Apple" looks like it could be a fun evening out, and while the New York-New York theme is a little on the nose, the show has all the ingredients of a people-pleasing show. Especially if those people are drunk.
The reality is a show that's a rehash will be criticized for being unoriginal, and one that tries to be original (like "R.U.N.") is criticized for not sticking to a formula, especially a formula that's been as successful as Cirque's, until recently.

With "Mad Apple," Cirque chose the safe route that could result in a reliable show that won't break any records, but which also won't break the bank at Cirque du Soleil.
The company has been through a lot, including the pandemic, although many of its challenges were around before COVID. Attendance at historically reliable Cirque shows in Las Vegas has been painfully low recently.
Daniel Lamarre, longtime President and CEO of Cirque du Soleil, has stepped down, which is step in the right direction. The company took a hit when Cirque's Chief
Creative Officer, Diane Quinn, left the company not too long ago. The guy who helped make Cirque, well, Cirque, Franco Dragone, is off making really bad career choices by collaborating with Criss Angel.

If you can't keep track of all the Cirque du Soleil shows in Las Vegas, please check out our One Minute Guide to All the Cirque Shows in Las Vegas.
If you've read this blog for any length of time, you know we're a cheerleader for Las Vegas, and of course want "Mad Apple" to thrive.
The reaction to "Mad Apple" hasn't been enthusiastic, but it also hasn't been bad. It's just nothing. A shrug. We heard the show's media event to share details of the show got the same response from MGM Resorts executives. Ouch.
Here's hoping "Mad Apple" will surprise and delight, and not get lost amid all the established shows in Las Vegas that feature the same things (comedy, magic, variety, dancing, singing) and already have a head start on visitor awareness.
Yes, "Mad Apple" has the Cirque du Soleil name on it, but nobody's really sure if that means what it once meant because Cirque shows sometimes don't look like Cirque shows anymore. (Another show that's suffering is "Blue Man Group," not exactly what springs to mind when you think of a Cirque show, but Cirque owns it.)
Assuming "Mad Apple" has some appeal (we'll wait), and you plan to check it out as we will, we've got the ticket prices: Previews for "Mad Apple" begin on May 12, with tickets starting at $49 ($129 VIP). The official debut of the show is May 26, tickets start at $59 ($163 VIP).
It's worth noting tickets in "Category D" during previews cost $69. If you don't know why that's worth noting, you must be new here.
Learn more about "Mad Apple" at the official Web site, and don't tell them about our frantically waving red flags. Those can be very distracting to acrobats and break dancers.