Expert guide to sports betting in New York
---
When making picks, know the team you're betting on - and the opponent. Being a Knicks fan is not enough by itself. Research the opponent, keep up with injuries and know recent trends. There are people who do this for a living from their sofas and recliners, and the one thing they all have in common is that they do their homework. If you want to learn how to bet on sports like a pro, this is a great place to start.
New York sports betting: How to be a smart bettor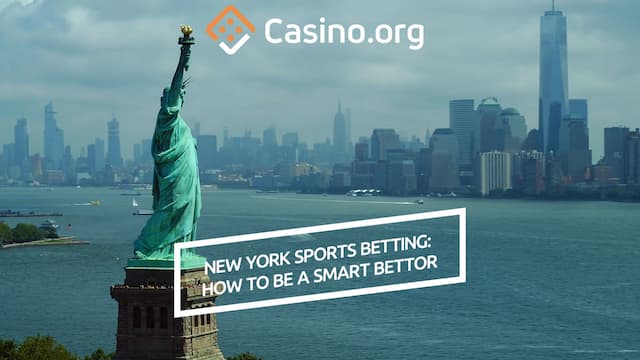 New York sports betting: How to be a smart bettor
How to bet on sports in New York, step by step
1. Sign up
Create an account with your sportsbook of choice, selecting the one that suits you most from our list of top sportsbooks.
2. Deposit funds
Add some money to your account using a payment method that suits you.
3. Choose your bet
After doing your research, browse the sportsbook and pick the bet you want to place. Make sure you're happy with the odds being offered and decide how much you want to bet on it. Never bet more than you can afford to lose.
4. Place the bet
Once you're happy with your bet, make the wager, sit back and enjoy the sporting event and hope it comes in. If it does, enjoy! If not, don't take it to heart and don't try chasing your losses. Stay calm and consider if and when you will want to place another bet.
The New York sports scene in numbers
Our top recommended New York sportsbooks
Rank
Casino
Bonus Offer
Payout Speed
Win Rate
Play Online

#1 Top Rated Sportsbook

286 claimed this offer in the last month

2

198 claimed this offer in the last month

3

154 claimed this offer in the last month
4

5

6
More New York sports betting advice
Professional sports teams in New York
Some urban legends and fun facts about New York's pro sports teams.
New York Giants (NFL)
The more popular of the two NFL teams. The Giants are the longer-established pro football team with a reputation for playing their best when they have a sturdy, star-studded defense and a steady rushing game. Their biggest rival is actually from Texas: The Dallas Cowboys.
New York Jets (NFL)
Only won a single Super Bowl in the magical year of 1969 when Joe Namath was the quarterback and they were the newcomers from the AFL. Usually competitive but never to the point of deep playoff success, often derided as the "Same Old Jets," a phrase that particularly irks their fans.
Buffalo Bills (NFL)
On the western end of the state, they're the only game in town with a massive fan base that always has to explain to outsiders that they actually live a heck of a lot closer to Cleveland and Toronto than they do to Manhattan. Snakebitten franchise once lost four straight Super Bowls.
New York Yankees (MLB)
The team in pinstripes that's as iconic across America as they are in their home city, where you cannot walk two blocks without seeing someone wearing a Yankees cap or t-shirt. They are far and away the most popular team in any sport in New York despite their aging fan demographic.
New York Mets (MLB)
Not as popular as the Yankees; not all that far behind. They became New York's National League team after the Dodgers left Brooklyn for Los Angeles and the Giants moved from upper Manhattan to San Francisco. Local legend: Your average Mets fan is more intelligent than your average Yankees fan.
New York Knicks (NBA)
Play at Madison Square Garden, also known as the Mecca of Basketball, located directly above Penn Station. They have Spike Lee sitting in the front row of every game, and their fans consider themselves especially knowledgeable about basketball. They have a nearly five-decade long championship drought.
Brooklyn Nets (NBA)
The Nets play at Barclays Center above the Atlantic Yards train tracks after they relocated from New Jersey, prior to which they relocated from Long Island (before that they were the New Jersey Americans). Oldest fans reside in Long Island and New Jersey, where they had success in ABA days and when Jason Kidd was around.
New York Rangers (NHL)
What do cops and firemen do when they are not arresting people or saving lives? A ton of them go to Rangers games. The hockey crowd in New York is somewhat insular, and there is zero crossover among fans of the Rangers and the Islanders. You pick one or the other, but not both.
New York Islanders (NHL)
Now playing at an arena constructed in the former parking lots at Belmont Park, their fan base is almost exclusively based in the Long Island counties of Nassau and Suffolk. There are fewer Islander fans than Rangers fans, but there's no difference when it comes to fervor. It's a hockey thing.
Buffalo Sabres (NHL)
Very little has gone well for them over the past decade-plus. They hold the dubious distinction (along with the Vancouver Canucks) of being the longest continuously running active NHL franchises to have never won the Stanley Cup. Lost in the finals in 1975 and 1999.
---
Other professional sports teams in New York
Brooklyn Cyclones (South Atlantic League baseball)
College sports teams in New York
The St. John's Red Storm, who Chris Mullin and Mark Jackson led to the NCAA Final Four in 1985

The Fordham Rams, whose football team had its glory years in the 1940s

The Syracuse Orange, whose football team has not won a bowl game of significance since 1996 and whose men's basketball team won the 2003 national championship and made the NCAA Final Four in 2013 and 2016

The Iona Gaels, who made the NCAA tournament 15 times but has lost 14 of those games, the last victory coming in 1980

Columbia Lions, an Ivy League school that produces more doctors and lawyers than athletes

Army Black Knights, the U.S. Military Academy teams who draw a nice football crowd on autumn afternoons

Manhattan Jaspers, who actually play in The Bronx and last won an NCAA Tournament game in 2004, defeating Florida

St. Bonaventure Bonnies, who play in upstate Olean and whose most famous graduate is ESPN NBA maven Adrian Wojnarowski

Niagara Purple Eagles, a school whose men's hockey team won three national titles in the early 2000s.
Major sporting events in New York
The U.S. Open tennis tournament is held every year at the National Tennis Center in Queens, and is the one annual event that can convince plenty of Manhattan residents to make the trip to the borough of Queens.
Numerous big events are held at Madison Square Garden on an irregular basis, including the World Darts Championship.
The U.S. Open golf tournament has been held several times at many of the excellent private golf courses in Westchester County north of New York, most recently at Winged Foot in Mamaroneck in 2020.
Several college basketball conferences hold their championship tournaments at Barclays Center and Madison Square Garden, and Major League Baseball plays one game per season at the small field in Cooperstown next to the Hall of Fame.
The Belmont Stakes, the third leg of horse racing's Triple Crown, is held every June at the old thoroughbred track just over the border from Queens in Long Island.
New York sports betting tips
Compare deals across different brands
From welcome bonuses to parlay promotions, all the top sportsbooks available in New York (and beyond) offer a range of deals to attract and hold on to players. And, although sticking around may be rewarded through loyalty programs, it's worth shopping around.
Most sports bettors create and use accounts with several different sportsbooks, as this enables you to cherry pick the offers that are most appealing to you. Remember that new promotions are added regularly, so making time to check out what's available before you place your bets is always a good idea.
Use several apps to compare the lines available
No matter how good a deal you're getting at a sportsbook, it's always smart to look elsewhere to compare betting lines. It may be, for example, that a site is able to offer a particular deal on an event because their odds on it aren't favorable to players. And, in that case, you might be better off going with a site that has more attractive odds.
Just make sure you check these apps in quick succession, as many sites update their odds in close to real time – there's no guarantee that an opportunity you've spotted on a certain app will still be there when you return, even if only a few minutes have passed.
Have a betting system in place
Betting systems, including everything from matched betting to regression analysis, can be rewarding for many bettors. Unfortunately, they're often very time-consuming and some of them require meticulous planning. Using a system is always a more involved process than simply going with your gut or betting on your favorite team.
Still, betting systems are worth researching if you have the patience to implement them.
Of course, as the old saying goes, "on any given Sunday, any team can beat any other team." Betting systems aren't a surefire recipe for success, since we're dealing with humans and it's impossible to predict with absolute certainty what's going to happen. Be wary of any so-called expert who claims to have a technique that can win every time.
Embrace the parlay
A parlay, sometimes known as an accumulator or combo bet, involves linking together multiple wagers in a single bet. For it to pay out, the bettor must win all those wagers. Parlays are extremely popular because they can turn a very small bet into a big win.
For example, a bettor based in New York recently turned a bet of just under seven dollars on 16 outcomes into a win of more than $200,000. Although we can't all get that lucky, a solid parlay win can easily wipe out a few losses from single bets that haven't paid off.
Stick to smaller wagers and look for higher odds
When you encounter what seems like "a sure thing", it can be tempting to bet the house on it. In reality, this is rarely a good idea; we all know that there's no such thing as a sure thing. Plus, the shorter the odds, the more you'll have to bet just to make a small profit.
When you find odds that are a little longer, even smaller wagers can yield some big wins. Hitting just once can often be enough to cancel out a few other small wagers that haven't turned out quite so well.
Making a number of smaller wagers is a better way to manage your bankroll (not to mention a lot more fun) than betting everything you've got on a single outcome.
Bet on smaller, more obscure markets with a higher edge
Bookmakers rely on in-house experts to set their betting lines, updating them virtually in real time as relevant news breaks. There are circumstances, however, in which it might be more difficult for them to do that. Consider, for example, niche markets like certain e-sports or activities in far flung countries and different time zones.
In cases like these, it's conceivable that (with a lot of dedicated research) you might be able to get an edge over bookmakers by taking advantage of information that isn't yet common knowledge. This approach is likely to work best if you already have a passion for one of these niche activities, as it's difficult to gain expert knowledge overnight.
New York sports betting rated
Here, we issue our report card for sports betting NY, based on a number of key factors.
Range of sportsbooks
If nine choices are not enough for the average gambler, how many would be? In a totally free market in which any of the 25 U.S.-based operators were allowed to compete, the number of promotional choices and offers would be larger. But how many New Yorkers have the time and resources to open 25 different sports gambling accounts?
Grade: B
Mobile apps
All of the NY mobile sports betting options have apps with varying degrees of difficulty, getting accustomed to the peculiarities of any particular app involves a learning curve, and it is up to the sportsbooks to design, redesign and update their apps in such a way as to promote brand loyalty.
Grade: C
Deposit options
This is an area where New York gambling has been made easy. You can use debit cards, bank transfers, Pay Pal, eChecks, prepaid gift cards, Venmo, wire transfers and even cash (through a one-time bar code usable via scanner at participating retail locations) to fund your accounts.
Grade: A
Tax rate
New Yorkers are no strangers to high taxes, with property taxes, income taxes, sales taxes and gasoline taxes among the highest in the nation. So the 51% tax on gaming companies is more of a burden for those companies than for gamblers, but that rate does reduce the promotional options available in New York online sports betting.
Grade: B-
Market coverage
The NY gambling laws do not allow for wagers to be made on any individual player awards that are decided by voters, which is disappointing for fans of New York sports betting. It takes away one of the best markets out there: Player Futures on awards such as Most Valuable Player, Cy Young and Heisman Trophy, which often have very long odds early in the season on eventual winners.
Grade: F-
Retail presence
The law rammed through by former Gov. Cuomo did not call for all companies operating in New York to have offices based in the state, and also lacked a retail component that would have turned former OTB (Off-Track Betting) parlors into the types of neighborhood wagering shops that are common throughout Europe. Instead, New Yorkers must gamble on their phones or laptops, which means sports betting in New York is not quite the social activity it is in other places. Upstate sport betting parlors are OK for Syracuse and Buffalo-area gamblers.
Grade: D-
Where can I bet on sports in person in New York?
There are 11 in-person sportsbooks in New York, none in the downstate region where the majority of the population lives – meaning sports betting NYC is exclusively online for now. However, these are the places where you can walk in the front door, go up to a window or kiosk and place a bet, then pull up a chair and watch sports.
The only casino in Buffalo proper, Buffalo Seneca Casino sportsbook is a heck of a place to go and bet on a Bills game with like-minded fans. With sports gambling kiosks among the casino tables, it gives you lots of ways to play. You cannot say enough about the appeal of a sportsbook in a downtown area and how it attracts a crowd. The state will likely use Buffalo Creek sports book as a test case when deciding whether to push for retail sportsbook sites downstate, especially in Manhattan. In Europe, they are magnets for sports fans.
1 Fulton Street, Buffalo, NY
Near Syracuse, a Caesars Sportsbook branded operation run by the Oneida Indian Nation covering 65,000 square feet with a casino-wide no smoking policy. It is the newest of the three Oneida casinos.
450-452 NY 31, Bridgeport, NY
Turning Stone Resort and Casino
Run by Caesars, this is an especially good place to go if you are into golf. The Atunyote course played host to a PGA Tour event from 2007-2010. Casino is 100,000 square feet. Nearest city is Utica.
5218 Patrick Road, Verona, NY
Billed as the largest sportsbook in New York, this one is also close to Syracuse and is branded by Caesars. The name comes from the town being the birthplace of Frank Baum, author of the Wizard of Oz.
800 W. Genesee St, Chittenango, NY
Del Lago Resort and Casino
This opened in 2017, a Seneca Nation casino midway between Syracuse and Rochester branded by DraftKings, which jumped on the opportunity almost three years before online sports gambling became legal.
11333 NY-414, Waterloo, NY
Tioga Downs Casino and Resort
FanDuel branded this sportsbook, located west of Binghamton and just a few miles north of the Pennsylvania border. It was a quarterhorse track that operated for only three years and is not a casino. It is a "racino" with video lottery terminals.
2384 W. River Road, Nichols, NY
The closest fully-functional casino within driving distance of the New York metropolitan area, it is called Sportsbook 360 because of the way a number of 72-inch TV screens are arrayed circularly.
888 Resorts World Drive, Monticello, NY
Rivers Casino Schenectady
The address is a hint of who operated this sportsbook, the folks at BetRivers who are owned by Rush Street Gaming out of Chicago. Closest big city is Albany. It is built on the former site of the American Locomotive Company factory.
1 Rush Street, Schenectady, NY
One of the casinos owned by the Seneca tribe outside of Buffalo, all of which have the sports gambling kiosks located right in the gaming area rather than in a side space.
777 Seneca Allegany Blvd., Salamanca, NY
You cannot beat the view nearby, as anyone who has been to this tourist destination can attest (Word to the wise: The view of the falls from the Canada side is superior). Again, sports betting kiosks spread out among the table games.
310 4th Street, Niagara Falls, NY
Sticks Sports Book at Akwesasne Mohawk Casino
The two closest cities are Ottawa and Montreal, which should give you an idea how northern this casino is. This is a casino where Canadians and people from Vermont can come to gamble. Closed Mondays and Tuesdays.
873 NY-37, Hogansburg, NY
Sports Betting Odds Explained
When looking to understand how sports betting odds work, bettors will find that different sites make use of different odd types. As the sports betting scene in the USA diversifies, some may even give you a choice of options to work with. These options will take the form of decimal, fractional, and moneyline/American. We've given a quick summary of each below, but for more information visit our odds guide.
Decimal odds take the form of straight numbers and decimals. Decimal odds detail the total payout instead of the overall profit. The figure represents the potential return, as well as the amount staked. For example, you'll see 'even money' odds listed as 2 or 2.00.
Sometimes these are referred to as continental odds or European odds.
What are fractional odds?
You will always see these odds as a fractional number. The amount on the left is telling you how much profit you'll make by staking the amount on the right. For example, you'll find fractional odds listed as 2/1, 3/1, 4/1, and so forth. Odds of 1/1 are known as 'even money', like 2.0 in decimal odds.
Commonly called traditional odds, this format is most prominent in the UK.
Listed as either a positive or negative number, often with a currency symbol attached, moneyline odds allow you to bet on specific teams to win a game by seeing who is the favourite. The favorite will have a minus sign (-), indicating the amount you will need to bet in order to win 100 for example. The underdog will have a plus sign (+). Moneyline odds show you the profit associated with the wager, so you'll have to manually add your original stake to see your total payout.
In the US, moneyline odds are the favored format for all major bookmakers. They are also known as American odds.
Responsible gambling in New York
Gambling should be fun, but if it becomes a problem it can health and financial implications. Gamblers Anonymous meetings are held every day all over the state (although many have become virtual following the COVID-19 pandemic), and a list can be found here.
Also, the New York state Gamblers Anonymous hotline is 855-222-2422. Information on a problem gambling resource center is available online or over the phone at 1-877-8HOPENY or by texting to HELPNY (467369).
Sports gambling sites have features that include self-exclusion, which is basically banning yourself, along with timeout, in which you determine how many days you want to be barred from gambling before being allowed to resume. There's also a reality check button that shows you how much money you have gambled, and deposit limits that will prevent you from putting more money into an account than you can afford.
Another resource is the state office of addiction services and supports. Also, the National Council on Problem Gambling can be reached online or over the phone at 1-800-522-4700.
Casino.org have further responsible gambling resources available here.
New York sports betting FAQs
Is sports betting legal in New York?
Yes, and it can be done online or in person at upstate casinos.
When does sports betting begin in NY?
It already has. The online version, including mobile sports betting NY via smartphones, began on January 7, 2022.
What sportsbooks are legal in NY?
FanDuel, PointsBet, BetMGM, Caesars, DraftKings, BetRivers, BallyBet, Resorts World and WynnBet.
How to bet on sports in New York?
The first two things to do are open an account online and deposit funds; or in upstate regions, go to a tribal casino, fill out a bet slip and take it to a self-serve kiosk. Then choose your bet and place it.