The best New York sports betting apps
---
Whether you live in the city that never sleeps, or in any other part of "The Empire State", mobile sports betting is quickly becoming the way to play for New Yorkers. To help you enjoy every minute of the action safely, our apps guide for New York sports betting will give you the information you need to play your way across carefully reviewed sportsbooks.
Our top recommended New York sportsbooks
Rank
Casino
Bonus Offer
Payout Speed
Win Rate
Play Online

#1 Top Rated Sportsbook

286 claimed this offer in the last month

2

198 claimed this offer in the last month

3

154 claimed this offer in the last month
4

5

6
Best NY sports betting apps
NY sportsbook apps are different to websites, and a great app can make a huge difference to your New York mobile sports betting experience. Here is what we like and don't like about the NYC betting apps provided by the top sportsbooks.
Caesars app
The first thing you will see when using the Caesars sportsbook New York app is "Live" at the top left hand corner with a red button that shows the number of live events currently being played that you can wager on.
Close by is a tab called "boosts" that allows you to get a profit boost on a successful wager, along with other promotions, many of them tied to Caesars Rewards.
The book's daily promotions are highlighted right below the top tabs, and you need to scroll side to side to see each of them. To see the lines on different events, scroll down. The sports are listed with the most popular ones at the top.
The biggest drawback is that it is hard to navigate sport by sport. The help tabs are at the bottom, and this is probably the best NY sports betting app.
PointsBet app
Another strong contender when looking for the best betting app in NY is PointsBet. One of the first things you see on this app is an NBC Sports logo because of PointsBet's partnership with that network.
The graphics on the top of the screen are top-notch from a visual perspective, and the order of the sports listed changes by season.
You scroll side-to-side at the top to find each sport, and all the way to the right you can "View all." There are separate tabs for futures markets in NBA, NFL and NHL, which seems unnecessary but it easy to get used to.
The "Name a Bet" feature is listed alphabetically under "Show All Sports." It is a terrific feature to use.
FanDuel app
FanDuel has a similar design to Caesars, the live events are highlighted in the top left corner, and boosts is the third tab after promos (they should probably be grouped together, because by definition a boost is a promo).
The layout and navigation also is similar to Caesars: side-to-side for promos right below the top navigation bar, and then up and down to choose between popular events.
But FanDuel New York has a side-to-side sport-by-sport nav bar that will take you right to the sport you want.
DraftKings app
Another one of the best NY sports betting apps, DraftKings has more choices than other sportsbooks.
At the top you can click FlashBet as a shortcut to today's games, and the "Dynasty" tab will show you your rewards status and points.
DraftKings New York also does pools, which are accessed from the top nav bar, and there is a stats hub to help you do your homework if you need to check something at the last minute.
Also, there is a nav bar at the bottom in which you can easily see your bet history.
WynnBet app
One of the first things you see is at WynnBet a "Bet $50, win $200" promotional tab. A nifty promotion is to make a parlay bet and then spin a wheel of fortune to win prizes that include an all-expenses paid trip to Las Vegas where you would stay at the Wynn Resort or its twin, the Encore, which is a bucket list item for any Vegas fan.
The first nav bar is sport-by-sport and is easy, and whatever games are being played live pop up in the lower half of the screen immediately, even if they are overseas.
BetMGM app
Another strong NYC betting app option, BetMGM is much like Caesars and FanDuel, and the first thing you will see is an ad for a $1,000 bonus bet.
Many of those other promos are similar to what other books are offering, and the display will highlight whatever the biggest game of the night is going to be.
Up and down scrolling leads you to whatever are the most popular bets, and the top nav side-to-side navigation takes you from sport to sport.
It is a fairly simple app to use with no distinct flaws.
BetRivers app
The best feature is the live streaming feature available on the home page, which allows easy viewing of sports from around the world.
BetRivers also has a 1X Playthrough rule that is unlike anything in the New York online sports gambling market. It allows you to bet bonus money and deposit money just one time before cashing out, which the book claims is the lowest threshold in the industry.
Bally BET App
BallyBet know what they're doing when it comes to apps. Their bold color palette and layout is easy to navigate which is always a big plus. You can always see your balance at the top right of the screen to help you stay on track with your spending.
There's also handy tabs to switch between the featured events and the live ones so you never miss a trick.
The customer support on offer stands out as they have a helpline which many other brands have now lost in favor of live chat features. They clearly have put time and money into helping customers have the best experience.
Resorts World Bet App
As sportsbook apps keep evolving, we're pleased to say Resorts World Bet is keeping up. The app allows bettors to wager 24/7, so you can stay on top of the game anytime.
It clearly displays your balance and is easy to move around thanks to the tabs that show you popular, in play and next up options.
Both iPhone and Android users are catered for and as it's been approved by the State of New York, you know it's a safe and secure place to wager. They even offer tailored promotions and bonuses for players so you always get the best deals.
More New York sports betting advice
How our expert ratings are calculated
Safety and security goes hand-in-hand with fun mobile betting. To make sure you have peace of mind when you play, we have a 25—step review process across seven categories when rating apps and websites. We've broken down the categories below, but for more information you can see how we rate casinos here.
---
What factors contribute to these weightings?
Our decades of experience in the industry, as well as our user research, helps us understand what matters most to players. This has helped us shortlist the casino that we know players will enjoy.
Finding the New York sports betting app for you
With multiple New York sportsbooks up and running there are plenty of apps to choose from for both Android and iOS devices. This makes the decision of where to play a tough one for beginners and pros alike.
Along with our list of recommended mobile apps and expert reviews, take a look at our cheat sheet below for some top tips on finding the best sports betting in New York for you:
---
Choose a safe and legal sports betting brand

Don't bet a dollar on any sports betting app without checking that it's from a licensed and New York legal sportsbook. You don't want to put your data at risk, have money stolen, or experience any issues when you're placing bets or collecting winnings.

Download the app from a secure site

Always make sure you are downloading the real apps from your chosen sports book. You can do this by visit their official websites and following the links, or from the App Store or Play Store.

Look at the markets and bet types on offer

Most sportsbooks have the big ones covered. NFL, NBA, and NHL should be an option for all New York sports betting apps. If you prefer to place bets on less popular sports, or like to place less standard bet types, check the app offers what you're looking for before you join or deposit.

Inspect the bonuses

Different sports betting apps will likely offer different bonus types and values. That's why it's worth checking out current and past promotions before you decide on which app to use. Some might not focus on your sport or bet type, where others might do. It pays to shop around.

Check the payment options

There are multiple ways to deposit and withdraw money from sports betting apps in New York. They don't all offer the same transaction methods though, so make sure your preferred payment options are available before you join.
How to install a sports betting app on your mobile device
Downloading and installing a sports betting app is usually straightforward. Depending on your device, you should be up and running in just a few steps. Check our quick guide for help:
1: Choose your app
2: Install the app
3: Sign up or login
4: Choose your bet
5: Place your bet
1: Choose your app
With our sports betting app guide, you should be able to find a safe and secure option that matches your sports betting preferences. Once you've checked which devices it's available for, you should be good to go.
Keeping safe on sports betting apps
The best mobile sports betting apps for smartphones and tables are just as secure as the desktop versions. Apps across New York should be using at least 128-bit end-to-end encryption, providing high levels of security for your personal data. At casino.org, we only recommend apps which meet this strict standard of safety.
As part of our review process, we always check that the sports betting apps we suggest are fully compliant with state and federal law, and are regulated by the appropriate governing bodies such as the New York State Gaming Commission.
For more information on how each company meets these standards, you can follow the links to our New York sportsbook reviews listed above.
Sports betting app withdrawal options
There are usually a wide range of choices when it comes to banking options on New York sports betting apps. These can include debit cards, PayPal, digital currencies and more, but keep in mind that each option will have a different transaction speed.
To give you a general idea of the types of payment methods used, we've listed some of the most common options below:
New York sports betting apps: How to be a smart bettor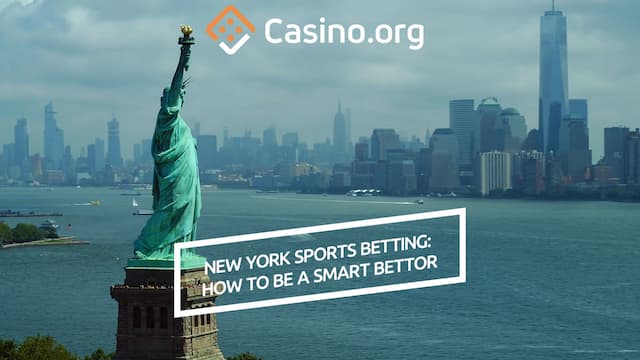 New York sports betting: How to be a smart bettor
FAQs
Where do I go to download sports betting apps?
The best place to download sports betting apps is either directly from the sportsbook website, the App Store for iOS devices, or Play Store for Android devices.
Are sports betting apps free to use?
Yes. Sports betting apps in New York are free to download and install. You will need to either register or login to an account to run the app, and you can browse the various betting options for free. It will cost money to place a bet, however.
Do mobile sports betting apps use data or Wi-Fi?
Both. Much like any other app, New York sports betting apps can be used on either WiFi or via your mobile data plan.
Are there app exclusive bonuses at New York sportsbooks?
You will need to check the promotions page for your chosen sportsbook, but there can sometimes be offers on mobile wagering. Keeping updated on special offers is a top tip for getting the most bang for your buck.
Do New York sports betting apps allow for mobile transactions?
Yes. You can deposit and withdraw from sports betting apps in a variety of ways, including PayPal, debit and credit cards, online banking transactions, and more.
Are any live sports streamed on sports betting apps in New York?
Yes. You can either watch live streams of sporting events on sports betting apps, or follow instant updates to help you keep up with the action.