WWE Lobbying Key States to Allow Legal Sports Betting on Matches
Posted on: May 3, 2023, 11:00h.
Last updated on: May 3, 2023, 07:18h.
The WWE is trying an unusual tactic to attract new fans and expand its global brand through sports betting. The organization, which recently merged with Hollywood giant Endeavor, has been unable to lobby multiple state gaming regulators to allow legalized gambling on WWE matches even though pro wrestling is a scripted and choreographed event.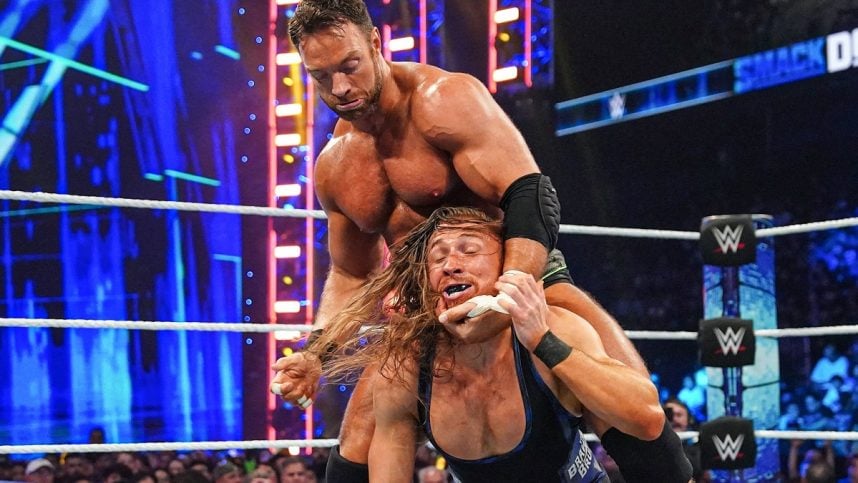 Despite pushback from their targeted states, Endeavor will continue to lobby regulators to allow sports betting on WWE matches and events. Endeavor is attempting to expand the WWE brand and attract new fans by adding a gambling element to its matches.
Endeavor sought to purchase WWE for $9.3 billion last month, and the two agreed on a merger. Endeavor is already the parent company of the UFC, and they're attempting to build a combat sports entertainment behemoth.
The WWE is targeting legal sports betting states such as Colorado, Indiana, and Michigan, according to reports from CNBC. The Colorado Division of Gaming stated that the WWE never contacted them directly and has no desire to allow sports betting wagers on WWE matches.
The state of Colorado accepted $5.4 million in wagers on MMA events in March 2023, which represented only 1.1% of all bets. WWE has a much larger fanbase than MMA and hosts events multiple times a week.
The Indiana Gaming Commission told Steve Bittenbender from Casino News that it's not interested in offering wagers on scripted events.
The WWE is working with accounting firm Ernst & Young to secure scripts beforehand so they're not leaked to the public. Companies like PricewaterhouseCoopers and Ernst & Young have previous experience handling these duties for awards shows like the Oscars and the Emmys.
WWE: 'Treat Us Like the Oscars'
The WWE cites Oscars betting as a precedent for legalized betting on wrestling events. The winners are predetermined but not announced until the live broadcast of the Oscars in Hollywood.
New Jersey is the only state that currently allows betting on the Oscars. Other states have been reticent to allow betting on awards shows. Not every mobile sportsbook in New Jersey offered Oscars betting, but DraftKings and FanDuel were among the options where bettors could place wagers on categories like Best Picture.
Gaming regulators in New Hampshire don't allow betting on the Oscars and are wary of including WWE as a legalized betting event.
I have a fear of accepting wagers on any event that is perceived to have an outcome that is not based upon performance, but is based upon scripted or engineered efforts," Charlie McIntyre, New Hampshire Lottery Commission executive director, told Sportico in a recent interview. "It is very unlikely that New Hampshire would consider the WWE suitable content for sports betting."
There's a fundamental difference between the Oscars and WWE. The Oscars are determined by counting votes, whereas writers script the WWE. In both instances, a small group of people would know the outcome intimately, a point of contention for many state regulators.
Isn't Wrestling Fake?
There are many difficult, coming-of-age moments in a young child's life when they discover that Santa Claus, the Easter Bunny, and the Tooth Fairy aren't real.
There's also a worldview-shattering moment when young, hardcore wrestling fans discover that pro wrestling isn't a real contest of strength and power. Nope, it's a scripted and choreographed event with more in common with a theatrical play than a real blood sport like boxing or MMA.
The physical violence and brutality of the WWE might be real, but the outcomes are predetermined. WWE and other wrestling entities have staff writers who work on scripts for each match and event. Sometimes, outcomes for specific matches are a stepping stone for a bigger storyline that's weaved together with other plot lines and spread out over the months leading up to a prestige event like WrestleMania.
Writers hand over the scripts before each WWE event begins. Wrestlers will agree to an outline of potential moves that will occur in the ring, depending on the length of the match. Yet, many combatants don't know who will win until moments before they step into the ring.
At the WWE, wrestlers find out the outcomes in the Gorilla Tent or Gorilla Position. That dedicated backstage area is where former announcer Gorilla Monsoon sat with Vince McMahon, Sr., to watch the telecast. Wrestlers would stop there to obtain final directives.
Wrestlers would pop into the Gorilla Tent for instructions from the WWE scion when Vince McMahon, Jr. took over. These days, Paul "Triple H" Levesque is the one who ultimately determines the fate of each match as the head of WWE's creative operations.