WaterView Casino in Mississippi Removes Unwanted Four-Legged Guest From Property
Posted on: September 27, 2023, 04:11h.
Last updated on: September 27, 2023, 04:18h.
The WaterView Casino & Hotel in Vicksburg, Miss., this week quickly escorted an unwanted guest from the property after it was spotted in the bushes outside the Mississippi riverboat.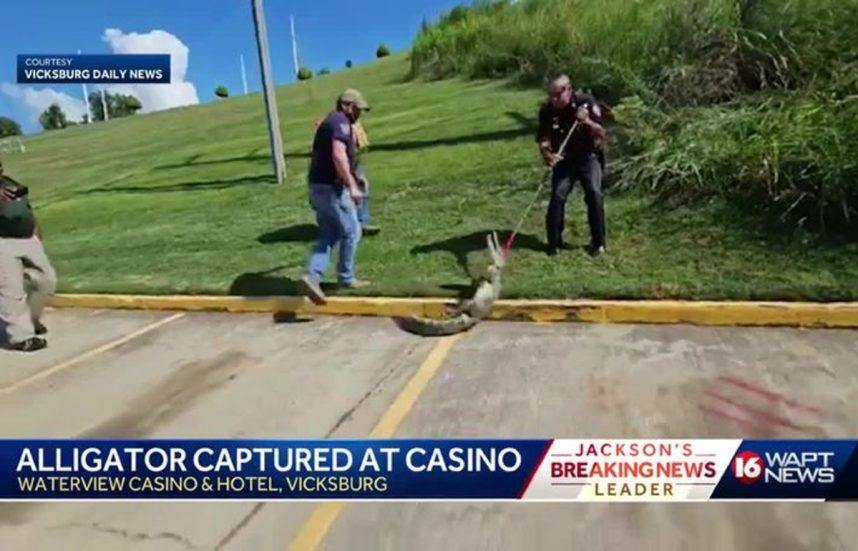 Local media reported that a small crowd formed outside the Western Mississippi riverboat on Tuesday after a four-and-a-half-foot alligator was seen in the casino's parking lot. Wildlife control soon arrived to capture the reptile.
The WaterView Casino lives up to its name, as the resort sits on the banks of the Mississippi River. Mississippi and much of the south and Gulf states have experienced a major drought this summer, which wildlife experts say is resulting in some animals, like alligators, being more active than usual.
Alligators are aquatic reptiles that require access to freshwater sources. With many of the shallow bodies of water they prefer dried up this summer, the gators have been on the move in search of areas with adequate water. Gators need water to prevent heat stroke.
WaterView is owned and operated by Mississippi-based Foundation Gaming. The resort has 600 slot machines, 10 table games, a sportsbook, and 122 hotel rooms.
Safely Relocated
Wildlife officials said the alligator that visited the WaterView Casino & Hotel was successfully captured and relocated to a more suitable, less-populated environment. It was a happy ending for both the gator and resort guests.
The WaterView Casino is an adults-only property. Guests must be at least 21 years of age to be anywhere on the property, including in the hotel, restaurants, pool, and casino.
Along with not meeting other entry minimums, like being a human being, the alligator likely didn't meet WaterView's age stipulation. The Louisiana Alligator Advisory Council explains that a gator at about 4′ 6″ is presumably a younger specimen.
Alligators are about 8″ to 9″ in length when they are hatched from eggs. Growth rates may vary from 2″ per year to 12″ per year, depending on the type of habitat the alligator is living in and the sex, size, and age of the alligator. Growth rates slow down as the alligators become older," the council advises.
Alligators can live as long as humans and average about 70 years. Some apparently also enjoy a casino, as do many humans.
Along with this week's alligator visiting the WaterView, the L'Auberge Casino Hotel in Lake Charles, La., earlier this year dealt with a gator visit. In the L'Auberge incident, a smaller alligator turned up in the resort's lazy river.
Unlike the WaterView gator, the L'Auberge alligator wasn't much larger than the kind an alligator tour would allow children to hold. The alligator was also relocated from the casino's outdoor pool complex to a more appropriate environment.
Mississippi Struggles
Gaming revenue in Mississippi is going south. The state's 26 commercial casinos in 2021 reported gross gaming revenue (GGR) of $2.66 billion. GGR last year dropped to $2.57 billion, a 3.6% year-over-year decline. Still, 2022's gaming win easily bested the state's 2019 total of approximately $2.2 billion.
Gaming's downward trend has continued this year. GGR from January through August totaled $1.67 billion. Through the same eight months last year, casino win was about $1.73 billion.