Diamond Jacks Casino Finds Another Buyer, Cordish to Redevelop Riverboat
Posted on: April 4, 2023, 03:33h.
Last updated on: April 5, 2023, 02:07h.
Diamond Jacks Casino in Bossier City, La., is once again set to be sold.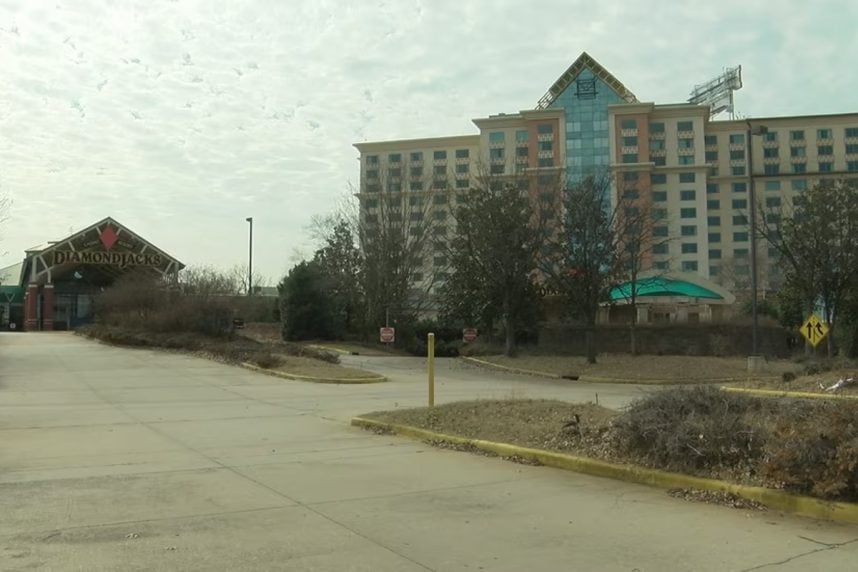 Less than a year after Mississippi-based Foundation Gaming agreed to acquire the commercial riverboat that's sat vacant since March 2020, Foundation has now reached a tentative agreement to sell the property. The buyer is Baltimore-based Cordish Companies, which operates Live!-branded casinos in Maryland and Pennsylvania.
Peninsula Pacific Entertainment (P2E), a California gaming and hospitality firm, permanently shuttered Diamond Jacks during the onset of the COVID-19 pandemic. The company, which has since been acquired by Churchill Downs, Inc., sought to relocate its Louisiana gaming license to a more attractive market.
After voters in St. Tammany Parish rejected P2E's efforts to build a new casino in Slidell, P2E was forced to reopen Diamond Jacks, sell the property, or surrender its gaming privilege.
Foundation came to P2E's rescue by agreeing in May 2022 to buy the vacant former riverboat for an undisclosed sum. Foundation told the Louisiana Gaming Control Board (LGCB) in December that it would invest $200 million to renovate the Diamond Jacks hotel and relocate the casino from the deteriorating riverboat to a new above-land casino space.
Delay Worth It
LGCB regulators were initially pleased to learn of Foundation's interest in Diamond Jacks, as the company has a proven track record of renovating distressed riverboats.
"This is a day we've been waiting for a long time. Foundation has an impressive plan," LGCB Chair Ronnie Johns said in December.
During a special LGCB meeting on Monday, Foundation revealed its hopes of selling Diamond Jacks to Cordish. Foundation officials said Cordish's plan is actually more intensive and costly than its own.
Foundation had planned to have its $200 million overhaul completed in December 2024. Selling Diamond Jacks to Cordish will result in a postponement of the casino's opening, as Cordish will want to do its own due diligence as it formulates its final renovation blueprint.
It will set the project back a few months, but it will greatly enhance it," Johns told the Shreveport Times following Tuesday's board meeting. "I'm excited about the new developments."
The new Diamond Jacks is poised to become the first land-based casino in Bossier City. The local Shreveport/Bossier City gaming market additionally includes Bally's, Boomtown, Horseshoe, Margaritaville, and Sam's Town casinos.
Presentation Forthcoming
The LGCB motioned to allow Foundation to proceed with its agreement to sell Diamond Jacks to Cordish. The state gaming commissioners said Cordish will present its redevelopment plans to the board during their next meeting, set for April 17.
At that time, additional details on what Cordish has in store for the property will become public.
To Casino.org's knowledge, Cordish has never bought and redeveloped a casino. The company's two most important gaming assets, Live! Casino Hotel Maryland in Hanover and Live! Casino Hotel Philadelphia were both new, from-the-ground-up builds.
Cordish's Live! Casino Pittsburgh, a so-called "mini-casino" that's actually in Westmoreland, involved the company reconfiguring a former Bon-Ton department store for gaming operations.