Waitress at Rivers Casino Awarded Over $1 Million for Hostile Work Environment
Posted on: August 15, 2015, 01:38h.
Last updated on: August 15, 2015, 01:38h.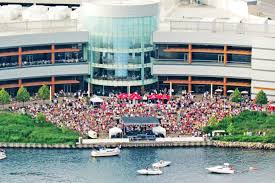 Casino cocktail waitresses are expected to put up with quite a lot from the customers they serve, but just like at any other workplace, there are limits to what they have to deal with.
Rivers Casino in Pittsburgh found that out the hard way, as a federal jury has determined that the casino must pay one of their waitresses more than $1 million for violating its sexual harassment policies and creating a hostile workplace as a result.
The case began in April 2014, when a high-rolling customer of the casino began harassing waitress Allyson Pelesky.
According to her complaint, the customer slipped a $1 chip into her bra and touched her breast.
Customer Ban Avoided Criminal Charges
At the time, Pelesky reported the incident, and a state police officer assigned to the casino investigated the case.
However, the Rivers Casino agreed to subject the patron to a lifetime ban.
Satisfied with that solution, Pelesky chose not to press charges.
However, the customer was later reinstated just 40 days later. That meant she had to see him again, despite the fact that Pelesky says she begged her superiors not to let him return.
"From the very beginning, all I asked was that this man did not come back to the casino," Pelesky told WPXI. "I didn't want to have to see him every day."
Pelesky believed that the customer was allowed back into the casino because of how much he spent there, while the casino said that his status as a high-roller had nothing to do with his reinstatement.
Jury Awards Compensatory and Punitive Damages
Ultimately, a federal jury sided with Pelesky. They awarded her $150,000 in compensatory damages, as well as another $999,000 in punitive damages against the Rivers Casino.
"I believe the verdict is supported by the evidence," said lawyer Tim Barry, who represented Pelesky.
Officials at the Rivers Casino disagree, pointing to their previous record as evidence that the casino presents a positive, friendly work environment for its staff.
"As one of Pittsburgh's 'Best Places to Work,' voted so repeatedly by our team members, the happiness and well-being of each and every Rivers Casino employee is of the utmost importance," Rivers Casino said in a statement. "We respectfully disagree with the jury's verdict and will be considering our options."
Many Rivers Employees Seek to Unionize
 This is not the first time this year that the Rivers Casino has had trouble with its workers this year.
Many workers, particularly hourly employees, have been attempting to form a union to represent hospitality staff at the casino.
According to the Steel City Casino Workers Council, more than two-thirds of the casino's 800 hospitality employees signed a petition in favor of unionizing that was delivered to executives in April.
"When the casinos wanted to come to Pittsburgh, they promised the moon and green shoes," City Councilwoman Darlene Harris said at the time. "These people have a right to organize. They deserve fair wages and hospitalization."
Publically, Rivers Casino has been fairly supportive of their workers' right to choose whether or not to unionize, though they have pointed out that most of their 1,700 employees have not chosen to do so.
However, the National Labor Relations Board did file a complaint on behalf of some employees who said that they had been questioned by supervisors about their union-related activities.
Most Read