UFC 245 Betting: Champions Usman, Holloway, Nunes Favored in Las Vegas
Posted on: December 13, 2019, 10:00h.
Last updated on: December 13, 2019, 12:32h.
Three champions will put their belts on the line as favorites on Saturday night as part of a stacked UFC 245 card at T-Mobile Arena in Las Vegas.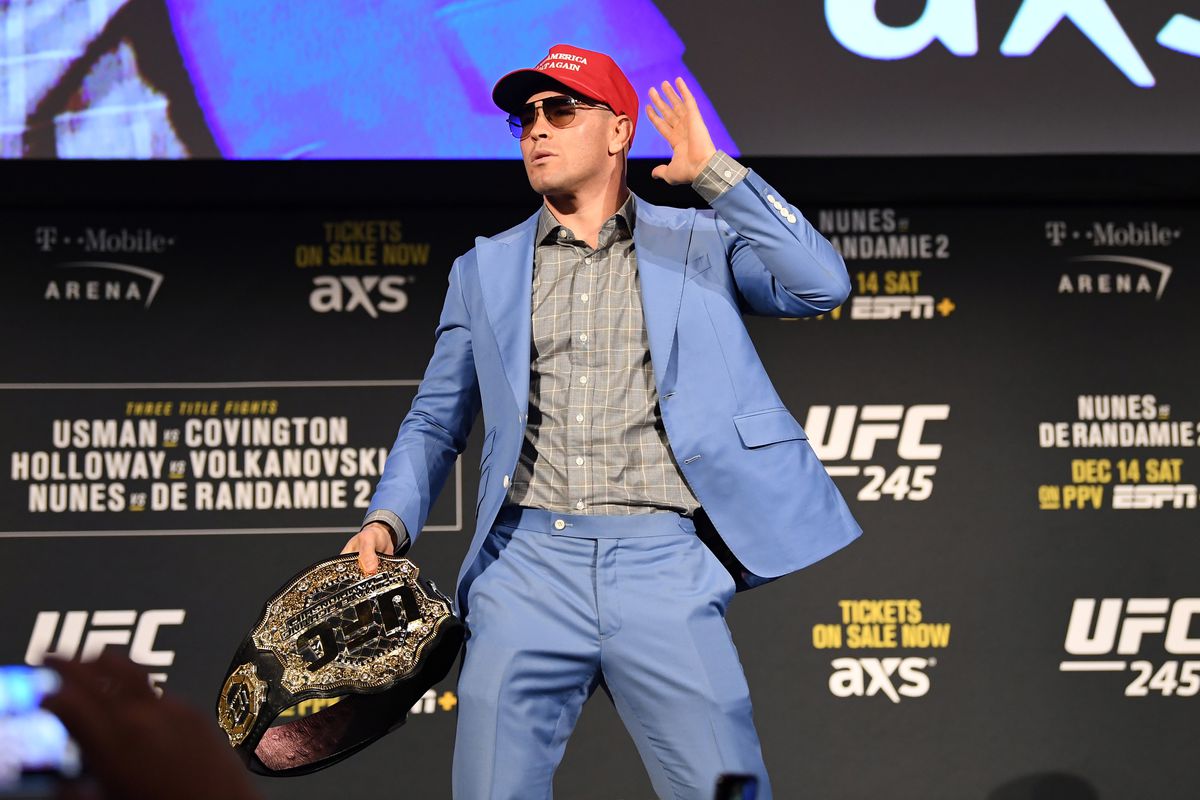 Kamaru Usman, Max Holloway, and Amanda Nunes are all clear favorites in their fights, according to UFC 245 betting odds posted by DraftKings Sportsbook.
Usman Not Impressed by Covington Act
In the main event, Usman (15-1) will defend his welterweight championship against Colby Covington (15-1) in a matchup that UFC fans have been waiting years to see. Once considered a boring fighter that might be dumped from the roster regardless of his record, Covington has become a reliable bad guy for the UFC to promote, even if his over-the-top support for Donald Trump – see his frequent appearances in Make America Great Again hats – is admittedly an act designed to draw boos and make himself more marketable.
Other UFC fighters haven't had a problem with Covington's act. But some have bristled about how open he has been recently about the fact that he's really just playing a character.
If you're putting on an act, you've got to sell it," Usman told reporters. "That's [showing] weakness already. He's already finding…a way out: 'Once I get beat up on Saturday, don't have me because I was just putting on an act because they were going to cut me.' That's what it is."
Meanwhile, Covington has found a new target ahead of his UFC 245 fight: the company itself.
"I am not happy with what I am being compensated. I am being underpaid and undervalued," Colby told ESPN. "UFC needs to pay up, and if they don't pay up after this fight, you will probably see me in WWE."
Holloway, Nunes Favored in UFC 245 Undercard
The co-main event will see Max Holloway (21-4) try to hold on to the featherweight title against the dangerous Alexander Volkanovski (20-1). While Holloway has already made it clear that he's looking to move up to lightweight, or even entertain boxing matches, in order to secure his combat legacy, Volkanovski is ready to make his own mark on the sport.
He was a great champion at featherweight. But now it's my time," Volkanovski told reporters on Wednesday. "He's very well-rounded still. Obviously, he's got good takedown defense and all that sort of stuff. But I'm going to approach things a little bit different. The things that he does so well and worked for him so well in his past fights are just things I don't believe are going to work as well with me."
Holloway is listed as a -167 favorite over Volkanovski (+138), with the champion's big fight experience likely being seen as the deciding factor between two fighters with few weaknesses.
In a third championship bout on the UFC 245 card, Amanda Nunes (18-4) will defend her women's bantamweight title against Germaine de Randamie (9-3). Nunes has won her last nine fights, with the last three wins coming by knockout. She also has a win over de Randamie from 2013, in which Nunes won by first-round TKO.
Both Nunes and de Randamie say the second fight should go differently, with Nunes saying she will be patient in finding her opportunities to strike.
"I just have to take my time," Nunes told reporters. "I know she's going to make mistakes. Like the first time. I'm going to capitalize. The takedown for sure is something that I look for. But I don't know when it's going to happen. I know I'll be able to strike with her. I know I believe I can knock her out."
Nunes is the biggest favorite of the three fighters on Saturday's card, going off at -305 against de Randamie (+240).