UFC 243: Whittaker, Adesanya Square Off for Middleweight Title in Melbourne
Posted on: October 5, 2019, 01:00h.
Last updated on: October 4, 2019, 11:05h.
Robert Whittaker and Israel Adesanya will meet in Melbourne, Australia on Sunday to determine the undisputed UFC middleweight champion in the main event of UFC 243.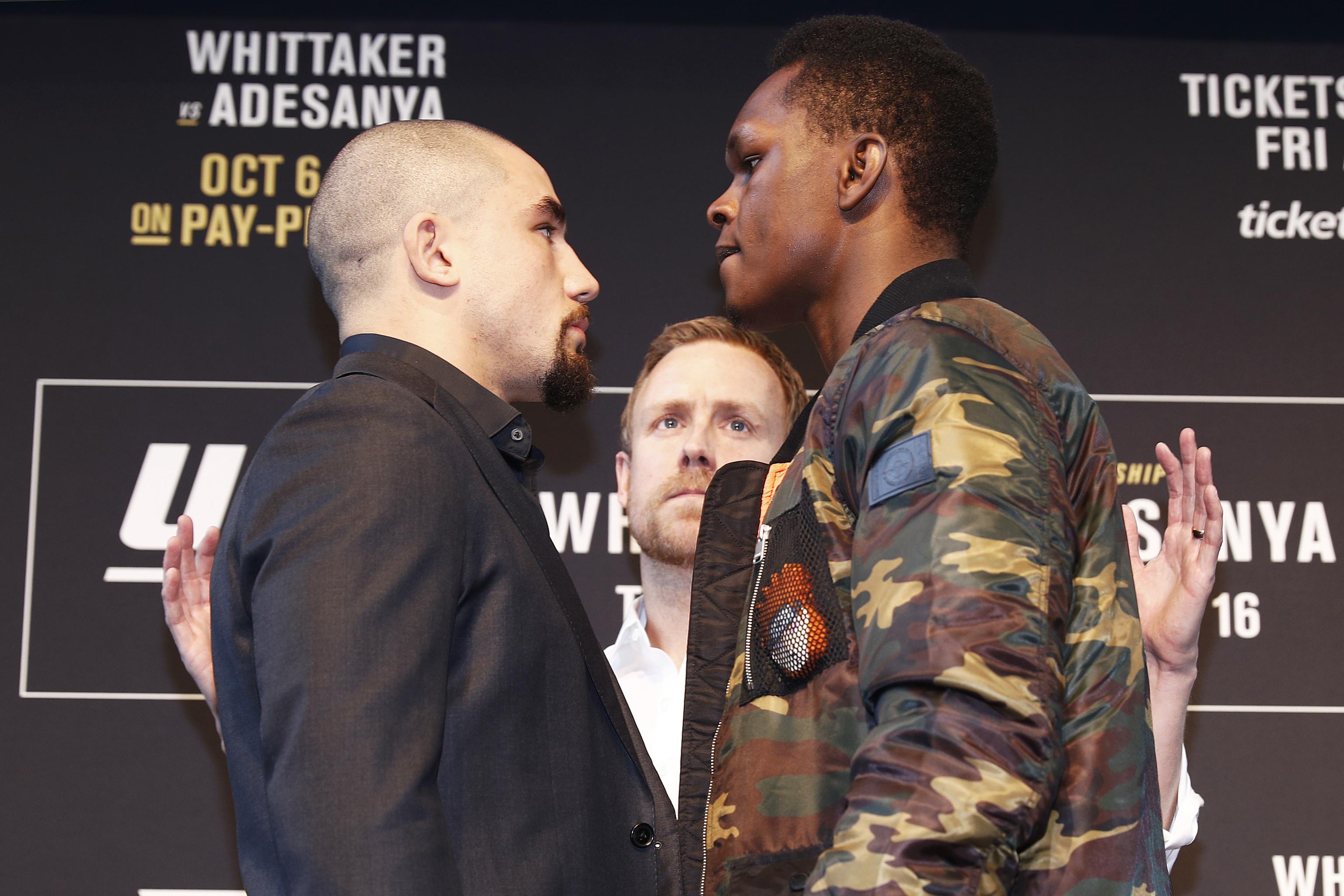 The bout is expected to be a competitive one, with DraftKings Sportsbook making Adesanya a slight -115 favorite over Whittaker (-106), suggesting a fight that could go either way.
Local Flavor in UFC 243 Title Fight
Whittaker hails from Australia, while Adesanya is a Nigerian fighter who lives in New Zealand, meaning that there should be plenty of local support for both fighters. Whittaker is the current – but recently inactive – middleweight champion, with Adesanya holding the division's interim title.
That means that this is an unusual unification bout for the UFC, one that pits a legendary middleweight champion against one of the fastest rising stars in the company.
Whittaker (20-4) hasn't been able to fight much since earning the middleweight title in July 2017 against Yoel Romero, only fighting Romero in a rematch that wasn't technically for the title in June 2018. Whittaker was then expected to fight Kelvin Gastelum in Melborne at UFC 234, but had to pull out at the last minute due to internal injuries, including a collapsed bowl and a severe hernia.
That means even though Whittaker has shown that he is one of the top MMA fighters in the world in two great bouts against Romero, he is relatively unheralded compared to many UFC champions because of his light schedule. That could make some underestimate his chances at UFC 243, something Whittaker believes would be a mistake.
This isn't my first rodeo. I'm very good at what I do," Whittaker told the Los Angeles Times. "Every time I step in the Octagon, there are always fireworks. I want to go in there, touch gloves, put one on his chin, and he goes away."
Adesanya (17-0) is one of the UFC's fastest-rising stars, however, and should be a true test for Whittaker. In just two years, he has gone from a relative unknown to the interim title holder, and now he is just one step away from becoming one of the few fighters ever to earn a UFC title without a loss.
For Adesanya, this is not only a chance to establish a legacy, but to take MMA in the Oceanic region to a new level.
"Our fight speaks a lot to the growth of the sport in this part of the world," Adesanya told Sports Illustrated. "Last time the UFC came out here, the card was stacked with overseas talent. But this time, we're stacking the card with our own. People are going to be shocked at how good this card is."
Hooker, Iaquinta Star in Co-Main Event
In the co-main event, midweight contenders Dan Hooker (18-8) and Al Iaquinta (14-5-1) face off in a fascinating matchup that may not have title ramifications, but should provide plenty of action for fans. Iaquinta (+130) is the more accomplished fighter, but Hooker (-162) is the favorite, and comes in having won five of his last six UFC fights.
Hooker has never been one to have boring fights, and he plans on having another action-packed bout at UFC 243.
Whether it be by submission or by knockout, my intention, without a doubt, is to get him out of there before the 15 minutes are up," Hooker told UFC.com. "Doing so sends a very strong message to the top five, because he has done five rounds with Cowboy and he has done five rounds with the champ."
Other fights on the UFC 243 card include a heavyweight bout between Tai Tuivasa (-400) and Sergey Spivak (+300), as well as a welterweight clash between Dhiego Lima (-150) and Luke Jumeau (+120).