Trump Cancels Las Vegas Trip, Won't Attend Fundraiser at Sheldon Adelson Home, Speak at RJC
Posted on: March 11, 2020, 05:00h.
Last updated on: March 11, 2020, 07:55h.
President Donald Trump was scheduled to arrive in Las Vegas Thursday evening to attend a fundraiser at the mansion of Sands billionaire and Republican Party megadonor Sheldon Adelson. But with the COVID-19 novel coronavirus pandemic, he's calling off the trip.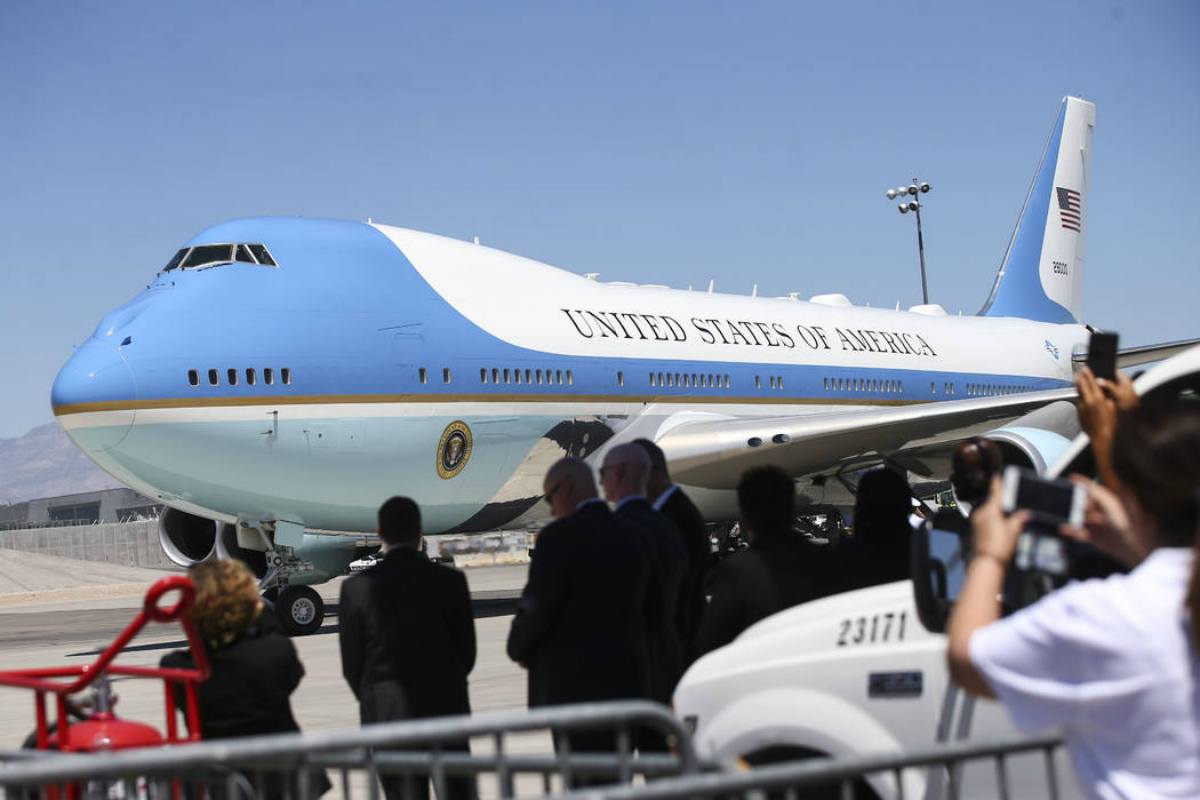 The President was scheduled to address the Republican Jewish Coalition's (RJC) Annual Leadership Meeting Saturday at Sands' Venetian casino resort. Adelson sits on the RJC board.
Air Force One was slated to arrive at McCarran International tomorrow evening. As a result, the Nevada Department of Transportation had issued advisories to motorists to be prepared for potential travel interruptions because of the president's motorcade.
Adelson's mansion is located in Summerlin on the private TPC golf course. While in Southern Nevada, the President typically stays at his Trump International hotel, which his family co-owns with Circus Circus and Treasure Island owner Phil Ruffin.
Show Me the Money
Adelson and his wife, Miriam, upon whom Trump bestowed the Presidential Medal of Freedom in 2018 for her philanthropic work, have been the largest GOP donors in each of the last two election cycles.
In the 2016 presidential election and 2018 midterms, the Adelsons gave $205.83 million to Republican campaign efforts.
With the Democratic Party race down to two candidates – former VP Joe Biden and Vermont Sen. Bernie Sanders – Trump is fueling his general election war chest. The Real Clear Politics of a Trump vs. Biden showdown have the Democrat with a 6.5-point advantage.
Online political bettors at PredictIt have Trump favored to win the 2020 presidential election, his shares currently at 51 cents. Biden is second at 48 cents, and Sanders nearly no chance at just two pennies.
However, the market asking, "Which party will win the 2020 US presidential election?" has Democratic shares at 51 cents, Republican shares at 50 cents.
Trump has plenty of donors in Las Vegas. Along with the Adelsons, Station Casinos billionaire brothers Lorenzo and Frank Fertitta III have given millions to his campaigns, and so has Ruffin.
UFC President Dana White recently gave $1 million to Trump's reelection campaign. Disgraced casino billionaire Steve Wynn has also been a longtime supporter of the Republican Party, though he now resides in Florida and no longer has any ties to the gaming industry.
Coronavirus Situation
The COVID-19 novel coronavirus is now officially a pandemic, and continues to wreak havoc on global economies.
Universities and schools across the country are closing, and the NCAA has announced its men's March Madness and women's college basketball tournaments will be played without fans.
America is the Greatest Country in the world. We have the best scientists, doctors, nurses and health care professionals. They are amazing people who do phenomenal things every day," Trump tweeted Wednesday.
"Together, we are putting into policy a plan to prevent, detect, treat and create a vaccine against coronavirus to save lives in America and the world. America will get it done!" he added.