President Trump to Speak at Republican Jewish Coalition, Cater to GOP Megadonor Sheldon Adelson
Posted on: March 3, 2020, 03:04h.
Last updated on: March 3, 2020, 03:27h.
The Republican Jewish Coalition (RJC) will, for a second consecutive year, welcome President Donald Trump as its featured speaker during the group's Annual Leadership Meeting in Las Vegas.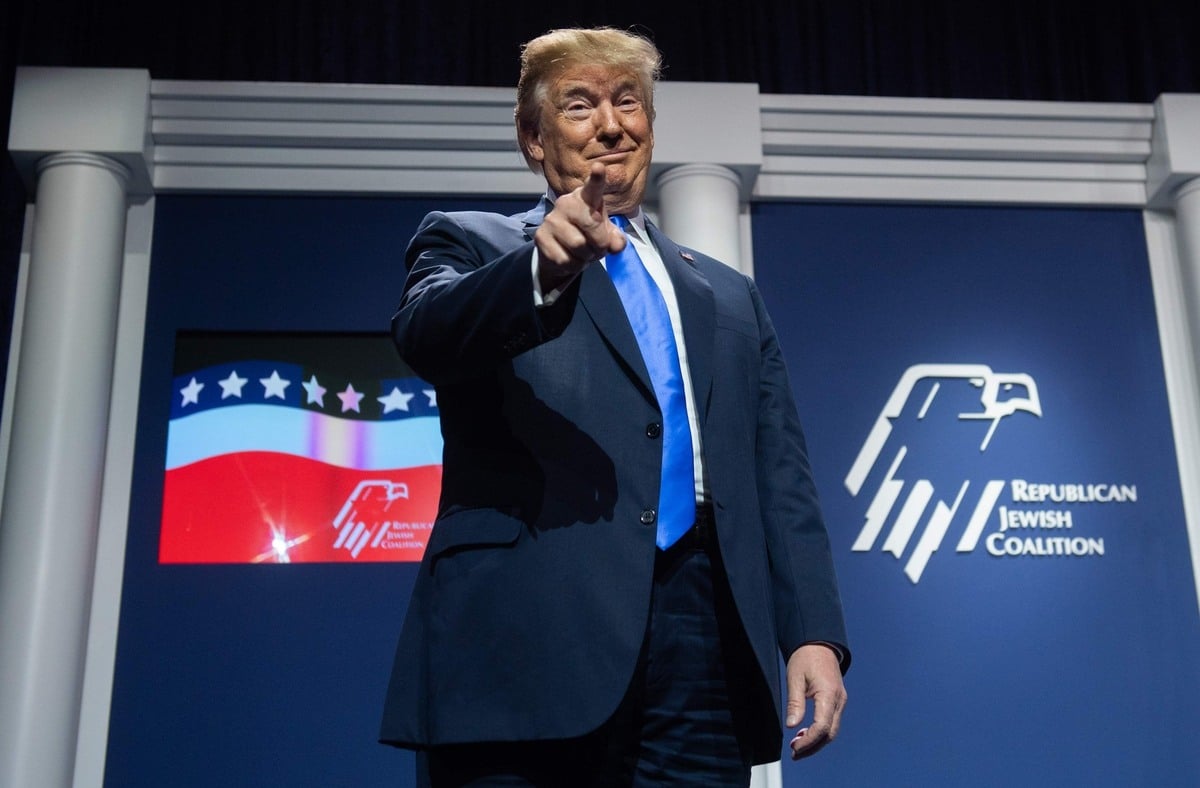 Scheduled for March 13-15 at Las Vegas Sands' Venetian and Palazzo resorts, the three-day affair brings together an assortment of conservative politicians and leaders. Tickets are only available for current members of the RJC National Leadership and begin at $1,000.
Sands CEO billionaire Sheldon Adelson is one of the GOP's largest megadonors, and also sits on the board of the Republican Jewish Coalition. The 86-year-old casino tycoon has been the Republican Party's largest donor in each of the last two national election cycles.
Nevada Critical
Trump is devoting considerable energy to flipping Nevada in November – typically a swing state.
Last month, Trump held a "Keep America Great Rally" at the Las Vegas Convention Center. The president is also expected to attend a fundraiser March 12 – two days before speaking at the RJC – hosted by Adelson, where each dinner plate costs $100,000, and attendees have the option to participate in a roundtable discussion for an additional $250,000.
Four years ago, Trump lost Nevada to Hillary Clinton. The Democratic candidate and former First Lady snagged 47.9 percent of the vote to the billionaire Republican's 45.5 percent. The PredictIt market asking which party candidate will win the Silver State in 2020 has Democratic shares at 60 cents.
Nevada picking Clinton over Trump was the first time since 1976 that the state didn't go with the victor.
Several Las Vegas billionaires who have largely made their fortunes in the gaming industry are once again stepping up to back Trump. Along with Adelson and his wife Miriam, notable contributors include Station Casinos owners Lorenzo and Frank Fertitta III, and Treasure Island and Circus Circus owner Phil Ruffin.
Jewish Appeal
Americans who self-identify as Jewish have historically voted Democratic.
According to Lara Friedman, president of the Foundation for Middle East Peace, "Survey data regularly confirms that the connection between American Jewish voters (non-Orthodox) and the Democratic Party is grounded in a worldview that prioritizes a set of issues and values – ones that today are embodied in this party." That includes prioritizing issues such as health care, gun violence, Social Security, and Medicare.
Exit polls in 2016 found that 71 percent of Jewish voters supported Clinton. However, RJC Executive Director Matt Brooks said in an interview this week that he predicts Trump will fare better with Jewish voters in November.
I will tell you that I am confident that in 2020, President Trump, no matter who the Democrat nominee will be, and especially if it's Bernie Sanders, will do better among Jewish voters in 2020 than 2016," Brooks told conservative website Breitbart.
In his first four years in office, Trump has done much to appease Jewish Americans. He recognized Jerusalem as Israel's capital, and also moved the US embassy there.
The Adelsons donated $82.58 million to GOP elections in 2016, and another $123.25 million in the 2018 midterms. In November of 2018, Miriam Adelson was awarded the Presidential Medal of Freedom for her philanthropic efforts – the highest civilian honor the president can bestow.