Star-Ledger Editorial Board Pens Op-Ed in Support of Casino Smoking Ban
Posted on: October 24, 2023, 10:03h.
Last updated on: October 24, 2023, 11:08h.
The odds are good that the nine casinos in Atlantic City will offer truly smoke-free gambling in the coming years. New Jersey's Star-Ledger Editorial Board says that's a good thing.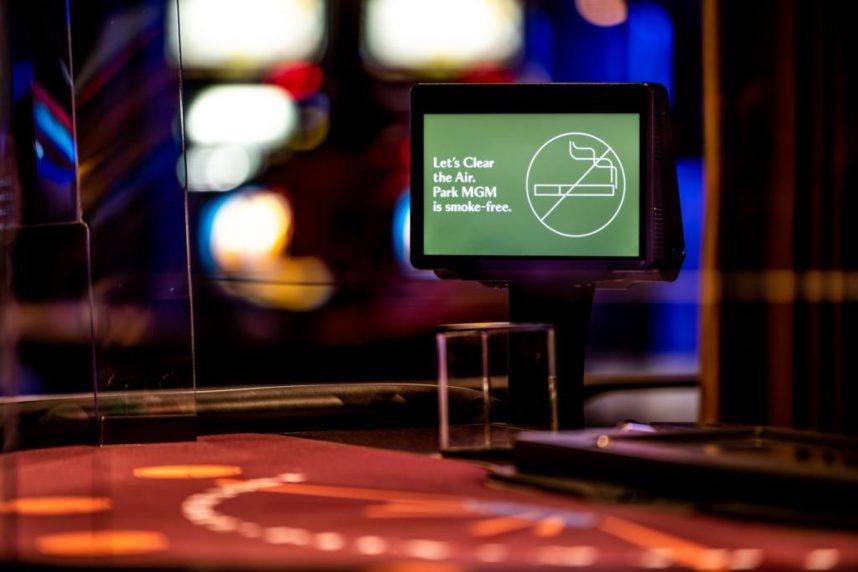 The Star-Ledger is the highest-circulation newspaper in New Jersey, and as such, its editorial board's opinions carry some weight in the Trenton capital. Lawmakers are expected to take up casino smoking legislation that was mothballed in the legislature for more than three years.
The latest bills, Assembly Bill 2151 and Senate Bill 264, seek to force Atlantic City casinos to make their gaming floors entirely smoke-free. The state currently allows gaming facilities to designate up to 25% of their floors for indoor tobacco use.
Democratic leadership has reportedly delayed the casino smoking legislation until this November's elections play out. All 120 seats are on the ballot. Twenty assembly members are retiring and not seeking reelection, including 13 Democrats. Seven state Senators are also retiring, with five being Democrats.
Democrats have majority control of each chamber and hope to retain that power next month. Party leaders believe avoiding the controversial casino smoking issue until after the elections plays into their hands in winning on November 7.
Smoke Knows No Boundaries
AB2151 and SB264 already have enough support through cosponsors to move the measures to the other chamber, and theoretically, to Gov. Phil Murphy's (D) desk. Murphy supports forcing the casinos to extinguish smoking, but he says he can't do it singlehandedly.
The Star-Ledger Editorial Board wrote on Monday that the new Legislature makeup will likely back the anti-casino smoking bills.
A bipartisan bill that will ban smoking in New Jersey's casinos will finally get a full vote in the Senate during the lame duck legislative session, and we know we can speak for every croupier, cashier, cocktail server, custodian, and pit clerk when we issue the following statement: Hallelujah," the op-ed read.
Atlantic City casinos were provided an exemption to permit tobacco use on a quarter of their gaming floors through New Jersey's Smoke-Free Air Act, passed in 2006. Some 17 years later, casino staff remains subject to harmful secondhand smoke.
The CDC says designated smoking sections still present dangerous air to persons in supposedly smoke-free sections. The federal health agency says recent research has found hazardous levels of Particulate Matter (PM) in areas of casinos where smoking isn't allowed.
"The only way to protect people from secondhand smoke exposure is to prohibit smoking in all indoor areas," concluded Michael Tynan, the CDC Office on Smoking & Health policy team lead.
Long Overdue
New Jersey Sens. Joe Vitale (D-Woodbridge) and Shirley Turner (D-Ewing) are the primary sponsors of SB264.
Vitale is optimistic that the bill will pass after the election. But he concedes that the delay by his own party has further jeopardized health. Vitale says the dangers of secondhand smoke have been known for many years, but lawmakers haven't acted.
In the time that has passed, many employees have become seriously ill, and some have died as a result of the secondhand smoke that pervades their workplace. Sadly, the industry couldn't care less, and uses claims that falsely predict economic impact. Pathetic, but true," Vitale said.
The Casino Association of New Jersey, the trade group representing the nine casinos in Trenton, commissioned a study last year that concluded a smoking ban would devastate the economy in Atlantic City. Third-party researchers concluded that gaming revenue would drop by about 11%, leading to as many as 2,500 job losses.
"There will be the predictable whining from industry noisemakers about how jobs and profits could be imperiled by the ban, which they say would inspire smokers to head out of state or switch to online gaming," the Star-Ledger op-ed continued. "The problem is that no proof exists of such things happening in the other 22 other states (including New York and Delaware) that have stamped out the practice.
"The most recent study was conducted in July 2022 by Las Vegas-based C3 Gaming, which found that casinos that chose to go smoke-free actually raked in more profits. Conclusion: Most gamblers like to breathe," the editorial concluded.
Most Read