NJ Assembly Committee to Hear Arguments Against Atlantic City Casino Smoking
Posted on: February 28, 2023, 07:19h.
Last updated on: February 28, 2023, 09:09h.
Two weeks after a New Jersey Senate committee held a legislative hearing on the ongoing permittance of smoking inside Atlantic City's nine casinos, an Assembly committee has planned its own discussion.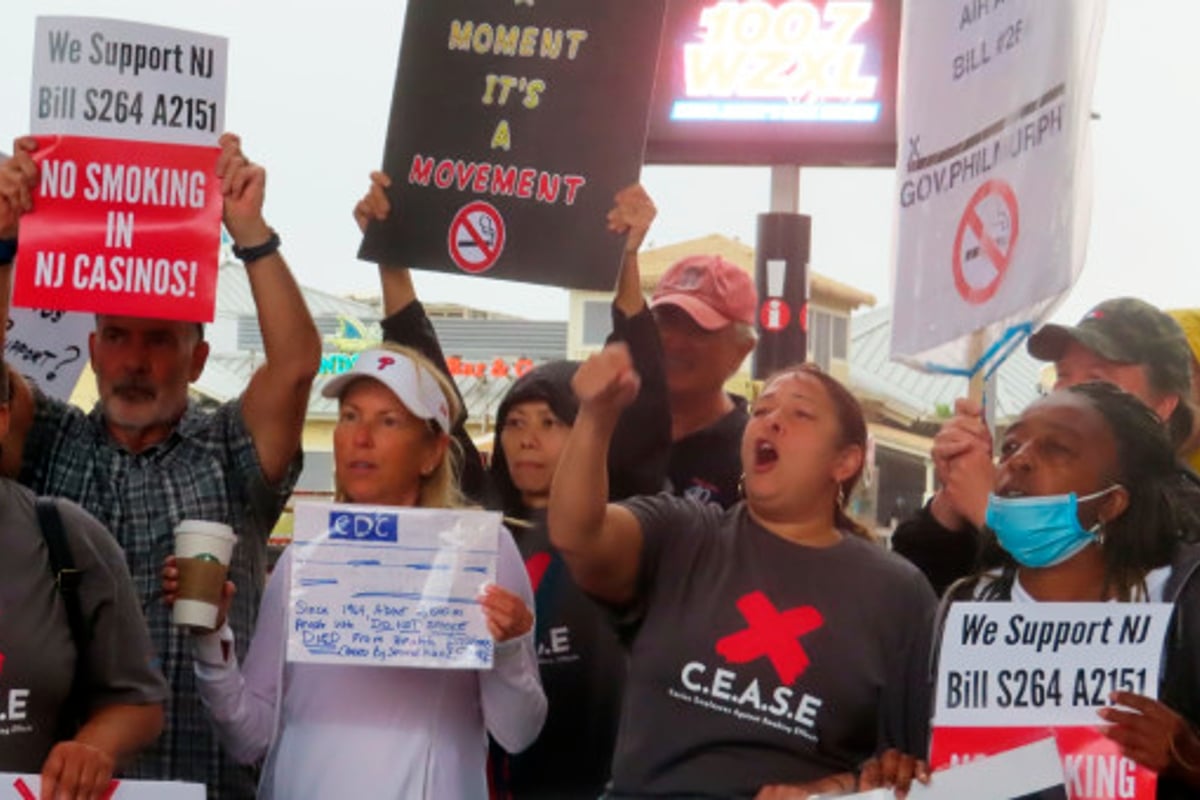 The New Jersey Assembly Tourism, Gaming, and the Arts Committee has scheduled a casino smoking hearing for March 9. The Assembly, the lower chamber of the state's Legislature, has been in possession of legislation seeking to make Atlantic City casinos go smoke-free since August 2020.
The current bill — Assembly Bill 2151 — already has enough support by way of co-sponsors to pass the statute to the Senate. A clone of AB2151 has been introduced in the Senate, and that bill also has adequate support to pass the upper chamber.
New Jersey Gov. Phil Murphy (D) has repeatedly said he would sign a measure to prohibit indoor casino smoking. He needs the Legislature to send him such a bill, as he cannot singlehandedly adjust the state's 2006 Smoke-Free Air Act that provided an exclusion for certain gaming establishments.
Casino Smoking Discussion Escalates
The leadership in the Democratic-controlled Legislature is reportedly mothballing the casino smoking bills until after the November 2023 election when every state lawmaker is on the ballot. There's been no better explanation provided publicly for the Legislature's inaction on the casino smoking bills that have vast bipartisan support.
The Assembly bill is sponsored or co-sponsored by 54 of the chamber's 80 members. The Senate's casino smoking bill — Senate Bill 264 — has the support of 25 of the chamber's 40 members.
CEASE — Casino Employees Against Smoking Effects — is leading the grassroots campaign to make the nine casinos smoke-free. The organization told Casino.org that the Assembly committee's hearing is a step toward providing gaming industry workers with a safe workplace.
CEASE will not rest until this bill is signed into law and we no longer must choose between our health and a paycheck," CEASE officials said. "This Assembly hearing is yet another step forward on the path towards protecting our lives."
The path toward smoke-free casinos in Atlantic City could be a long one and drag on for many more months if the reports of Democratic brass delaying the casino smoking bills are accurate. The Assembly Tourism, Gaming, and the Arts Committee has already said that its March 9 hearing is for discussion purposes only, and a vote on the measure is not expected.
The seven-member committee is comprised of four Democrats and three Republicans. Three are AB2151 co-sponsors — Assemblymen Don Guardian (R-Atlantic City), James Kennedy (D-Rahway), and William Sampson (D-Bayonne).
The committee is respectively chaired and vice-chaired by Assemblypersons Ralph Caputo (D-Belleville) and Annette Chaparro (D-Hoboken).
Secondhand Smoke Dangers
New Jersey's 2006 clean indoor air law provided a loophole for Atlantic City casinos that allows the resorts to designate up to 25% of their gaming floor space for indoor smoking. The rest of the casino floor is supposed to be smoke-free, but despite the casino's costly ventilation and filtration systems, the CDC says only fully smoke-free casinos are safe.
A new study released last week by the federal health agency reported that recent tests found dangerous levels of Particulate Matter (PM) in supposedly smoke-free gaming sections when the casino additionally offers a smoking section.
"Despite robust evidence about the harms of secondhand smoke, tens of thousands of casino employees and tens of millions of tourists are exposed to high levels of secondhand smoke in Las Vegas casinos annually. The only way to protect people from secondhand smoke exposure is to prohibit smoking in all indoor areas," summarized Michael Tynan, the team lead of the CDC's Office on Smoking & Health.