Sheldon Adelson Brazil Casino Interest Still on Radar, Mystery South American Meetings Ensue
Posted on: June 1, 2018, 01:00h.
Last updated on: June 1, 2018, 10:56h.
Billionaire gaming mogul Sheldon Adelson was in Brazil this week, where the Las Vegas Sands CEO reiterated his interest in building an integrated casino resort in the world's fifth-largest country.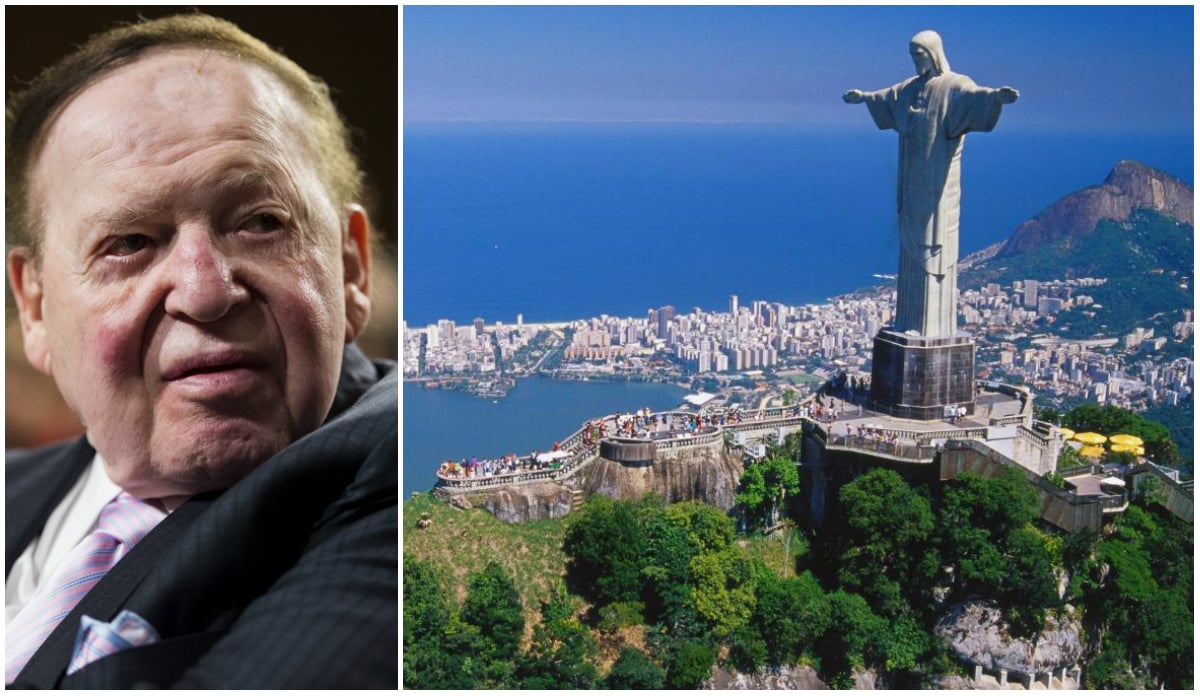 Adelson was in Sao Paulo, Brazil's most-populated city with more than 12 million people. When asked by local media outlet Valor about the reason for his trip, the man worth an estimated $40 billion said he was there " … to consider investing in one or more integrated resorts."
Who specifically Adelson met with while on this trip was being kept under wraps, however.
Gambling in Brazil has been prohibited since 1941, but recent legalization efforts are being championed with an eye towards helping the country pay down escalating debt. No concrete progress to authorize casinos has been made to date, however.
Brazil's National Congress has introduced two bills that would permit casinos. House Bill 442 — currently in the lower chamber — would allow the country's 26 states to host up to three casinos apiece. The bill is expected to be debated in the Chamber of Deputies in the coming months.
In May 2017, Adelson paid a visit to Rio de Janeiro, where he met with Brazil's President Michel Temer to pitch an $8 billion integrated casino resort.
Macau Moneymakers
Adelson is showing no signs of backing off or slowing down at 84 years old. Despite amassing a fortune that ranks him #21 on Forbes' list of billionaires, the businessman still intends to expand his global empire.
Las Vegas Sands makes most of its money outside of the company's namesake city. Sands' five Macau casinos — along with its Singapore-based Marina Bay Sands — accounted for nearly 90 percent of total earnings before interest, tax, depreciation, and amortization (EBITDA) last year.
LVS is spending $1.1 billion to overhaul its Cotai Central resort into a British-themed complex, and Adelson said recently that he still sees "tremendous future opportunity in the market as it continues to grow and evolve."
Size Matters
With over $13 billion invested in Macau, Sands is in the Chinese enclave for the long haul. But Adelson — like every other major casino operator — is also eyeing the tremendous potential for gaming in Japan.
The country's National Diet is currently debating an integrated casino resorts bill that comes from Prime Minister Shinzo Abe's Cabinet. The law, if approved as is, would authorize three casinos, tax gross gaming revenue at 30 percent, and place a $55 entrance fee on Japanese residents who meet the minimum income requirements to enter at all.
Adelson has said Sands would be willing to spend up to $10 billion, should it be awarded one of the licenses, and if the final regulatory conditions are favorable to such capital expenditure.
Brazil doesn't have the economic prosperity of Japan, but with close to 210 million residents, it has 64 percent greater population. During a 2015 conference call with investors, Adelson said Brazil is "potentially [a] very good opportunity" for an integrated casino resort. 
Apparently, those views haven't changed.