Sepp Blatter and Michel Platini Banned From Soccer for Eight Years by FIFA
Posted on: December 22, 2015, 01:11h.
Last updated on: December 22, 2015, 01:11h.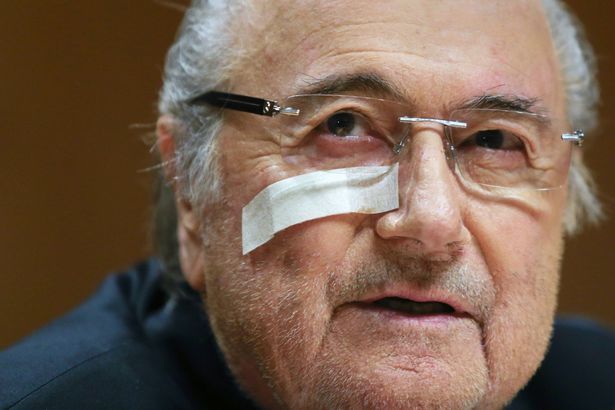 79-year-old Sepp Blatter has been the President of FIFA since 1998 and an official with soccer's governing body since 1981, but on Monday the outspoken and vigorous leader accused of facilitating bribes and money laundering was handed an eight-year ban from the association's independent Ethics Committee.
Union of European Football Associations (UEFA) President Michel Platini, who serves as FIFA's Executive Committee vice-president, was also the recipient of an eight-year suspension.
The investigating committee said Blatter provided Platini with $2 million in 2011 for undisclosed services.
Both suspensions mandate Blatter and Platini cease from "all football-related activities (administrative, sports or any other) on a national and international level," the adjudicatory chamber of the Ethics Committee said in a press release. "The bans come into force immediately."
$2 Million, No Strings Attached
Soccer (or futbol, depending on your locale) is the world's most popular sport. FIFA is the game's most powerful and important organization, which is why its 2015 corruption scandal is so significant.
Responsible for the World Cup and Women's World Cup, FIFA generated $5.7 billion in revenues between 2011 and 2015, with 72 percent of those monies stemming from television broadcast rights and marketing contracts.
What you won't find on FIFA's spreadsheets or income statements is a CHF 2,000,000 (roughly $2 million) transfer between Blatter and Platini in February 2011.
During the Ethics Committee's investigation, Blatter testified that the exchange was part of a "gentleman's agreement" between FIFA and Platini.
"Therefore, the two million Swiss francs paid to Platini went through the Finance Committee, the Executive Committee, and was done in good terms," Blatter said Monday. "This is a donation. This is a gift."
The Ethics Committee didn't accept Blatter's explanation. "Mr. Blatter violated his fiduciary duty to FIFA… Mr. Blatter's actions did not show commitment to an ethical attitude, failing to respect all applicable laws and regulations as well as FIFA's regulatory framework … and demonstrating an abusive execution of his position."
House of Cards
The United States has indicted 25 FIFA officials on various corruption charges including racketeering, wire fraud, and money laundering conspiracies. An additional 12 have pled guilty.
US Attorney General Loretta Lynch said in May that corruption inside FIFA is "rampant, systemic, and deep-rooted." According to indictments, FIFA executives accepted millions of dollars in bribes and kickbacks for coordinating hosting rights and marketing sponsorships among various parties.
Domestic banks headquartered inside the United States were commonly used to facilitate such payments. That allows Lynch's Department of Justice to intervene.
Blatter plans to appeal the sentencing with FIFA's Appeal Committee. "I will fight for me and I will fight for FIFA. Suspended eight years for what?" Blatter asked.
It appears FIFA is ready to move on and end the Blatter era.
Acting FIFA President Issa Hayatou wrote this week, "This year and the immediate years to come will be among the most important for FIFA since it was founded in 1904.
A new FIFA President will be elected at the Congress in February, offering the opportunity to start a new chapter."
Most Read