Las Vegas Indy Autonomous Challenge Sees World Speed Record Set
Posted on: January 16, 2023, 01:18h.
Last updated on: January 16, 2023, 01:54h.
The highlight of CES 2023 for racing fans was the second annual Indy Autonomous Challenge (IAC), at which the victorious Team PoliMOVE (from Italy's Politecnico di Milano and the University of Alabama) set the world record for an autonomous vehicle on a racetrack – 180 mph.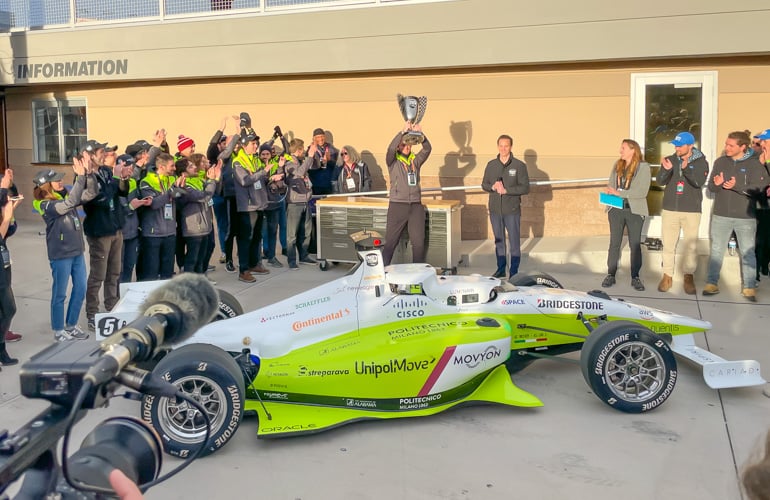 Thousands of CES attendees packed the Las Vegas Motor Speedway for the racing series, which saw nine teams representing 17 universities in six countries compete head-to-head with driverless race cars. Thousands more who weren't able to attend watched via a live simulcast on the IAC's Twitch account.
PoliMOVE, winner of last year's IAC at CES race series, previously set another autonomous land speed world record on April 27, 2022. That's when it achieved 192.2 mph using an autonomous race car at Space Florida's Launch & Landing Facility at the Kennedy Space Center in Cape Canaveral.
"Today was a major step forward in speed, in the complexity of the race, and in overcoming challenging head-to-head situations," Prof. Sergio Savaresi, PoliMOVE team lead, told The Robot Report. "We are very glad for this success, for the contribution of the Indy Autonomous Challenge, and for all the teams in advancing the technology of AI drivers."
Giving PoliMOVE a run for its money was the Technische Universität München (TUM) team from Germany, which won the inaugural IAC event, held at the Indianapolis Motor Speedway in October 2022. In the final head-to-head competition on January 7, PoliMOVE and TUM made more than a dozen laps around the Las Vegas Motor Speedway track. On the final lap, TUM spun out on the racetrack's banked first turn.
How Autonomous Racing Works
Each IAC team competes with the same race car, a Dallara AV-21, but programs in their own algorithms for autonomous movement. The car's processor uses cameras, sensors, radar, and lasers to help make informed decisions about their terrain and opponent within milliseconds.
The autonomous Dallara AV-21 race cars from each team take turns playing the roles of leader/defender and passer/follower. Passes are attempted at speeds that get faster and faster until one or both cars can't make a pass.
The IAC organizes competitions for university-affiliated teams to compete using fully autonomous racecars at iconic NASCAR tracks. It began as a $1 million prize competition between 31 universities representing top STEM programs from 10 countries.
Next up for the IAC is a June 2023 event at the famous Monza raceway near Milan, Italy, the first road-racing series for the organization.