Saudi Arabia Emerges as Favorite to Land Ruiz-Joshua Heavyweight Title Rematch in December
Posted on: August 9, 2019, 02:36h.
Last updated on: August 9, 2019, 01:32h.
It's looking like we're finally getting close to an announcement on the rematch between Andy Ruiz Jr. and Anthony Joshua. And if the first bout between the heavyweights wasn't shocking enough, just wait until you hear about some of the rumored details about the second bout.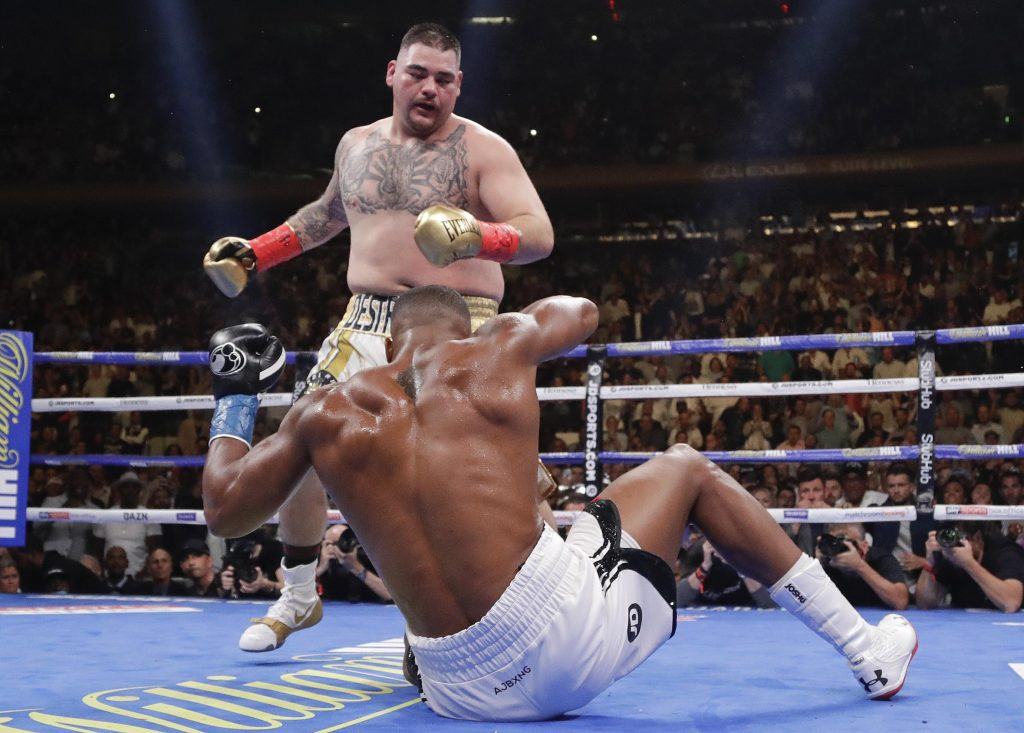 Earlier this week, Mike Coppinger with The Athletic reported that the fight's promoter is seriously considering overtures from Middle Eastern countries to host the fight, with Saudi Arabia leading the way.
"Promoter Eddie Hearn is looking to close the site deal, per sources, and if he's successful, the fight would take place in the (Saudi) capital city of Riyadh on Dec. 7 or Dec. 14," Coppinger wrote.
Early Friday morning (ET), British newspaper The Telegraph said an announcement for a Dec. 7 fight in Riyadh would be made later in the day.
According to British sportsbook Sky Bet, Saudi Arabia was a 1-20 favorite, or -2000 in American odds, to land the title rematch on Thursday. For perspective, a $2000 bet at those odds would net $100.
Those odds are close to the ones Joshua had on May 31 against the then-lightly-regarded Ruiz, who signed-on to the bout as a replacement fighter with less than two months to prepare. The Mexican-American fighter wound up winning the unified heavyweight title by knocking out the previously undefeated Joshua in the seventh round at Madison Square Garden.
The contract Ruiz signed included a mandatory rematch clause for Joshua, who invoked it shortly after the upset loss. Joshua made his US debut in his last fight, and his camp has been pushing for the rematch to take place in Britain. However, Ruiz has balked at giving the challenger home field advantage.
Joshua Still Favored
While the rematch hasn't been made official just yet, some sportsbooks have gone ahead and published odds on Ruiz-Joshua II.
Joshua, whose odds in the first bout were -3335 at DraftKings, still gets the nod from the oddsmakers, although the odds are not nearly that short this time around.
As of Thursday night (ET), Joshua's odds were -315 at DraftKings, compared to +220. Over at FanDuel, it lists Joshua at -320 and Ruiz at +230. SugarHouse also has it -315/+220 in favor of Joshua.
While both boxers will turn 30 later this year, Joshua (22-1 record, 21 knockouts) does have the superior physical traits over Ruiz (33-1, 22 KOs), which is likely why he's still favored. Joshua is four inches taller (6'6" vs. 6'2") and has a much longer reach (82" vs. 74"). At their weigh-in back in May, Ruiz also weighed 20 pounds heavier (268 lbs vs. Joshua's 247-3/4 lbs.).
However, it remains to be seen what, if any, impact a neutral site might have on the odds.
In an interview with British broadcaster Sky Sports, Joshua said his boxing career has been filled with defining moments, and that included his loss to Ruiz.
"I'm about to put it right before this year's out, and it's going to be a hell of a year," he said.
Ruiz Pushing for Mexico
While the contract language for a rematch pretty much takes the location out of Ruiz' hands, the champion has still been clamoring to put the rematch in Mexico.
In response to Joshua's interview, Ruiz doubled down on his stance.
AJ says he can 'whoop' me in Tijuana. Prove it. Let's run it in Mexico," Ruiz tweeted. "Remember that you did have a huge reason to come to America and that was to build your profile."
Ruiz then added the hashtag "#cherrypickgonewrong" at the end of his tweet.
As big as a December rematch would be between Ruiz and Joshua, the winner in December could find themselves in an even bigger fight in 2020. Either could be in line to face the winner of the heavily anticipated rematch between Deontay Wilder and Tyson Fury.