New York Giants Running Back Saquon Barkley Avoids Contract Holdout
Posted on: July 25, 2023, 10:44h.
Last updated on: July 25, 2023, 11:27h.
Running back Saquon Barkley has signed a one-year contract with the New York Giants, ending speculation he would sit out this season in a contract dispute.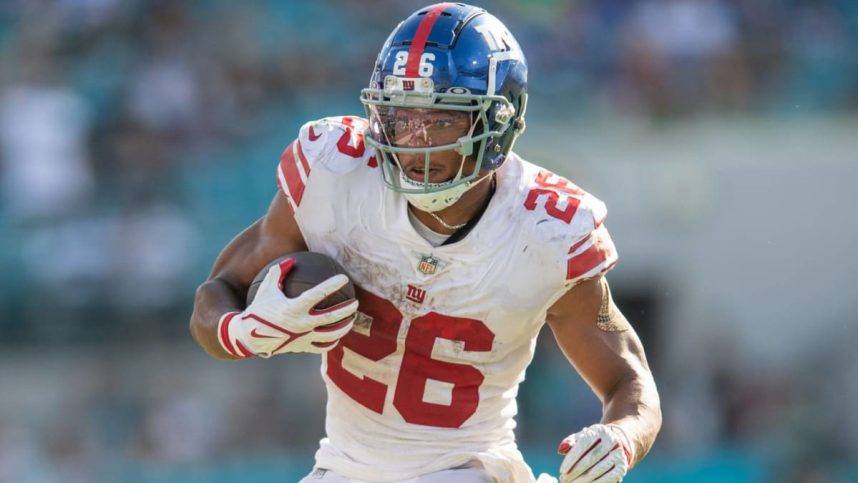 Ian Rapoport from the NFL Network reported that Barkley could earn up to $11 million this season, with a signing bonus worth $2 million. Barkley will have a base salary of $10.09 million with an additional $910K in incentives.
The new deal doesn't have a "no franchise tag" clause, so the Giants can tag him again next season.
Veterans are expected to report to training camp on Tuesday, and Barkley will be on the field after inking a new deal.
A trio of running backs, including Barkley, Tony Pollard from the Dallas Cowboys, and Josh Jacobs from the Las Vegas Raiders didn't sign contract extensions. But all three fell under a franchise tag. Pollard is expected to sign the Cowboy's current offer, but Jacobs looks like he's headed for a holdout.
Dual-Threat Barkley Became Breakout Star in 2018
Barkley, 26, was a star running back at Penn State, and the Giants selected him with the second overall pick in the 2018 NFL Draft.
Barkley emerged as a dual-threat running back during his rookie season. In 16 games in 2018, he scored 15 total touchdowns, including 11 rushing scores and four TD receptions. He rushed 261 times for 1,307 yards and averaged 5.0 yards per carry. He also added 91 receptions for 721 yards and 7.9 yards per catch. The NFL named Barkley the 2019 Offensive Rookie of the Year.
In 2019, Barkley sustained a high-ankle sprain. He expected to miss two months of action but returned after sitting out only three games. In 13 games, he rushed 217 times for 1,003 yards but scored only six touchdowns. He added 52 passes for 438 yards and two TD receptions. Despite the ankle injury, Barkley became the only Giants running back to rush for 1,000-plus yards in his first two seasons in the league.
In 2020, Barkley tore his ACL in Week 2. He appeared in only two games and missed the remainder of the season.
In 2021, Barkley was slowed down by another high-ankle sprain and missed four games. In 13 games, he combined for 856 total yards from scrimmage with four touchdowns. He averaged a career-low 3.7 yards per carry.
Barkley bounced back last season and missed only one game in 2022. In 16 games, he set career highs with 295 attempts for 1,312 rushing yards. He averaged 4.4 yards per carry and tallied 10 rushing touchdowns. He caught 57 passes for 338 yards, but had zero touchdown receptions. Barkley was ranked #4 in the NFL last season in rushing yards.
Barkley Bets on Himself
The Giants and Barkley attempted to negotiate a contract extension, but the two parties were unable to reach a deal by the July deadline.
The NFL has evolved into a pass-first league, and as a result, running backs are no longer fetching the high salaries they once did. This is a league wide issue during a contract boom for quarterbacks and wide receivers.
In the case of Barkley, he has a history of injuries with high-ankle sprains and a reconstructed knee, which is why the Giants have been reluctant to meet his demand on the guaranteed portion of his contract. Barkley rejected a three-year extension in which he would earn approximately $13 million per season, but only $19.5 million in guaranteed money.
It is what it is," Barkley tweeted after negotiations broke down.
Between a high injury probability and the current market value of running backs, Barkley stood at an impasse with the Giants. These are one of those ugly moments when a beloved player reaches the crossroads of commerce. When a player has to negotiate a new contract, they face the stark reality that the NFL is a business, and they realize that they're mere cannon fodder on the gridiron.
Barkley could test free agency waters next off-season, and could fetch a better contract if he remains healthy and finishes this season with big numbers. However, the Giants could apply the franchise tag again.
Entering this upcoming season, ESPN ranked Barkley #4 in their fantasy football projections at running back.
Futures Market: Betting the Giants in 2023
The Giants locked up quarterback Daniel Jones to a multiyear extension and secured Barkley for at least this upcoming season.
The Giants were 9-7-1 last season under rookie head coach Brian Daboll. They qualified for the postseason as a wild-card team. They secured the #6 seed in the NFC playoffs, but were eliminated by the Philadelphia Eagles after beating the Minnesota Vikings on Wild Card Weekend.
The Giants enter this season with a projected win total of 7.5 over/under.
The Giants are +160 odds to make the playoffs, according to a prop bet by DraftKings. They are -190 odds to miss the playoffs.
The Giants are +6500 odds to win Super Bowl LVIII. The Giants are +2500 odds to win the NFC Championship as the eighth-highest team on the NFL futures board.
The Philadelphia Eagles are the consensus favorite to win the NFC East at-135 odds, followed by the Dallas Cowboys (+190), the Giants (+850), and the Washington Commanders (+1600). The Giants are projected to finish in third place in their division.