Santa Anita Receives Approval from LA County to Resume Racing on Friday
Posted on: May 14, 2020, 10:06h.
Last updated on: May 14, 2020, 11:13h.
Santa Anita Park announced on Wednesday that it received permission from the Los Angeles County Health Department to resume horse racing, which it plans to do on Friday.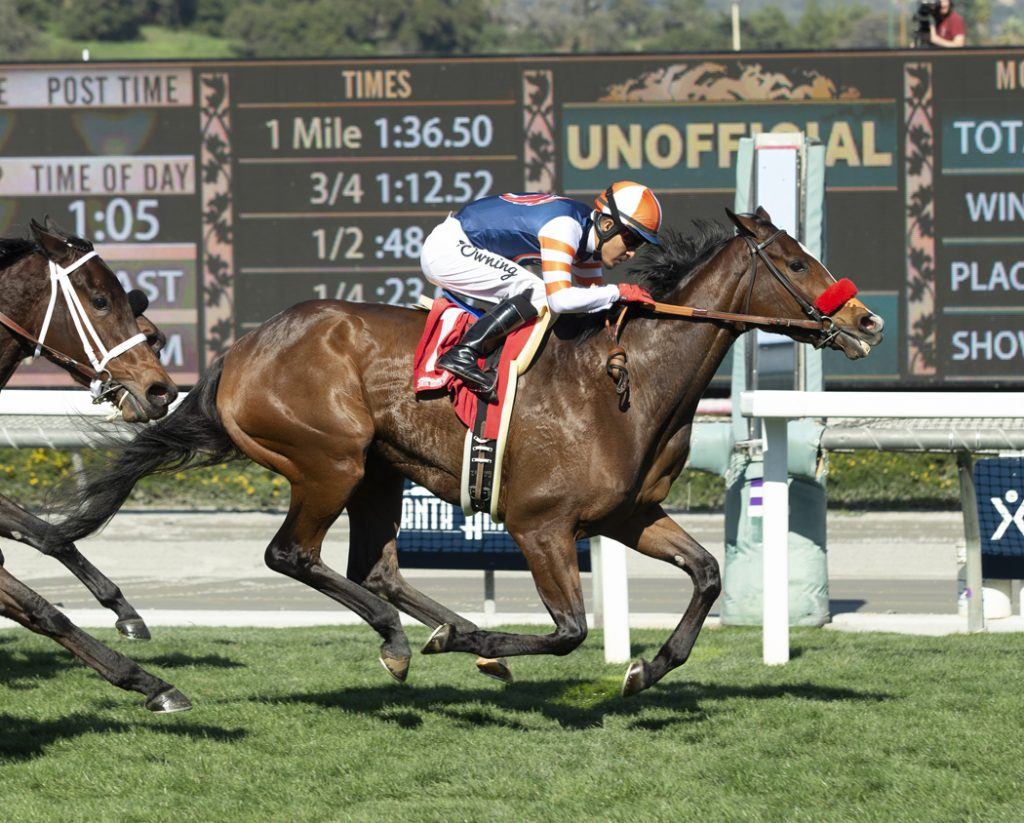 It will mark the first time in seven weeks The Stronach Group-owned track will hold live racing. The county health department shut down Santa Anita just before it was set to begin its eight-race card on March 27. That was more than a week after California Gov. Gavin Newsom issued a stay-home order for the state because of the COVID-19 pandemic.
Santa Anita held racing in the days after Newsom's announcement. However, a week later, the California Horse Racing Board told the state's tracks that they must operate under the guidance of their local health officials.
Santa Anita representatives presented LA County health officials with a detailed plan of how the track would resume operations. Those working at the track will receive a daily health screening and temperature check. All must wear face masks, and social distancing guidelines will be adhered to on all parts of the property.
The track will also have a "Restricted Zone," where jockeys and other track workers will be housed. Those individuals need a negative COVID-19 test to gain access to the area.
Racing will also take place without fans. Santa Anita initially ran two weeks' worth of racing in mid-March in a similar fashion in an effort to control the spread of the coronavirus.
In a statement, Aidan Butler, Stronach's executive director of California racing, thanked county health officials and Los Angeles County Supervisor Kathryn Barger and her staff for giving Santa Anita the green light to resume racing.
Supervisor Barger in particular, understood the importance of live racing to support thousands of individuals, and that we are able to accomplish it safely under these protocols," he said.
Butler also thanked the horsemen and racing fans for their support and patience during the hiatus.
"This has been a difficult time for all," he added. "Now we are focused on getting back to work in a safe and secure manner."
More Tracks Set to Open
While the track did not officially get approval until Wednesday, reports on social media indicated Santa Anita had been planning on the possibility for days.
Santa Anita isn't the only TSG property in the state ready to resume racing. Last week, health officials in Alameda County approved Golden Gate Fields to restart its racing meet. The Berkeley track is scheduled to begin racing on Thursday.
However, not all racing in California had been suspended. Los Alamitos, a track in Orange County, was allowed to continue quarter horse racing, and, for a time, thoroughbred owners considered the possibility of moving Santa Anita's thoroughbred racing to the neighboring county's track.
During most of the COVID-19 emergency, live racing in the US has been limited to seven tracks, with Oaklawn Park in Arkansas having concluded on May 3. On Saturday, when Churchill Downs resumes racing, the number of tracks offering live racing will grow to nine, with more likely to resume racing over the next month.
Santa Anita Derby Now Set for June 6
Santa Anita's biggest race for the remainder of its meet will be the June 6 Santa Anita Derby. The race, a key Kentucky Derby prep, was supposed to be run in early April. But the mandatory track closure order forced the postponement.
The likely favorite for that race will be Bob Baffert's Authentic, who has three wins in as many races for his career. That includes a pair of Derby preps, the San Felipe and Sham stakes. If Authentic runs and wins, it would give Baffert three horses among the top five in qualifying points.