Santa Anita Suspends Live Racing After Los Angeles County Health Officials Issue COVID-19 Order
Posted on: March 27, 2020, 07:15h.
Last updated on: March 29, 2020, 09:15h.
Santa Anita abruptly shut down its live racing meet on Friday upon the order of the Los Angeles County Health Department. The Southern California track becomes the latest to suspend its horse racing during the coronavirus outbreak that's gripping the country.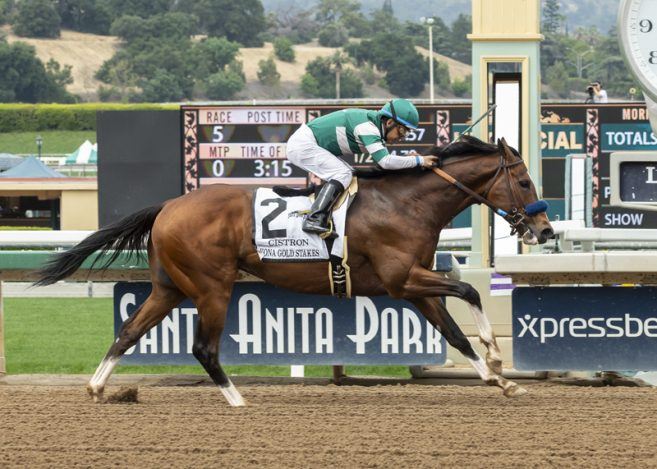 The Stronach Group track posted a formal announcement on its Twitter account early Friday afternoon, around the time its eight-race card was supposed to start.
We apologize for the late notice affecting today's racing program, but Santa Anita is abiding by the instructions issued this morning by the California Horse Racing Board (CHRB) to operate under the sanction of the local health authorities," the track's statement read.
A message to the LA County Health Department was not returned Friday afternoon.
A week ago, Santa Anita continued its meet just one day after Gov. Gavin Newsom issued a "Stay Home" order that closed non-essential businesses. The track countered that thoroughbred racehorses are live animals that require supervision and need exercise for their well-being.
Racing continued through the weekend, although the track's grandstand was closed to fans, as it had been since March 13.
"We look forward to the return of live racing at Santa Anita as soon as approval is received from local regulators," Santa Anita's statement concluded.
While no one has tested positive at Santa Anita, COVID-19 is becoming more prevalent in Los Angeles County. Through Friday, there are 1,402 positive cases. That includes 317 hospitalizations and 26 deaths,
Decision Left to Counties
Earlier Friday, the CHRB issued a statement saying it was relying on state, county, and local health officials to provide guidance on whether horse racing could take place under Newsom's coronavirus order.
"The CHRB will assist health authorities in enforcing their decisions," the board said. "Regardless of the status of racing, the CHRB's top priority is the health of horses and on-site personnel, and it is the Board's expectation that industry stakeholders will accommodate the needs of horses and workers during this unprecedented time."
While Santa Anita closed down, racing continued at two other California tracks. Golden Gate Fields, another Stronach track, held thoroughbred racing at its track in Berkeley, and Cal Expo in Sacramento offered its harness racing card.
Mike Marten, the CHRB's public information officer, told Casino.org Friday the decision whether those tracks can race is up to the health departments in Alameda (Golden Gate) and Sacramento counties.
"They are speaking directly to the racetracks," he said in an email. "We don't know what health agencies in other counties will decide. We will support whatever decisions they make."
Racing Implications
Newsom's order last week does not specify a time frame, only that it would stay in effect "until further notice."
The Grade I Santa Anita Derby, a major Kentucky Derby prep scheduled for April 4, is likely to be rescheduled, especially since the Kentucky Derby itself now has been pushed back from its traditional May date to Sept. 5. The meet at Santa Anita is not scheduled to end until June 21.
Two other major Derby preps originally scheduled for next week will also either be rescheduled or canceled, as Keeneland, which hosts the Blue Grass Stakes, canceled its spring meet and Aqueduct, which runs the Wood Memorial, was shut down earlier this week by NYRA after a worker tested positive for COVID-19.
Gulfstream Park is scheduled to run the Florida Derby on Saturday, while Oaklawn Park's Arkansas Derby has been rescheduled from April 11 to May 2.
With Santa Anita now closed indefinitely, it means there are currently eight tracks offering live horse racing across the country.